Thank you for visiting the Jouer GlobalGiving page!
We believe nothing feels more beautiful than contributing to those in need. Please join us in the Beauty of Giving initiative and contribute to the worthy cause below.
xo Christina Zilber and Team Jouer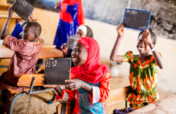 By providing access to education, our project empowers girls to fight the causes and effects of poverty in their lives and to build a brighter future for themselves, their families and their communities. We work to reduce poverty levels in remote, rural areas of Senegal and help the most marginalized girls and families.

read updates from the field