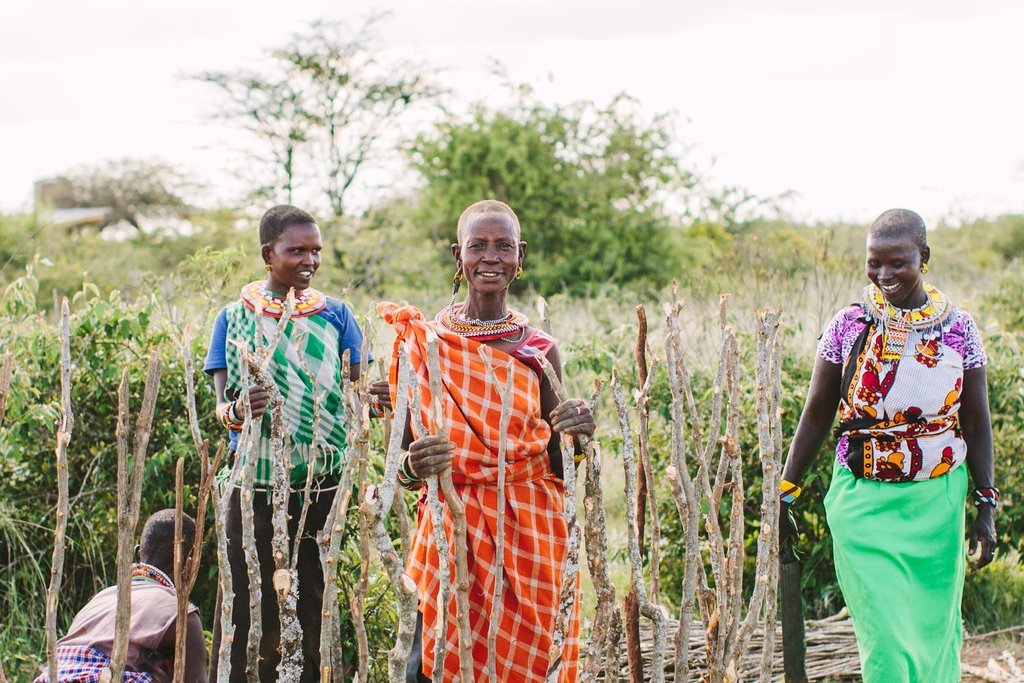 With your generous donation to the GlobalGiving Climate Action Fund, you're investing in a brighter future for the entire planet by supporting local leaders seeking climate justice. This year, we're thrilled to introduce the first-ever cohort of nonprofits to be supported by the Climate Action Fund.
We're kicking off a new approach to fighting climate change by working closely with 6 incredible organizations located across the globe. Handpicked by donors and nonprofit partners in the GlobalGiving community, these grassroots activists demonstrate the importance of community-led action in the face of global challenges.
Say hello to the 2019 Climate Action Fund winners!

Sadhana Forest Kenya: Bringing forests back to the Samburu tribe
Sadhana Forest Kenya is led by husband-wife duo Yorit and Aviram Rozin. The organization works to sustainably bring back water, forests, and wildlife to degraded lands. The Climate Action Fund will support the Samburu tribe in Kenya in creating forests of indigenous, food-producing trees that will provide long-term food security while simultaneously curbing climate change. Learn More.
Warm Heart Worldwide: Generating economic incentives for farmers to abandon open-field burning in Thailand
Greenhouse gases from agricultural burning is a major contributor to climate change. With support from the Climate Action Fund, a group of villages in northern Thailand will be able to reduce their impact on global warming and improve farmers' incomes, the soil, and community health through Warm Heart Worldwide's "Stop the Smoke!" campaign. What excites Evelind Schecter, the project's leader, is that "this project is globally replicable. It expands the village co-op model producing biochar products, improves health outcomes, reduces global warming." Learn more.
Corals for Conservation: Planting second-generation, climate-adapted corals in Fiji
The rainforests of the sea, coral reefs play a vital role in ocean health. Unfortunately, approximately 75% of coral reefs worldwide are threatened by a combination of local and global stressors. In and around Fiji, more than 90% of the corals have bleached and died. Luckily, Corals for Conservation's Austin Bowden-Kerby reports that his team has "developed coral gardening techniques that are both effective and low cost." With support from the Climate Action Fund, the communities Austin works with will restore patches of healthy corals by planting second-generation, climate-adapted corals of diverse species. Villages in Fiji, Vanuatu, Christmas Island, Kiribati, and Tuvalu will benefit. Learn more.
Instituto Chaikuni: Cultivating regenerative food forests in the Peruvian Amazon
The Chaikuni Institute works to revitalize ancestral practices in rural Amazonian areas, combining permaculture design and traditional knowledge to train local farmers in the indigenous and mestizo communities of the Peruvian Amazon. Executive Director and political ecologist Stefan Kistler says, "The philosophy of Akinananti—working together and unity through thoughtful actions in community—is the motivating inspiration behind this program." With support from the Climate Action Fund, Instituto Chaikuni will bring communities together to engage in an intercultural learning environment while revitalizing ancient practices. Learn more.
Grupo Ecologico Sierra Gorda I.A.P: Supporting environmental youth leaders to spearhead local adoption of climate solutions in Mexico
Sierra Gorda is an alliance of organizations working towards conservation, restoration, and sustainable development. Group leader Pati Ruiz Corzo shares that "When youth lead initiatives such as ecosystem restoration and reforestation, they increase community environmental awareness and local resilience to climate change." The Climate Action Fund will support Sierra Gorda in providing young environmental leaders with training, education, and a community of fellow activists through EcoClubs. "The hope is that, as youth become leaders in their communities, they will guide the Sierra Gorda Biosphere Reserve towards sustainable development, holistic land management, and biodiversity conservation." Learn more.
Thank you for supporting the GlobalGiving Climate Action Fund. Because of you, local climate champions will receive the support they need to take on this global challenge. We're looking forward to sharing stories of the progress made with your support in the coming months.
With gratitude,
Nicole Gieselman + the GlobalGiving Team