Our Sisters-to-School project in Senegal added an Adult Literacy program for women and a Textbook Library Exchange program for secondary scholars.
The Adult Literacy program, modeled on an existing WGEP Kenya program, gives the mothers of our scholars and other women in the community a way to learn literacy skills and participate in empowerment and support sessions.
The Textbook Library Exchange program will help alleviate textbook costs for scholars by allowing them to share several commonly owned copies of otherwise expensive textbooks.
CLICK HERE to read more about our WGEP project in Senegal.
Links:
WGEP Kenya congratulates our newest "Circumcision With Words" graduates who completed our Alternative Rite of Passage (ARP) program and publicly said "No!" to genital mutilation.

Held last December 4-9 in Tharaka, Kenya, the ARP gave 263 more girls the opportunity to participate in empowerment workshops and--with the support of their families and communities--publicly say "No!" to the culturally-entrenched practice of genital cutting. This is the most girls to participate in the ARP in any one year!

Like a traditional rite of passage ceremony, the girls were "secluded" for a retreat together with mentors and workshop facilitators to discuss topics on health, relationships, personal decision-making, and empowerment. These workshops , which were held in English, Swahili and Kitharaka--the languages commonly spoken in the region--also explored common misconceptions around health and genital cutting, and provided the girls with a support group as they took a stand against the practice.

On the last day, family, friends and community members gathered together to celebrate the girls and to publicly support their decision against genital mutilation. Speakers and special guests included Nicholas Nyaga, the chief of the village of Gatue, who was the first village chieftain in the region to prosecute a practitioner of genital cutting. Other speakers, including WGEP Kenya Project Coordinator Aniceta Kiriga, emphasized empowerment for girls, decrying other forms of violence against women and encouraging the community to support their daughters' education.

The ceremony closed with a public declaration against genital cutting, certificates for the graduates, and cake for all the participants and attendees.
Links: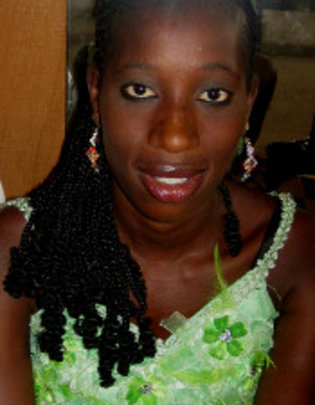 WGEP is proud of our graduates, who are living proof of the power of education to change lives--and of the multiplier effect of its impact on families and communities!
Meet Fatou
Fatou's family was poor and illiterate, but they believed in education and were determined for Fatou to go to school. The family worked hard to make this happen, but they struggled to make ends meet and still pay for Fatou's education. Then Fatou was enrolled in WGEP's Sisters-to-School Senegal.

"I really benefited from this program," Fatou says. "It allowed me to be among the best students in my class and to succeed on the first round on the Baccalauréat." After passing the "BAC"--Senegal's notoriously difficult national graduation exam--Fatou graduated from high school and went for training in elementary education.

Now Fatou is impacting the next generation as an elementary teacher in the village of Soum. "Graduates like me must now be the pioneers of Sisters-to-School," she says. "I try to help the families send their girls to school and reduce their domestic work so they can study. I give free coaching to girls whose parents are poor and illiterate. With my small salary, I help the girls with their supplies. I try to motivate my students every way I can."
Links:
WARNING: Javascript is currently disabled or is not available in your browser. GlobalGiving makes extensive use of Javascript and will not function properly with Javascript disabled.
Please enable Javascript
and refresh this page.