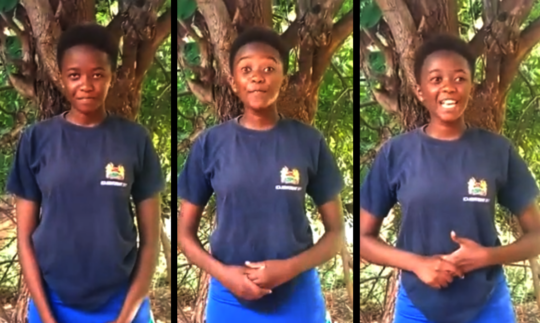 Cynthia, a Women's Global Education Project scholar in rural Kenya, recently wrote and performed an original spoken word poem about the impact her education has had on her life. You can watch the full poem, titled "An African Tear," on YouTube: https://www.youtube.com/watch?v=NbyGu7EVH7o&t=18s, or read the transcript below:
An African Tear by Cynthia G.
My African nature gives me my African stature
My African ability leaves me aiming higher and higher
My intelligent African brain gives me brilliant ideas every time
I draw and form structures
Structures to build my today
For I can't build my tomorrow without a better life today
Since today is my foundation
My strength
I write, I draw, lay out and construct
This leaves my esteem so high!
Yet I fall, crack, and break into pieces
My voice is never heard, for everyone around me is working for a few coins
A few coins they will take from their hands
to their mouths
But now, things are different
I am proud soul, for someone has got my back
The Tharaka Women's Welfare Program, and the
Women's Global Education Project have supported me
socially, emotionally, spiritually, and even financially!
Very few can take that initiative
The program has supported me by raising my self-esteem
by giving me free personal effects
They've also supported me by calling for meetings
for me to be a better woman in the society
And not just a better woman
But a woman of substance in the society
All thanks to the program
I can see success coming my way
and this success will change my desperate tear
into a tear of joy
into a bundle of joy
This tear of success
I will tie a lasso around my waist, and dance
like a possessed African woman
Because I will have power
The power to speak for the voiceless in the society
The power to help the poor girls in the society
And the power to spread humanity
All I need is support
The support to be that superwoman
That superwoman who fights for humanity
So join me, and let's make a change
Because I need you, and you need me
Thank you for supporting Women's Global Education Project, and hundreds of students like Cynthia!