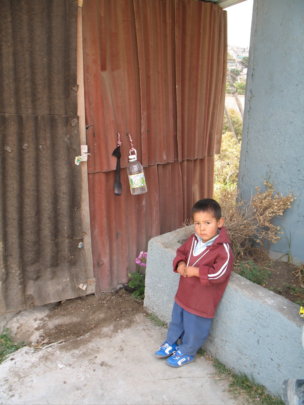 Dear Friends-
I want to share with you a proud personal moment that happened a couple of months ago. Over the last 10 years Agua Pura has been working with a very poor community outside of Mexico City. When we first started visiting there they lived in homemade shacks they made from materials they collected from a private garbage dump. Entire families lived and worked on the dump, sorting through the garbage looking for things to recycle. It was a dangerous and poorly paid job and the families lacked access to basic sanitation or safe drinking water.

Agua Pura started by helping build latrines for families and providing Water Purification Indicators (WAPIs) so that they could have clean water. As we met the families we made friends and over the years watched the children grow up. Many of the children lacked birth certificates and were ineligible for public schools, so we helped with a local private school so they could go. We also helped with other projects at the request of our local partner organization, Amextra, which stands for the Mexican Association for Transformation.

Now, after these years many things have changed. The dump has closed and the families have had to find new jobs. With little education or resources it has been difficult but many have moved ahead. You can see real houses being built, a few bricks at a time, where cardboard and blue tarp shacks stood. Many of our latrines are still in service. The children are still going to school and they even have a small computer lab where they can study and learn about a better future for themselves. Last year your donations helped build a new, clean, modern latrine for the school and we had a celebration to dedicate it to the community.

Agua Pura has been proud to be a small part of that progress. I was able to visit last July with my family and show them the progress the families have made improving their lives. We had a nice meal of pozole, a traditional Mexican soup that is often served for celebrations. We talked about families and friends and my grandson played with the other children there.

It was a quiet, satisfying afternoon, but I couldn't help but think how much you and our other supporters would have enjoyed being there as well, to see the real and tangible results of your contributions to the lives of the people in that community. I was there in your stead and I was humbled by it.

I want to conclude by showing you three pictures of the same young man, Pablo, as he grew up. He started by hanging around the school area as his parents worked on the dump sorting trash. Later he attended that same school and learned to read and use the computer. Now he is a nice young teenager with a bright future, thanks in part to you.
Thank you so very much,
Tom Carter