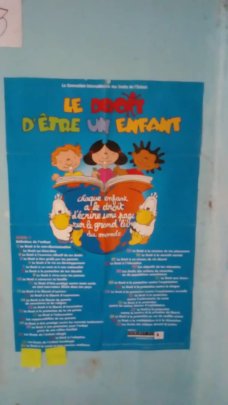 At 9 o'clock, our enthusiastic kids came in great numbers to the Center; first of all, they were playing foosball, while volunteers were arranging the classrooms. For that morning, our volunteers would like to increase awareness amongst children, regarding their own identity, their personality and choices in their life. That activity was divided into several categories. And there were lessons to be learned in each question.
After talking about the date, the weather and the program, the team started with personal questions involving their name, the age, their address and where they come from. Normally, each kid was supposed to answer in his own words and in full sentences. It's a way to know where they are from, and also learn from other, local areas' names, ethnical groups and so on.
It happened that, some of them didn't really know where they come from and in those cases; we proposed to see the marabouts to have the right answers.
After introducing themselves and telling their address and origin, we asked them about their favorite sport and animal. It was a common way to keep them concentrated and they always found funny to talk about sports or animals.
After that distraction, it was time to begin a meaningful conversation with them, concerning Children's Rights in Africa…..
We talked about certain rights and we promised to have each week a session to discuss about their rights.
Nevertheless, it was heartbreaking to explain to those underprivileged children, what was a child? What were his rights? Considering that, almost none of the basic rights has been respected in a daily life. The only explanation we had in order to reassure them was that, the private associations and other local organizations were putting pressure on the government to establish mechanisms for promoting the rights of a child.
We also asked them to stay at the centre to get educated and in the future, they could, in their turn, take positive actions to promote Human Rights in the Continent.
The volunteers thought that was important to let children express themselves, because, it will help them to dare to speak openly, to communicate, to be recognized by other and to make friends in the group. And another important thing was the fact that, some kids would find that way to fight against shyness and have the possibility to become familiar with the two foreign languages (French and English).
To finish our wonderful class, the last question was about where they would like to travel around the word? And we got surprising answers from children.
We noticed that, they could be illiterate but they are well informed regarding countries 'names.
What was their secret?......Soccer game on TV, we were so impressed to see that, thanks to soccer games, kids learnt a lot regarding geography. They quoted lots of countries; they wanted to visit, expecting to meet Ronaldo or Lionel Messi…..LOL.
And for that last lesson, our role was to show them in a map the Country's location. By the way, we took our time to talk about travelling and what they will need to travel. We taught them the role of a passport and we showed them how to make one through a simple drawing…..
Our talibés are so smart, we are proud of them.