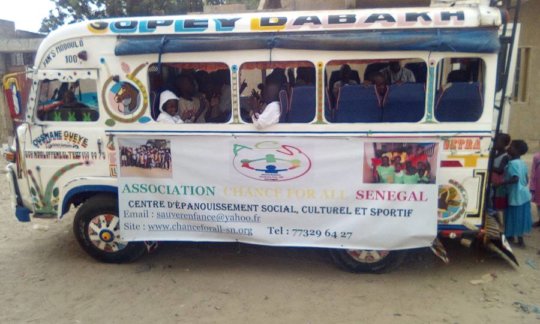 The centre is always full of kids and every day, local volunteers (Vieux, Rio, Yandé and Messi) are looking for new activities, helpful for their Education, knowledge and behavior.
Most of the time, after normal class, they organized awareness-raising activity, highlighting the advantages of studying, the Children's rights around the world and so on. For the month of May, we decided to let them explore Saint-Louis town, because the majority of them never visited down town.
In fact, coming from remote villages (Senegal, the Gambia or Guinea), those children, never left Darou their neighborhood, where they settled under the Marabout's supervision.
Some of them were lucky to visit town to earn more money, but others stayed closed to Darou.That's why, we thought that was judicious to show them Senegal's cultural diversity, as well as its history, geography and social aspects. So having a tour of the city was a best way to learn a lot and our proposal of the visit was to talk about everything we meet in our way.
For this purpose, we hired a local bus called 'car rapid'. The first lesson was to talk about that kind of bus and which role it played during the colonialism in Senegal. We explained the different prices of transport in town, depending on the money you have.
Beginning with the History was useful because that allowed kids to understand more concerning their City. They needed to have knowledge referring to Saint-Louis region and the Colonialism. For example, how the town was developed by French colonies?Why do we have tourists?
So children of Darou and local volunteers were also Senegalese tourists, criss-crossing the streets, between Corniche, the administrative buildings, the Bridge, the North and South Islands.
First of all, discovering the 'Faidherbe Bridge' was an important point, children were very curious to cross it and the local bus was waiting for us in the island. It was also so funny, because some of them were afraid to walk across the bridge. We needed to be patient and convince them to get off the bus.
Secondly, it was important to explain Saint-Louis location (Northwest of Senegal), what was a continent, an island, an ocean and a river, with the aim of distinguishing and recognizing all of them. We visited the 'Bou el Mogdad Boat', the African soldiers Monument, and traditional boats around.
At the end of our visit, we took them to the local amusement park to play in the jumping castle.
Children were very happy to visit their city and we hope that will enhance their knowledge. They asked us to take them back as soon as possible….it was so cute…lol