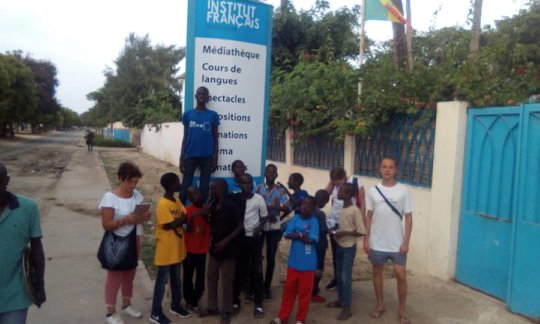 A real progress at the centre
From November to January, local volunteers at the centre were working on a great partnership between the French Institute in Saint-Louis region and the Association Chance for All Senegal.
We met the Director of the French Institute in Saint-Louis and together we agreed that was important to involve kids in Darou in some programmes. From now on, children will be able to visit the rich library where, there are many children's books and pictures books which can help them to learn and discover new things. Kids can also attend art exhibitions, visit art gallery and participate in workshops with artists to learn creative lessons.
Moreover, during that time, they discovered that the French Institute has a multimedia library, open to the public, so they stayed and found that the cinema theatre was a magical place. Since they were wise, we allowed them to watch funny cartoons.
During that visit, they met other kids (probably from wealthy neighborhoods), but they was no difference between them and when the Director spoke to them regarding Darou's situation, the other kids were very touched and one little girl gave her drawings as a gift. For our kids also, it was incredibly moving and meaningful.
After that visit, the Association's members, representing Dakar and Thiés regions came to enjoy Christmas celebration with us. It was time for a meeting all together and they told us about a new initiative they have in their mind. In fact, they found the great idea to make awareness mini-videos, highlighting the current problems of the society (health, economic development, disease, poverty, environment and so on) which can affect directly child's behavior or life.
For this purpose, that work will allow kids from the centre to participate, so we will make children play in that mini-videos and then we will use a video projector to show to other kids and local families in neighborhoods. Our objective is to teach people via videos and at the end organize tea debates about each subject.
Our first important subjects were to talk about 'Talibés', 'girls at school' 'child abuse' and 'hygiene'. Children at the centre were really motivated in playing their role in the videos. We had a great time during rehearsals. Later, when we finished the first videos, we launched a great awareness and education campaign in several neighborhoods. Our children became famous stars in Darou, even if their role was to denounce their child's abuse in our society.
Now our next step is to subtitle videos and have a workshop at the French institute (since videos were effective education tools). Also, they advised us to collaborate with other Associations to have greatest impact on kids and their future.