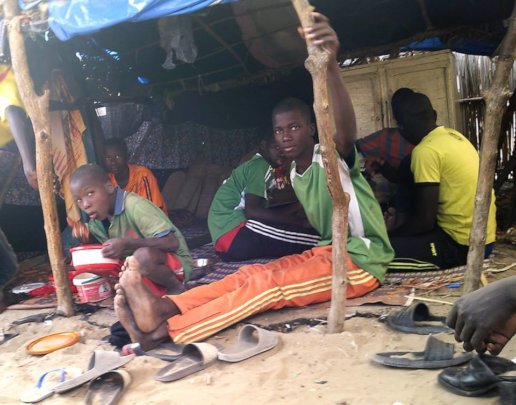 We had our second clean-up day at Chance for all Senegal!
The first one was our centre cleaning and this time it was the turn of the Daaras.
We used to visit one specific Daara and we know that all the talibés from there, used to visit our centre to get treated or to learn French. Furthermore, that Daara is located in a very poor place and is in very bad conditions.That's why we chose to organize that clean-up day, to get it cleaner for our little kids.
The objective was to clean and renovate the whole Daara so that Talibés who are coming to our center will feel more comfortable in their house!
It's an easy way to learn a lot about hygiene, cleanliness…
The Marabout at the Daara, an old man in his fifties, is from the uncommon Marabouts that really take care of the Talibés despite being not rich!
You only need to meet him and have a look around the place to see clearly that he is not from those that make profits with Talibés children!
All this made us think of him when we decided to organise that activity!
Local staff and children were at the Rendez-vous.
We had a bunch of white sand to cover the courtyard after having well swept the floor, bricks to cover the well that is used to give water to pigeons, cement and straw to make a barrier between the pigeons and the Talibés and the painting to finish!
Some people brought the sand inside the Daara, some remove the bad sand around the toilet, because it might encourage the presence of mosquitoes and thus a big risk of malaria, mostly for the very little Talibés.
In the end all the sand has been brought inside and covered the whole Daara.
The well was surrounded with bricks in order to avoid the sand or dirt to get in contact with the water, the toilet was well cleaned and renovated, the straw wall was done and the whole place has been painted.
The fact that children and everyone had fun while doing a wonderful and very worthwhile thing; that means a lot I think!
The marabouts and his talibés promised to keep the Daara always clean.
After our activities, we went back to the centre to play drums with Amadou and all the kids.
Well done guys and thanks so much! :)