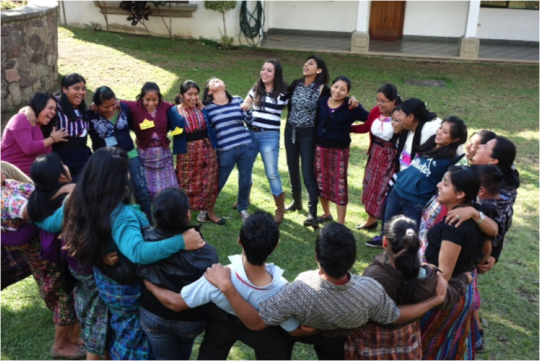 2014 Annual Report
Because of donor support in 2014, early childhood education was delivered to more than 300 children in 23 communities in Guatemala. Their generosity has sustained Let's Be Ready for 6 years now, and positioned us to expand in the most rural villages through the new program Magic Classroom.
Income and expense items of note.
We were short $ 3,093 due to increasing stipends by 5% each year and paying travel for teachers, while not asking for an increase in the in the basic donation amount of $1500 per teacher. Instead we have opted to ask for material donations.
I am still covering the administrative expenses @ $5,000
Some sponsors are giving partial scholarships to their teachers to go to college on the weekends.
Looking ahead to 2015, I solicited extra funds for materials and through some generous donations, it appears that there will be sufficient funds to balance the budget next year at about $50,000 with the number of teachers remaining about the same.
The Nutrition Program is fully funded for 2015, as it has been for the last 2 years, by grants from a Swiss Herrod Foundation and Feed the Dream. They get a separate accounting.
Establishment of our own Non Profit
This year we were granted nonprofit status for Let's Be Ready. Through a change in the tax law, new simplified application and reporting rules was created for small 501c3's with donations of $50,000 or less. We are extremely grateful to Beth and Marlon Dearden of World Link Partners for supporting us during our developing years.
Innovations for 2015
We have 7 major initiatives for 2015 which will carry over into 2016 as well.
These first three:
We have hired Margarita, one of teachers who had been replaced by a government teacher in community nearby Antigua (hooray for the Government) and put her to work learning how to evaluate children entering and when they leave our classrooms, primarily for vocabulary skills. She is a great teacher and will also visit and coach the teachers in their classrooms.
We are going to have more books in the classrooms and training to use them. Lucy is our developer of curriculum guides for the teachers and is the primary trainer. We will publish her guides for the 10 Star Books this year. Look for it on Amazon.
Nora will be spending 7 months in the USA, immersed in English. This is significant for both Nora and the long range plan for having Guatemalans administer the program with less help from me. Nora agreed to have all of the classrooms and teachers functioning perfectly before she leaves in May. This means:
that new teachers are trained,
they are all sending emails to their sponsors,
they are tracking the success of their graduates,
they are using the books and Creative Curriculum,
Margarita is evaluating the kids and coaching the teachers to increase the verbal skills,
the mothers are all providing the food and cooking nutritious snacks,
visiting sponsors have a great visit to their classrooms,
Jose is providing leadership for the mothers to change the diets of their family and their diet in the first 1000 days of their babies lives.
and all other administrative details under control.
and these four more:
There will be a volunteer from the USA for several months, Eric Schliemann, whose regular job it is to evaluate kids readiness for primary school. He has begun to accompany Margarita to visit the classrooms.
We are going to expand the use the Global Giving web pages as our primary "go to" location for all information about us, including up to date reports. Although people can donate there, they charge a 15% fee. On the other hand, donors can get matching funds, at times up to $500, and the fee is waived. We will be using $2000 in matching funds from the December Microsoft Foundation Youth Spark Drive in 2014 to be applied in 2015.
There is a great opportunity for raising funds in the future using a combination of Global Giving and the social media, which I know nothing about. I continue to look for someone who does and is willing to show us how.
We are going to have 8-10 Promoters (i.e., not formally graduated teachers) using the Magical Classroom Program in the most rural areas in 2015. I have personally funded $10,000 of the $13,000 it has cost to develop this program over the past 3 years. A group of very talented Guatemalans who originally lead our "clowns in the park" program have written and developed the recorded curriculum, and Lucy (also a teacher displaced by the arrival of a Government teacher) develops the activities to go with them, consults on the curriculum, and trains the Promoters. I have hired Lola, a Mayan woman from the Lake to be the director to select, train and check up on the Promoters. We have one partner so far, Miracles in Action, who is sponsoring 4-5 Promoters in the rural Cuchamatanes mountains where they have built schools. Fundraising and reporting will be in a separate 501c3, Magical Classroom.
It is apparent that we have some ambitious goals for 2015. We want to continue to improve Let's Be Ready in curriculum development and teacher training. We are going to expand the Magic Classroom into the more rural areas, develop more recorded programming, activities, and translations. With your continued support, we remain committed to improving early childhood education in Guatemala. We thank all donors for being part of vision and the reality,
Fred Zambroski, Founder