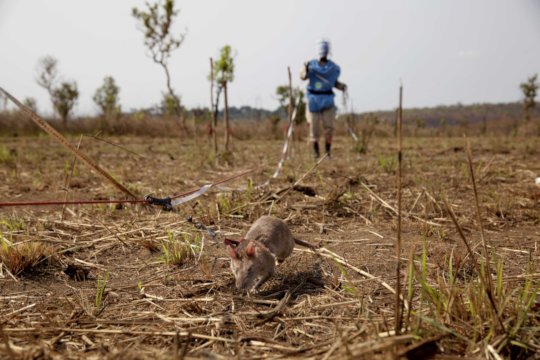 It's thanks to your incredible support that we were able to continue our fight against landmines and tuberculosis in July, August and September 2018 - we've certainly been kept busy and great progress has been made.
Landmine Detection
In September 2018, some three years in the making, APOPO received its registration from Angola's Ministry of Justice which permits APOPO to conduct its humanitarian demining activities independently in Angola. This credential was the first step toward independent registration and licensing with all relevant authorities in Angola which will make way for APOPO's access to new funding streams and a range of potential partnerships.
As APOPO is the only operator with animals, namely mine detection rats (MDR), in the country, humanitarian mine action in Angola would benefit from increased animal detection capacity nationwide in the challenge for completion and an Angola free of landmines. APOPO's MDR are too light to detonate the landmines and are very quick at finding them, making them a good tool for accelerating detection and clearance.
Tuberculosis Detection
This quarter saw great advances in the fight against TB as heads of state and world leaders got together for the first ever UN annual General Assembly high-level meeting dedicated to fighting tuberculosis (TB). Attendees signed a political declaration with commitments to increase funding, support for research and agreed for more collaboration across sectors and member states in order to end TB by 2030.
Every year around the world, 10.4 million new people fall ill with tuberculosis, and 4.1 million of them fail to be diagnosed, treated or reported by health systems. By any standard, the 4,600 people who die of TB every day is an unacceptable level of human suffering and economic burden. Tuberculosis is contagious and airborne. Despite being curable, TB remains the leading cause of death from an infectious disease and the leading killer of people living with HIV. The disease represents a global health security threat and results in high economic and financial burdens to the TB-patients and their families.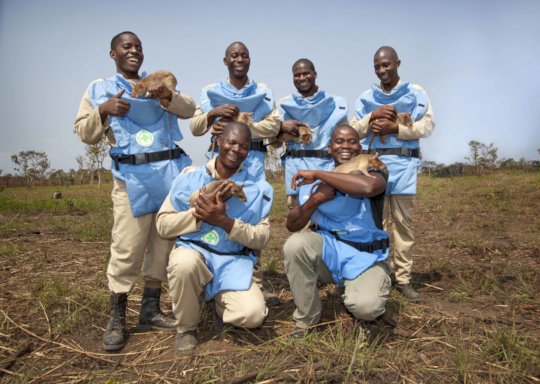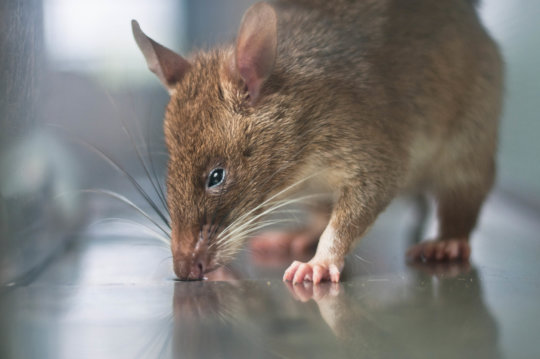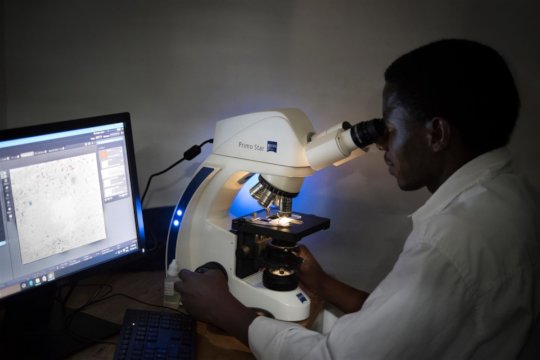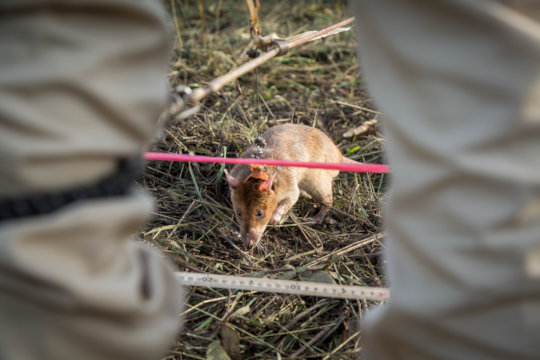 Another two months have passed since our last update to you and we're delighted to inform you that Ratticus Finch has continued his excellent work in the minefields of Dai Auv, Srae Nouy, and Varin in Siem Reap. In the months of July and August 2018, Ratticus Finch worked a total of 1,246 minutes covering a whopping 7,250 square meters of land. His incredible nose managed to find 5 AP and 6 UXO during that period - GO Ratticus Finch!
Thanks to the support of Planson International, HeroRATs like Ratticus Finch are able to continue their life-saving work, finding dangerous explosives which would otherwise pose a deadly threat to local adults and children. Here at APOPO we've seen first-hand the dangers of unexploded landmines and ordonnance and we'd like to thank you for supporting our work via your adoption of Ratticus Finch.
Here are some great photos of Ratticus Finch, and his working environment!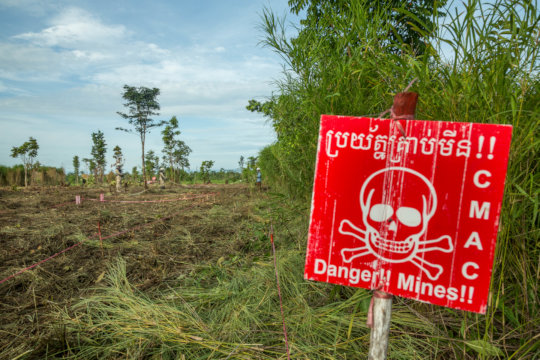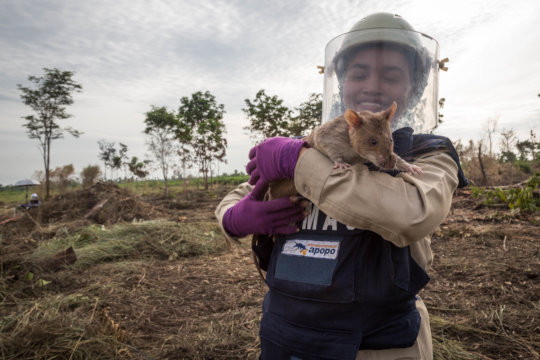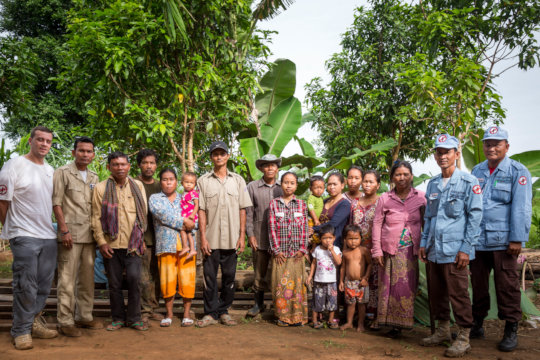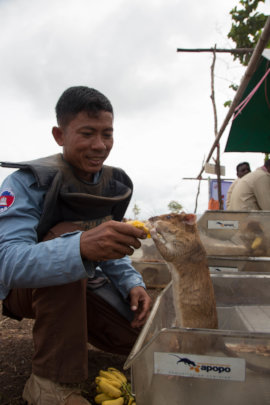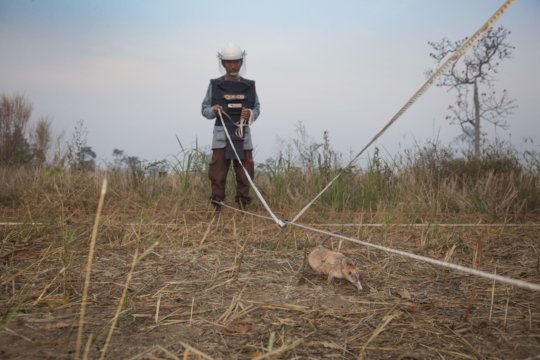 It's time for your HeroRAT update!

The Goldman Sachs Gives rat continues to do well in the field with some great numbers for the second quarter of the year 2018.

In the months of April to June your HeroRAT cleared a whopping 5820 square meters of land in 19 days. Working a total of 839 minutes across the quarter, they discovered 2 AP directional mines and 1 item of unexploded ordonnance.

It's thanks to the work by your HeroRAT that we're able to continue our life-saving work in Cambodia where at least 26 million explosive sub-munitions were dropped during the Vietnam War, mostly in eastern and north-eastern areas bordering the Lao People's Democratic Republic and Vietnam. The bombing is estimated to have left between 1.9 million and 5.8 million cluster munitions remnants.
Over 64,000 landmine and other Explosive Remnants of War (ERW) casualties have been recorded in Cambodia since 1979; with over 25,000 amputees, Cambodia has the highest ratio of mine amputees per capita in the world.
With their sensitive nose, the Goldman Sachs Gives rat can check the area of a tennis court in just 30 minutes, a job that would take a deminer with a metal detector up to four days.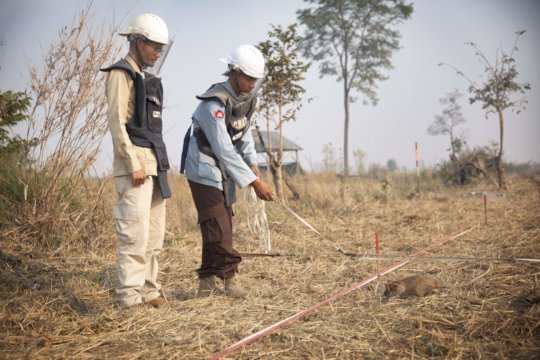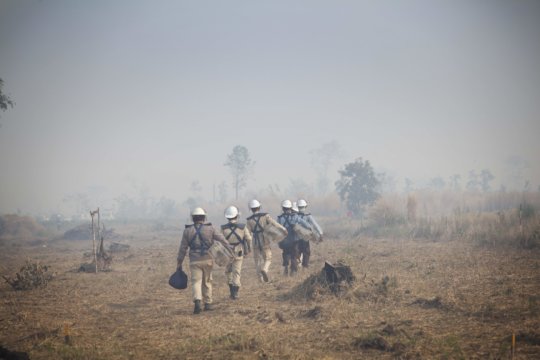 WARNING: Javascript is currently disabled or is not available in your browser. GlobalGiving makes extensive use of Javascript and will not function properly with Javascript disabled.
Please enable Javascript
and refresh this page.