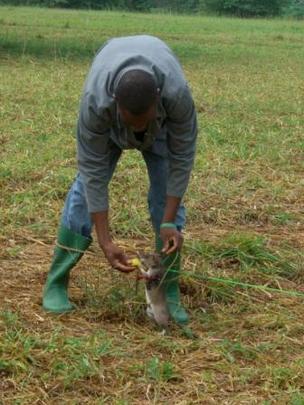 Alexis Nadin is a student at American University and former intern at GlobalGiving. This summer, she is travelling through Africa and visiting a number of GlobalGiving projects. Alexis visited this project on June 8, 2009. She writes:
"Hi, my name's Rosie, I'm a HeroRAT. They tell me I'm saving lives by sniffing out landmines, which is all well and good, but I'm just in it for the bananas. Ever since I was little they have been teaching me how to find landmines and how to tell the people where they are. It's a pretty good gig; I scratch myself and I get some food. Soon I get to go to Mozambique where I'll get to find real mines. There, because of rats like me, 200,000 square meters of land are cleared of mines per day! That returns the land to the people for personal and commercial use."
Our visit to HeroRAT was nothing short of remarkable. Through conditioning (think Pavlov and his dogs), this project trains giant African Pouch Rats to smell for landmines, and more recently, Tuberculosis (TB)! During our visit, we were stunned to see this theory we had learned in high school psychology put to use; as rats sniffed unmarked pieces of land, scratched themselves and indicated that a landmine was buried there. Time and time again, the trainers confirmed that the rats had found a real bomb. Equally impressive were the TB detecting rats which were able to sort through 70 saliva samples (what doctors use to test for TB) in 10 minutes, a task that would take doctors three and a half days. These rats have even found 353 cases of TB that doctors originally missed. This means that those patients can receive treatment for this disease, which can be fatal if undetected.
While at first thought, rats seem like an unlikely solution to landmine and TB detection, but we came to appreciate the simple logic of this project. African Pouch Rats, which are local, and thus carry the appropriate anti-bodies for local diseases, are easy to come by, and have an impeccable sense of smell. Further, unlike dogs, which are expensive to impart and care for, rats are cheap (they cost 25% less than any other intervention) and too light to set off mines.
By the end of our visit, not only were we amazed by the ingenuity of this project (and the fact that it works!) but we were jealous of the rats, who are well loved by their trainers, receive plenty of play time, and get to snack all day long!
Alexis said she would tell her friends this project is: Incredible: You need to see this!
GlobalGiving is committed to incorporating many viewpoints on our 600+ projects. We feel that more information, especially from eyewitnesses helps donors like you continue to support organizations doing great work in the community.