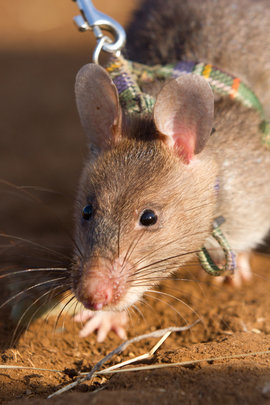 Mine action milestone: 2 million square meters cleared!
APOPO's HeroRAT Mine Action Team passed an important milestone this month, in our efforts to rid Mozambique of its landmine legacy: over two million square meters of land have now been returned to the local population in Mozambique! In opening this land, we have found over 1,030 landmines, helped bring electricity to communities, made traveling between villages safer, cleared access to water pits, allowed thousands of people to return to their land, prevented countless mine-related accidents, and much more!
None of this could have been possible without our dedicated supporters and funders. We want to sincerely thank everyone who has believed in our unique and innovative approach to landmine clearance.
APOPO receives seven-year support from Province of Antwerp
APOPO is thrilled to announce a seven-year cooperation with the Province of Antwerp, Belgium. The Province has supported APOPO in our humanitarian efforts since 1999, and has now extended its financial support for seven more years to help with the further development and expansion of APOPO's operations.
On November 11, APOPO and the HeroRATs were honored to welcome a delegation from the Province of Antwerp to Morogoro, Tanzania to mark the beginning of this cooperation. The delegation included Mrs. Inga Verhaert and Mr. Ludo Helsen, Members of the Provincial Council, and Mr. Dieter Goossens, head of the department of North-South Cooperation.
While at HeroRAT headquarters, the delegation observed APOPO's detection rats in training, and signed the official Protocol of Cooperation along with APOPO's Chairman of the Board, Rudy Van Eysendeyk, and CEO, Christophe Cox. By supporting APOPO, Mrs Inga Verhaert said the Province of Antwerp is both investing in scientific research for humanitarian purposes, while promoting local employment and training in Tanzania. She points out that "landmines and Tuberculosis (TB) affect the most vulnerable individuals and communities in the developing world. They are major obstacles in social and economic development. Therefore, the Province of Antwerp is happy to support this exceptional initiative, ensuring its expansion."
With the support of Antwerp, APOPO will have the capacity to continue to train both our HeroRATs and Tanzanian trainers, as well as make it possible for the project to expand to Angola and the Democratic Republic of Congo in the future – two of the most mine-affected countries in Africa.
HeroRATs flood the media following AFP visit
In November, news about our HeroRATs flooded media outlets all over the world! This newfound interest came following a visit from a media crew from Agence France-Presse (AFP), a French news agency. The team of video-journalist William Davies, reporter Otto Bakano, and photographer Yasuyoshi Chiba, were in Tanzania to cover the 2010 election in October – and couldn't miss a side-trip to our headquarters in Morogoro to see our heroes in action! They toured APOPO's headquarters and training facilities, speaking with our HeroRAT trainers and staff, CEO Christophe Cox, and Founder, Bart Weetjens.
The stories hit the news circuits on November 7th and spread like wildfire! Otto's article, Sniffer 'hero rats' saving lives in minefields and lab quickly found itself published in various print and online news sources around the world. On Yahoo! News videos, Will's news story, Tanzania rats sniff out mines, was the most watched news piece and received over 200,000 views in only two days! And a collection of Yasuyoshi's beautiful photos of our heroes are featured in an online gallery on the website of The Telegraph (UK).
HeroRAT trainer, Abdullah Mchomvu, who has been with us since 2002, told Otto "This work is not easy...you have to be patient. Sometimes I get frustrated, but then again I tell myself these are animals...[and] this work saves lives." Bart Weetjens also spoke about the difficulties in promoting our work in an anti-rodent society. "Rats absolutely have an image problem. People don't like them and that is one of our biggest struggles… we are trying to change that perception. Rats are very sociable, very intelligent highly-likeable creatures."
It appears that the recent media attention has helped change a few people's opinions about rats! In the two weeks following the publication of these stories, we were overwhelmed with support and welcomed over 100 new HeroRAT adopters from all over the globe. We are thrilled that the stories about our HeroRATs moved so many people to help our cause. APOPO would like to send a hero-sized thank you to the AFP crew, for helping us to spread the word about the great work our HeroRATs are doing to help save lives and limbs!
Thank you all for your kind support of our heroes. We wish everyone a very safe & happy lead-up to the festive season!
Links: