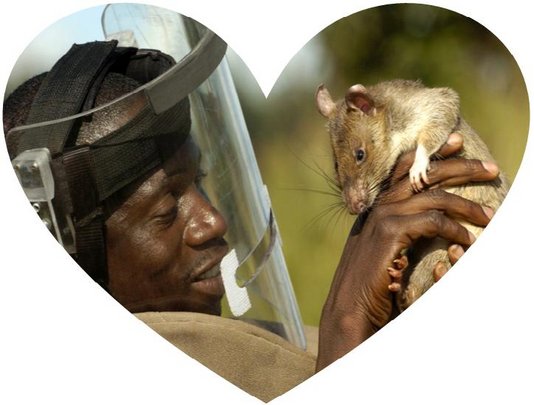 A Hero-Sized WELCOME and THANK YOU
The HeroRAT team warmly welcomes all of our new found friends and supporters who came on-board throughout 2010. We are lucky to have an ever-expanding community of amazing individuals who are as committed and passionate as we are about the life-saving work of our HeroRATs.
We are most grateful to those of you who continue to share our work with your friends, family or colleagues – you are helping us to change people's somewhat negative perceptions of rats! If you haven't already joined the HeroRAT network, feel free to connect with us via Facebook and Twitter to ask questions, see the latest images from HeroRAT headquarters, and keep up to date with all the latest hero happenings.
We also want to extend a very special thank you to all of our wonderful supporters who made this holiday season the best one in APOPO's history! Our HeroRATs were quite the popular gift this year, with 436 new adoptions throughout the month of December. Not to worry, we have spoken with Chosen One, Kim, Tyson, and Ziko, and they are all up to the challenge of making their adoptive parents proud!
Thanks to our record number of generous donors and adopters over the holidays, it looks as though 2011 is going to be a massive year for APOPO's HeroRATs!
Plans for 2011
APOPO is setting our sights high with some big goals for our HeroRAT teams in 2011.
In Mozambique, thanks to ongoing support from generous donors around the world, we will continue to stay on track to complete our de-mining operations in the Gaza Province ahead of the 2014 deadline.
APOPO continues its effort to establish mine action programmes in Angola and Thailand. Angola is one of the most mine-affected countries in the world and we aim to work with a potential partner organization and to send HeroRAT teams to the Moxico province in 2011. This province is the most mine-affected province in Angola. In Thailand, APOPO has started preparations for a non-technical survey of two mine-affected provinces along the Cambodian border. The project is undertaken in close cooperation with Thailand Mine Action Centre (TMAC). The survey will provide a more realistic picture of the real mine problem and will help to focus future mine action efforts in areas that are actually mined while returning areas that prove mine free to the local population. The two expansions into Angola and Thailand are, however, subject to available funding.
In addition to the daily sniffing activities of our Tuberculosis (TB) detection HeroRAT team in Tanzania, we will also be busy preparing our case findings for future publication in 2011. New research experiments have already begun, with the aim of further validating and optimizing our HeroRATs as a diagnostic method. In one experiment, our HeroRATs have been sniffing prepared microscope slides of sputum samples – rather than the sample pots we receive initially from collaborating DOTS Centers – and so far, the results are encouraging.
Our Remote Scent Tracing (RST) research will be taking on groundbreaking new applications in 2011. RST involves taking a sample of air, soil, or other compound, and bringing it to a remote location for evaluation by our trained sniffer rats. Pending funding, APOPO hopes to begin feasibility studies on the rats' abilities to detect multiple explosives and salmonella as soon as possible.
APOPO's 2009 findings published in the American Journal of Tropical Medicine and Hygiene
APOPO's most recent tuberculosis journal article, led by Dr. Alan Poling entitled "Using Giant African Pouched Rats to Detect Tuberculosis in Human Sputum Samples: 2009 Findings" was published in the December edition of the American Journal of Tropical Medicine and Hygiene. The study presents our results from 2009 using our Gambian pouched rats (affectionately known as HeroRATs) to sniff for mycobacterium tuberculosis in human sputum samples. That year, out of 10,523 total patients, our rats found an additional 620 TB-positive patients that were previously misdiagnosed as 'TB-negative' by the local DOTS centers using smear microscopy. Thanks to our rats' identification of these additional patients, the study found that our rats truly are heroes, having increased detection rates in our partnering DOTS centers by 44% in 2009.
Karen Hopkin also presents a summary of the results from this study in her 60-Second Science podcast on the Scientific American website. Click here to listen!
To date, including data from 2010, APOPO's HeroRATs have found over 1,600 TB-positive patients that initial smear microscopy missed. According to estimates from the World Health Organization, this has helped prevent the spread of TB to over 16,000 healthy people.
We look forward to future success and publications about the great achievements of our Tuberculosis detection HeroRATs and their equally hard-working human colleagues.
APOPO's research in New York Times and on the radio
This month, APOPO appeared for a third time in the widely distributed New York Times newspaper. APOPO's Behavioral Researcher, Dr. Alan Poling, was interviewed for the January 3rd article, "Detecting Tuberculosis: No Microscopes, Just Rats". The article reported on APOPO's findings from the above-mentioned study, led by Dr. Poling, which were published in the December issue of the American Journal of Tropical Medicine and Hygiene.
In the article, Dr. Poling expressed one of our hopes for the future. "We think that eventually there will be a place for them in first-line screening." Currently, our TB-detection HeroRATs provide second-line screening: they evaluate the sputum samples after they have been checked under microscopy at the hospitals. However, our rats find 5 – 10 patients on a weekly basis who have been missed by first-round screening. We believe our furry colleagues are up to the challenge of proving their TB-sniffing capabilities, and hope that HeroRATs will someday become a go-to resource for efficient and effective TB diagnosis.
Dr. Poling was also interviewed by WMUK, a public radio program in Michigan, USA, to talk about APOPO and our HeroRATs. In the seven-minute news segment, Dr. Poling discussed the landmine and tuberculosis problems in sub-Saharan Africa and how APOPO trains our HeroRATs to help solve these problems. To listen to Dr. Poling's interview, please click here.
Say "I Love You" with a HeroRAT!
Tired of giving chocolates and roses for Valentine's Day? Shake things up this year and show your love by making the world a safer place for your loved one to live in: support a HeroRAT!
A contribution to our HeroRATs project on GlobalGiving will support us greatly in our efforts to save lives and limbs by sniffing out more landmines and tuberculosis in communities in need.
Make your contribution in honor of your Valentine and send them a GlobalGiving gift card. Watch as their face light up when they realize that together, you've helped provide banana treats for one of our life-saving, bomb-sniffing heroes in Mozambique, or tuberculosis screening for villagers in Tanzania.
Alternatively, you could surprise your Valentine with a HeroRAT adoption!
Our HeroRATs are more adorable than any teddy bear, they live longer than roses, AND they are helping to save lives and limbs in Tanzania and Mozambique.
Your loved one will receive a personalized email announcing the gift from you, along with an adoption certificate and letter from his/her adopted hero as well as updates throughout the year. To give the most unexpected and unique gift this Valentine's Day, please visit our Adopt-A-Rat page.
Thanks for your support, and we wish all of you an inspiring and rewarding year ahead!
Warm regards,
The HeroRAT team
www.herorat.org
http://www.facebook.com/heroRAT
http://twitter.com/HeroRATs
Links: