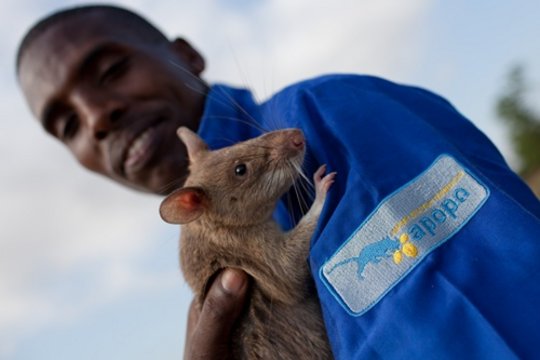 Mozambique Mine Action results in 2011
APOPO and the HeroRAT team in Mozambique are off to a great start for 2011! So far, we've cleared over 239,859 square meters of land. In doing so, we've found and destroyed: 282 landmines, 78 unexploded ordnances, and 1,763 small arms and ammunitions. That's a lot of TNT!
We're not stopping there either. Moving forward with our clearance plan for 2011, APOPO estimates completion of all the remaining known minefields in the Gaza Province this year – well ahead of Mozambique's Anti-Personnel Mine Ban Convention deadline in 2014.
From 2012 onwards, our Mozambique team will be re-assigned to assist with mine action operations in other contaminated provinces. APOPO has shown commitment to the National Clearance Plan and is well-positioned to continue its unique and effective clearance system, helping Mozambique reach its goal of being a mine-free country by 2014.
APOPO-PRO project gets started in Thailand
APOPO has made significant progress in setting up our Thailand Mine Action Program, with the support of the Thailand Mine Action Center (TMAC). In 2010, TMAC requested APOPO to conduct a combined non-technical and technical survey of all mine suspected areas in the provinces of Trat and Chantaburi along the Thai-Cambodian border. Preparations for the project started in October 2010, and APOPO is excited to report that the survey will be conducted in partnership with a local NGO in Thailand, Peace Road Organisation (PRO).
APOPO's Head of Operations, Håvard Bach, and Thailand Project Manager, Kjersti Tokle Fjellhaug, are now working together with TMAC to produce training courses and Standard Operating Procedures. The training of the survey team will likely begin in mid 2011. Although the HeroRATs will not be utilized during the first phase of this project, we are looking into bringing the rats to Thailand at a later stage to speed up clearance, when the necessary funds are secured. This will aid Thailand's efforts to comply with the 2018 APMBC deadline.
APOPO aims to help Thailand and TMAC to streamline its operational land release decision making concepts and is prepared to establish a technical survey and clearance capacity to follow on after the survey, and continue to release land for as long as the problem exists or funding permits. APOPO's Thailand project received initial financial support from the Lien Foundation in 2010.
Full accreditation for our newest heroes
Congratulations are in order for five handlers and seven
HeroRATs in Mozambique
! In order to prepare for their demining work in the real minefields, all of our staff members – both human and rat alike – must pass an official accreditation test from the National Institute of Demining in Mozambique (IND) before they can set foot (or paw) in the minefields.
Recently three of our Tanzanian trainers, and two of our Mozambican trainers, triumphantly passed their National Institute of Demining (IND) accreditation test. Additionally, seven of our HeroRATs (including the ever-popular Ziko) also passed their IND accreditation test, becoming official Mine Detection Rats (MDRs).
Now they can put all of their hard work and training into practice, and enter the real minefields to save lives and limbs! Everyone at APOPO sends their congratulations on passing the test, and wishes the newest additions to the HeroRAT demining team every success in their vital work.
Collaborative action at Skoll World Forum
APOPO's HeroRATs were represented by our founder, Bart Weetjens, at this year's
Skoll World Forum (SWF)
in Oxford, UK, where in 2009 APOPO won the Skoll Award for Social Entrepreneurship. Each year, SWF social entrepreneurs, philanthropists, academics, and representatives from various governments and industry leaders, come together in Oxford to discuss innovative solutions to the world's most pressing humanitarian concerns.
The theme for 2011's SWF was "Large Scale Change – ecosystems, networks and collaborative action." In the words of founder Jeff Skoll, who happened to mention APOPO's "big, big rats" in his opening speech:
"A key imperative of the Skoll World Forum is to cultivate the collaborations and grow the networks that will propel these social entrepreneurs and their innovations to global impact."
With the Skoll Foundation's support, our innovative HeroRATs are already making their mark on a global platform. Moving forward, we will continue to focus on inspiring collaborative action that helps to further the reach of our humanitarian efforts and achieve social transformation in the communities we serve.
While at SWF, Bart was interviewed by TrustLaw about the ideas behind APOPO and how our HeroRATs can help to solve pressing humanitarian challenges. TrustLaw compiled Bart's perspectives, along with snapshots of 10 other 'big thinkers' as a way to present the state of social entrepreneurship in 2011.
To view Bart's interview, please click here.
Trendsetting APOPO at the WCMP
APOPO founder, Bart Weetjens, spread the word about the great work our HeroRATs are doing at the
World Congress of Muslim Philanthropists (WCMP)
in Dubai, United Arab Emirates. The philosophy of the WCMP is driven by compassion, which is intrinsic in Islamic values. The WCMP envisions a peaceful, equitable and sustainable world, and is committed to advancing effective strategic giving.
Bart was invited to the WCMP to speak at a plenary session on trendsetting humanitarian projects whose audience included leaders in Islamic philanthropy. The main topic of discussion was innovative ideas that can make giving in the Muslim world more effective, by investing in locally generated agendas for inclusive social and environmental change.
***
On behalf of APOPO and the HeroRATs, thank you for continuing to follow and support us in our efforts to save lives and limbs. We wish you all a wonderful month ahead!
Warm regards,
Links: