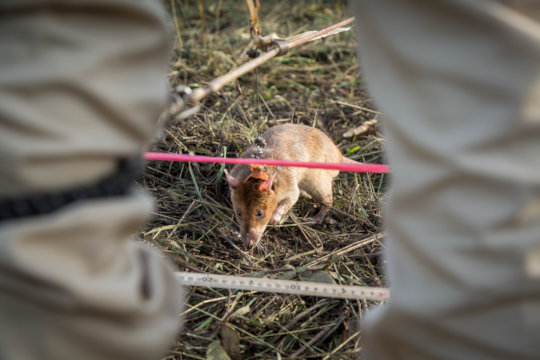 Another two months have passed since our last update to you and we're delighted to inform you that Ratticus Finch has continued his excellent work in the minefields of Dai Auv, Srae Nouy, and Varin in Siem Reap. In the months of July and August 2018, Ratticus Finch worked a total of 1,246 minutes covering a whopping 7,250 square meters of land. His incredible nose managed to find 5 AP and 6 UXO during that period - GO Ratticus Finch!
Thanks to the support of Planson International, HeroRATs like Ratticus Finch are able to continue their life-saving work, finding dangerous explosives which would otherwise pose a deadly threat to local adults and children. Here at APOPO we've seen first-hand the dangers of unexploded landmines and ordonnance and we'd like to thank you for supporting our work via your adoption of Ratticus Finch.
Here are some great photos of Ratticus Finch, and his working environment!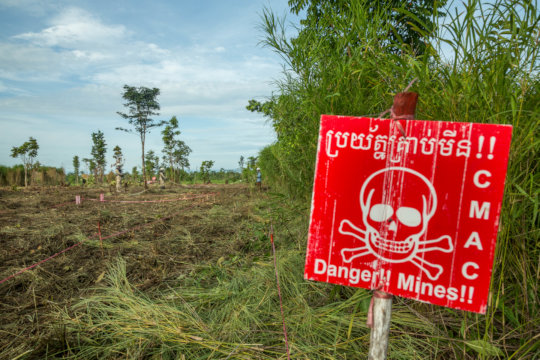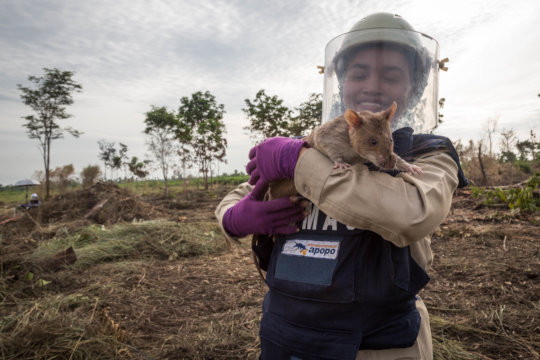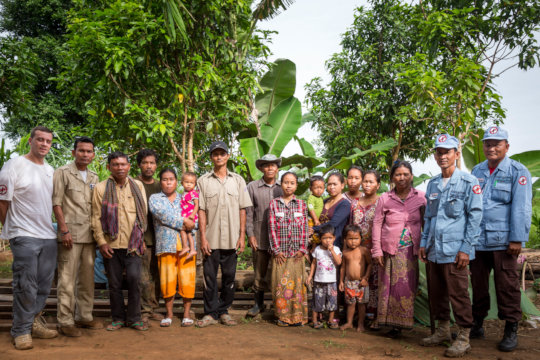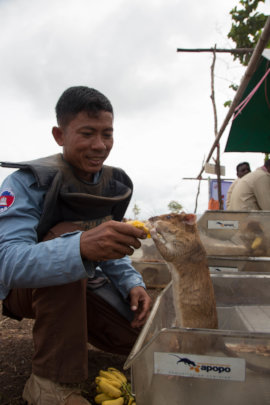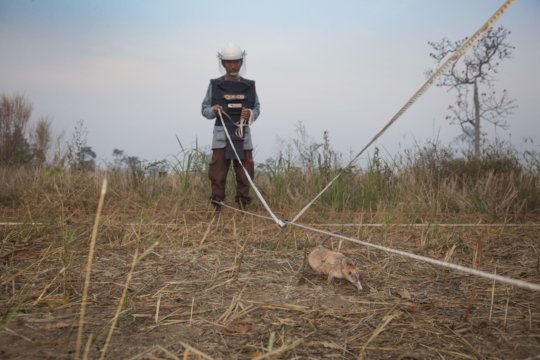 It's time for your HeroRAT update!

The Goldman Sachs Gives rat continues to do well in the field with some great numbers for the second quarter of the year 2018.

In the months of April to June your HeroRAT cleared a whopping 5820 square meters of land in 19 days. Working a total of 839 minutes across the quarter, they discovered 2 AP directional mines and 1 item of unexploded ordonnance.

It's thanks to the work by your HeroRAT that we're able to continue our life-saving work in Cambodia where at least 26 million explosive sub-munitions were dropped during the Vietnam War, mostly in eastern and north-eastern areas bordering the Lao People's Democratic Republic and Vietnam. The bombing is estimated to have left between 1.9 million and 5.8 million cluster munitions remnants.
Over 64,000 landmine and other Explosive Remnants of War (ERW) casualties have been recorded in Cambodia since 1979; with over 25,000 amputees, Cambodia has the highest ratio of mine amputees per capita in the world.
With their sensitive nose, the Goldman Sachs Gives rat can check the area of a tennis court in just 30 minutes, a job that would take a deminer with a metal detector up to four days.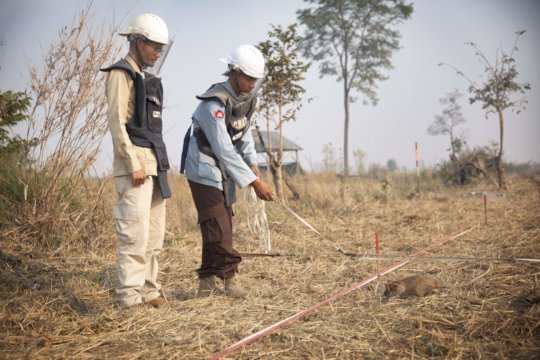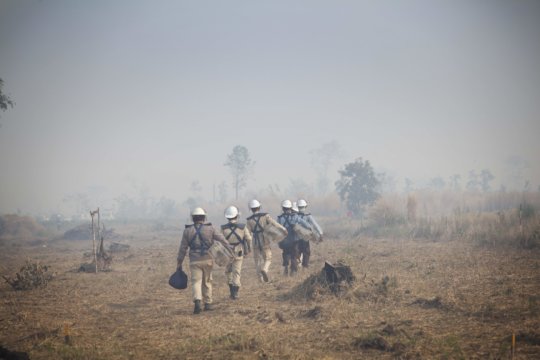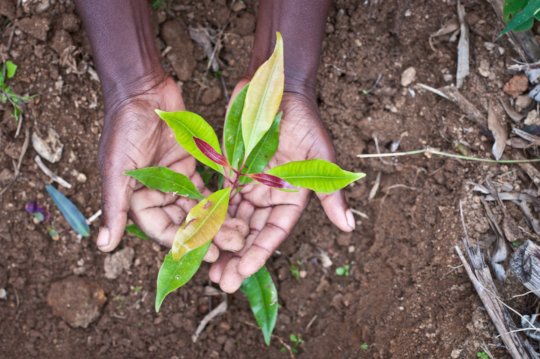 Welcome to our latest update!
From April to June 2018 our main focus was holding training sessions for staff, farmers and local communities as heavy rainfalls and a longer rainy season, followed by a dry period made transplanting trees in the mountains difficult.
Valuable training sessions were held regarding nursery and tree management in the village of Kisosa. The main focus of the training was the management of seedlings whilst in a nursery setting all the way through to transplantation into the field. As a result of the training, we've been able to identify that further steps can be taken to better the record-keeping of the seedlings which are transplanted.
In Choma village, we were delighted to see that one farmer has successfully planted over 250 seedlings of acrocarpus fraxinifolia and albezia rebbeck; some of the trees were planted close to river banks, and others as boundaries around his farm. The next steps for the nursery in Choma are to ensure that tree seedlings which are ready to be transplanted are taken by farmers at the right time to ensure optimal transplantation and successful growth.
Due to the upcoming dry season, further transplantations will take place in September 2018 with several indigenous species to be included – at the moment the main trees in the area are pines, acrocarpus, cloves, and albezia.
It's thanks to wonderful donors like you that we're able to continue to educate and collaborate with local farmers and communities, introducing organic farming programmes & sustainable conservation projects to village communities in the Uluguru Mountains in Tanzania.
Thank you!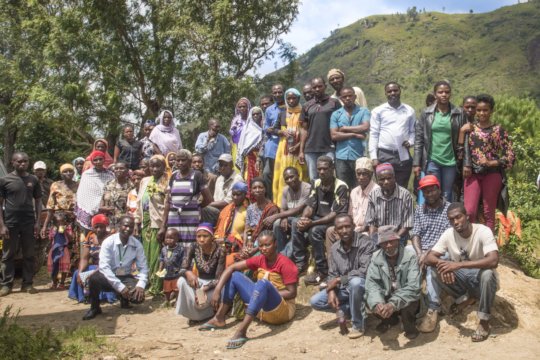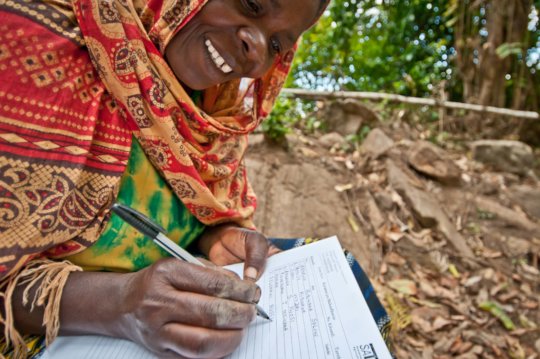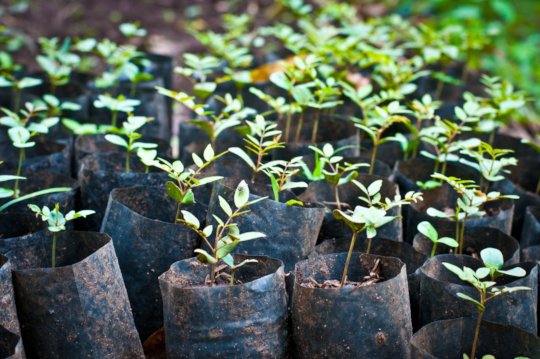 WARNING: Javascript is currently disabled or is not available in your browser. GlobalGiving makes extensive use of Javascript and will not function properly with Javascript disabled.
Please enable Javascript
and refresh this page.