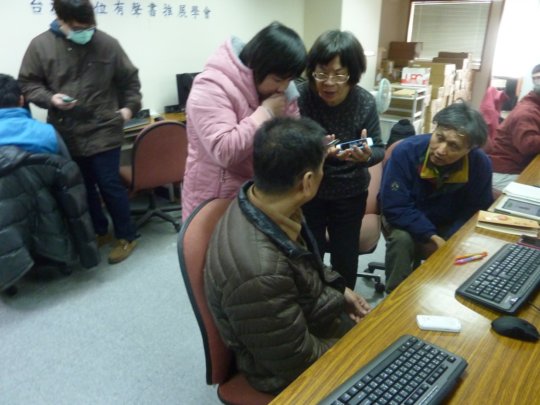 With your support, we have held many computer courses as we can. From Oct. to Dec. 2015, we have focused on two kinds of classes:
1. the NVDA one by one training:
(learning how to use screen reader "NVDA".)
2. computer group classes:
(help blind students learning how to operate computer by using NVDA screen reader and try to help them to find a job when the classes are over in end Oct.)
We have guided thevisually impairedto visitmonuments in Zhongshan district Taipei City. We visited the first place "TaipeiBrewery" on Sept.16,2015
The second place : Former USambassador's residence and Zhongshan Presbyterian Church on Oct.17,2015 The third place: Taipei Story House and Tsai Jui-yueh Dance Research Society on Nov.15,2015. Volunteers assisted the visually impaired in the manner touch the building, so that visually impaired people to hear, touch, and then understanding monumental buildings
We hold visually impaired essay contest is divided into adult group and youth group. Adult group had 14 winners while the youth group has 17 winners. The seventh Accessible Internet outreach and promotion awards ceremony was held on Dec.12, 2015. There are more than a hundred guests invited to join the event.
From Oct. to Dec., 2015, we finished recording three audiobooks in DAISY format as follows: 1.Historical Sites in Taipei 2.Historical Sites in Taipei 3.The nineteenth disability model Golden Eagle Award, It included 10 Golden Eagle Award winners who are outstanding handicapped friends. These audiobooks will be given to the visually impaired people free of charge.
In Oct. 2015, we invited Professor Huang to share his life story. He is a blind professor working in National Hsinchu University of Education Department of Special Education. He lost his eyesight when he was 13 years old. Many visually impaired people came here to learn Professor's real life experiences and made discussion with him. For those who are unable to come to our conference room, they can use "Skype" to join the seminar as well.
Besides, we offer psychology counseling services. Firstly, our social workers talk over the visually impaired face to face and learn to know their real needs. Secondly, we will find licensed counselors to arrange therapy. After the therapy, we expect them to recover their mental health gradually.
Maintain and Enlarge the TDTB DAISY Library continuously.
This Online library is constructed in 2010, and all the visually impaired people are welcome to be our members from then.
At present, our TDTB library has over 491 members and provides over 5016 DAISY books.
(Dec.15, 2015)