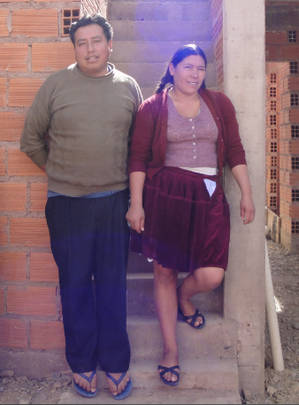 Dear supporters,
This is a short up-date from the field from the project to provide families in Bolivia with micro-credits for water and sanitation improvements.
Both in numbers and in processes, the project is now getting to speed - after a long phase of institutional negotiations and trials of different models, we can now focus on the promotion of the micro-credits. Since May, $6,000 in credits have been disbursed to nine families, and further $18,000 are in the process of technical and financial evaluation (by the way: the donations we receive through GlobalGiving are not used for the credits but for the promotional and educational activities of the SODIS Foundation). And here is another important number: 0% of credit defaults...
However, the project is not only about numbers, it is also - and most importantly - about people. For example Edgar Anagua and Felicia Crespo, a young couple who lives in the peri-urban zone of Cochabamba. For many years, they lived without a bathroom or toilet, which is quite a common situation in this area where the water distributions network (or the sewer, for that matter) does not exist yet. Edgar and Felicia were aware of the importance of basic sanitary installations and previously had inquired with local banks, but their requirements for micro-credit were all to stringent. Thus, when they heard of our project they immediately contacted us, and within a few days the credit was approved. For $1,500, they were able to buy a big water tank and construct the bathroom including a toilet and a shower (see pictures).
Today, they have their own toilet and they can even take a shower - which is not only a luxury in this area but really increases quality of live. Among other things, they noted that their children are much healthier, which also brings about savings and productivity gains for the parents. As Edgar Anagua points out: "This micro-credits are a great opportunity to improve our lives. This experience also taught me to be more responsible, to work hard and to be serious about my dreams".
For us, this is just one of many examples where we witness how the project is making a big difference in lives of families. And like Edgar and Felicia, there are thousands of people who need an opportunity to improve their living conditions - not by free give-aways but by their own work. Because micro-credit and sanitation are not only about survival, but also about something we sometimes forget: dignity.
Best regards from the whole project team,
Matthias Saladin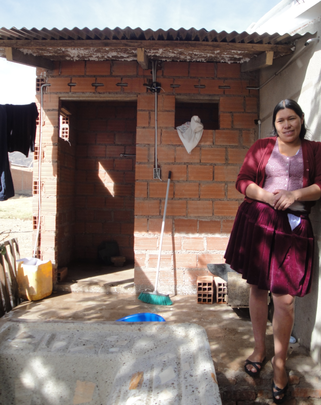 Links: