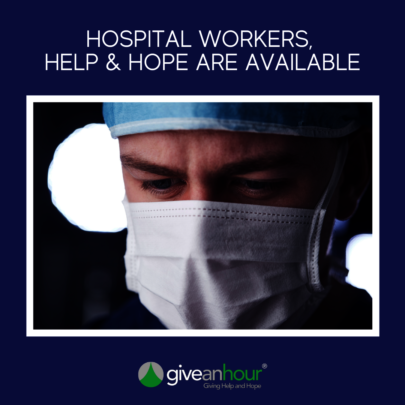 "Wear a Mask. Wash your Hands. Stay 6' apart."
Medical professionals have taken care of us for a year – and have faced unbelievable trauma and emotional pain in doing so. Give an Hour's Hospital Heroes program continues to help by providing free mental health counseling to medical staff on the COVID-19 frontlines.
Now it's time for us to learn how to give back to them
Give an Hour hosted a virtual event on Martin Luther King Day National Day of Service. This was an online discussion about our Hospital Heroes and about how everyone can volunteer by educating themselves and sharing the information with the hospital heroes in their lives and in their communities.
If you are a loved one, family member, colleague or friend of someone on the frontlines, you can help. You don't have to be a therapist. Learn to recognize the Five Signs of Emotional Suffering, about maintaining wellbeing through the Healthy Habits, and about being part of the community support system.
And you will learn to take care of your own mental wellbeing in the process. These are "survival skills" that all of us can use in the age of COVID-19.
How can we help?
Take an hour for Give an Hour. On MLK Day, our panel of experts talked about the mental health challenges facing those in a medical setting and how we can all learn how to identify and to recognize the Five Signs of Emotional Suffering, about maintaining wellbeing through the Healthy Habits and how to take care of your loved ones.
Randy Phelps, PhD, Clinical Psychologist and Give an Hour CEO, led the discussion along with three other mental health experts.
If you missed the conversation, take an hour to watch our Zoom Recording. Links below.
We prepared slides that you can view or download. Links below.
Give an Hour periodically hosts online events to offer help and help to the community. We invite you to sign up for the Give an Hour newsletter to receive our communications in time to join us live. You will be in the know and able to join our next event. Links below.
Our Hospital heroes recieve 6 hours of free mental health services. It is our hope that we can continue this vital service. And hope that our GlobalGiving donors can support our efforts through your generous donations. Give an Hour is grateful to GlobalGiving for providing a platform to share our lifesaving work. We appreciate our donors who give so generously throughout the year.

Thank you.
Stay safe,
Randy Phelps, PhD.,CEO Give an Hour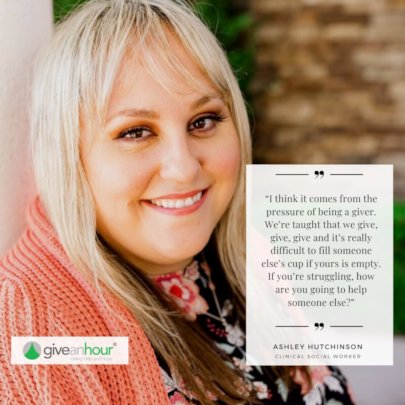 Links: