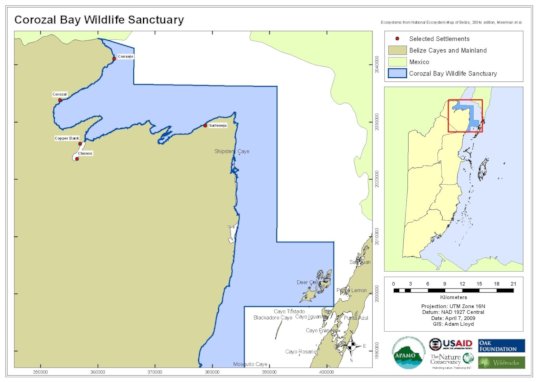 Moving a little to the north east side of Belize, we find Corozal Bay Wildlife Sanctuary (CBWS), the second largest marine protected area in Belize, encompassing approximately 72,000 hectares of the Belize portion of the Mesoamerican Reef's largest estuarine system.
This area is co-managed by the Sarteneja Alliance for Conservation and Development (SACD) since 2007, in partnership with the Forestry Department. SACD is a community-oriented organization that promotes the conservation and sustainable use of marine resources for the benefit of present and future generations. Dedicated to improving the quality of life of the stakeholder communities of Corozal Bay Wildlife Sanctuary.
With this in mind, since 2012, SACD recommended the initiative of setting fish replenishment zones in order to have sustainable fisheries within the area. This idea surface while the sustainable fisheries plan was being developed and since then national follow up has taken place, learning from other protected areas that already have fish replenishment zones.
Part of this initiative is to ensure traditional fishers (fishermen that have fished in CBWS all his/her life) have access to the resources. Up to date, SACD has recommended seven fish replenishment zones and consultations with parties involved and the Government, have taken place.
Setting this zones within a Wildlife Sanctuary will be a first and, with your support, SACD is closer to achieving this goal and breaking the scheme that replenishment zones are only stablished within marine protected areas. By doing this, SACD will be a pioneer that will then guide other Wildlife Sanctuaries, that are facing the social conflict of access to resources, and provide knowledge to replicate this initiative.
Thank you for supporting sustainable fisheries and being part of this great achievement.
The MAR Fund Team