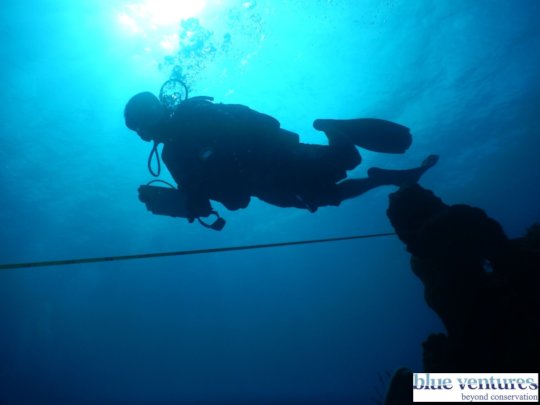 As promised, Blue Ventures Conservation, an organization with almost ten years' experience of working in the region on lionfish management activities, presented the project called "Establishing effective lionfish management in Belize's fish replenishment zones". As mentioned before this project aims to manage the invasive lionfish population in Turneffe Atoll Marine Reserve, with support from the area manager Turneffe Atoll Sustainability Association (TASA), through the development of effective and collaborative lionfish control methods, providing a model that can be used in Belize's other MPAs, as well as across the invaded range.
Even though the pandemic is still affecting, they were able to develop non-field work activities lined out in this project, such as training six TASA staff on the Theory of Change for lionfish control and lionfish invasion ecology, database development, Fish ID, trailing different information-sharing platforms, and also developed virtual Lionfish Working Group (LWG) meetings. Diving activities were cancelled on August-2020 due to rising numbers of confirmed cases of COVID-19 in Belize. However, Blue Ventures got prepared for dive based activities and adjusted their dive policy, risk assessment, and health and safety protocol for COVID-19, and began their field activities on November-2020.
They were able to complete 40 Lionfish Focused Search (LFS) surveys and data processing and analysis is being developed to establish management indicators for the 2021 lionfish control plan for Turneffe Atoll. As advised, the implementation of a lionfish control plan will reduce the threat of lionfish to coral reef fish populations in the reserve, protecting biodiversity and livelihoods supported. During their visit to Turneffe Blue Ventures was able to train TASA staff in PADI Advanced Open Water, first aid, lionfish safe handling and culling techniques.
The national lionfish database has been built using the Marine Ecological Research Management Aid (MERMAID). The platform has been designed for protected area managers, decision-makers and conservation practitioners to enter, update and access real-time monitoring data on Belize's lionfish populations and associated indicators.
Thanks to this support and your help, Blue Ventures has been able to leverage funds from The Waterloo Foundation, Summit Foundation, and New England Biolabs Foundation, organizations that are also keen on understanding and controlling this deadly species.
You are part of our team and we appreciate your help.
Thank you
The MAR Fund Team