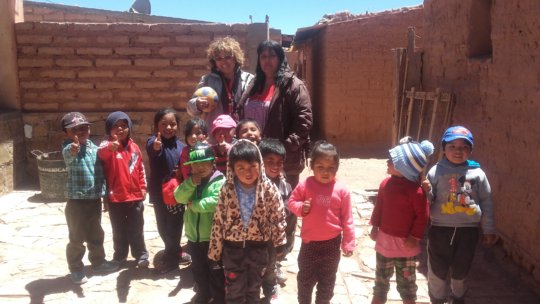 "All of the support and constant donations have helped for many needs and problems, also attracted the kids back to school. Enrollment rose from 5 to 42 children. We were in a place forgotten and far away, but all the help we received for years allowed us to learn and understand a word so important, the most important, even unknown for us: LOVE", were Principal Osvaldo's words after see how his school located in the middle of the jungle at El Boton (El Soberbio, Misiones) was transformed and the children are attending class without facing anymore the treats of mal nutrition or infant mortality due the lack of food and contaminated water.
"WHEN LOVE DOES NOT HAVE BORDERS, THE WORD "THANKS" BECOME INFINITE", were Principal Monica's words when we contacted her to let them know that we are able to implement a project to filter out Arsenic and Flour. After decades without a solution, the children count with clean water in her isolated school located in the mountains at more than 13000 feet high in Huancar (Jujuy, Argentina).
Schools are located in isolated places: mountains, jungles, and this situation is aggravated by the lack of sanitary and education attention, the irregular or scarce government aid, and the precarious infrastructure located in places with difficult accesses due to their geography, climate and lack of paved roads.
We carry out visits to several provinces providing help to our teachers and supporting their invaluable work.
Communities under the poverty line are extremely vulnerable to hunger, and they can't provide what children need to grow and learn.
The food that underprivileged children receive at the school usually is their only daily meal. And reaching out them with doctors and dentist through our projects is the only access they have to receive a basic healthcare support.
Many times we look at situations from our perspective, based on our experience and knowledge we assume things and take them as given. But if we change the context, that knowledge may not be useful, or sometimes a simple and trivial situation can become very complex one.
Among the many cases treated during the last years, I would like to share the story about 2 children.
During a routine revision done by our doctors at rural schools in Santiago del Estero, the following two cases were detected and carefully treated by them. One child with a hot coal burn (wood stove) and the other child with a boiling water burn.
A domestic accident like a burn can be treated quickly in a city, but when this happens in an isolated community without infrastructure and access to cover their basic needs, one simple burn can lead to an infection, gangrene and even the death of the child.
Our doctors saved their lives
Since 2005, reaching more than 11000 children throughout more than 120 rural schools, feeding centers and foster homes, there have been several stories and projects in the history of our organization like the ones above. However, those stories only exist because a lot of people were willing to understand other people's needs, and their realities, and they were willing to give to make a change.
Please make a change in your life and make a change in other people lives. Just let yourself be driven by fulfillment instead of achievement, and suddenly you will realize that helping others is easier than you think.
By donating, you become part of this project. Please join us and reach as many children as we can. Any amount counts.
Your support is the key to make underprivileged children feel that there are important and have an opportunity for a better future.
With Gratitude,