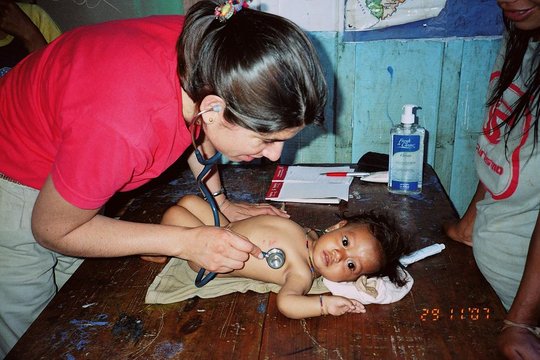 Dear Friend,
Your constant help through the last years allows us to provide medical services and nutrition to thousands of children in rural schools of Argentina. Thanks to these programs supported by your help, critical heath problems related to nutrition deficiencies, dentistry problems and skin diseases are being gradually decreased.
These programs have a profound effect on the children and their communities located in remote areas in which the access to a hospital or medicine is virtually non-existent; and through them children are touched in an incredible way by having access to basic needs and by transforming the communities and making them believe that there is hope.
However, these programs need to be performed constantly in a regular basis to ensure their effectiveness.
On October 17th , GlobalGiving.org is matching at 30% all online donations! In addition to the 30% match, GlobalGiving is offering additional US$ 1000 prizes to the project that raises the most funds that day and to the project that receives donations from the most individual donors!
I will appreciate your donation to our project to support our health care and nutrition programs using the link below: $10 provides breakfast for a month for a child and $25 covers the pediatric service and medicine too.
https://www.globalgiving.org/projects/pediatric-services-in-remote-areas-of-argentina/
THANKS for helping the children to have an opportunity for a better future and for trusting in our foundation to be the liaison between the children who needs our help and yourselves.
________________________________________Spanish/Español______________________________________
Octubre 17, Por favor, ayúdennos a proporcionar servicios de pediatría en zonas remotas de la Argentina.
Estimado amigo(a),
Su constante ayuda a través de los últimos años nos permite ofrecer servicios médicos y de nutrición para miles de niños en las escuelas rurales de la Argentina. Gracias a estos programas apoyados por su ayuda, problemas críticos de salud relacionados con deficiencias nutricionales, problemas de odontología y enfermedades de la piel se han ido reduciendo gradualmente.
Estos programas tienen un profundo efecto en los niños y sus comunidades ubicadas en zonas remotas en las que el acceso a un hospital o a la medicina es prácticamente inexistente. A través de ellos los niños y sus comunidades se ven impactados de una forma increíble al tener acceso a cubrir necesidades básicas, así como también se ve afectada la mejora en su calidad de vida por la constate atención que a través de los años brindamos con estos programas.
Como estos programas deben llevarse a cabo constantemente en una base regular para asegurar su eficacia, nuevamente solicitamos su ayuda, y
este 17 de Octubre, la organización GlobalGiving nos otorgara un 30% adicional por todas las donaciones que recibamos on-line para nuestro proyecto entre el primer minuto y el mediodía (horarios de USA, costa del Este)
Adicionalmente al 30%, la organización GlobalGiving estará ofreciendo premios adicionales de US$ 1000 al proyecto que consiga ese día la mayor cantidad de recaudación y al proyecto que reciba la mayor cantidad de donaciones individuales!
Agradecemos su donación a nuestro proyecto a través del siguiente enlace, y como referencia por favor tenga presente que con US$10 estará cubriendo de desayuno por un mes por un niño y con US$ 25 cubrirá el servicio de pediatría y medicina también.
Este es el enlace: https://www.globalgiving.org/projects/pediatric-services-in-remote-areas-of-argentina/
Muchas gracias por ayudar a los niños a tener una oportunidad para un futuro mejor y por confiar en nuestra fundación para ser el enlace entre los niños que necesita nuestra ayuda y su generosidad.
Links: