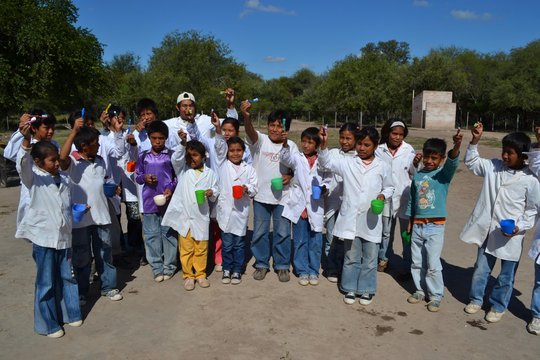 Dear Friends,
The year is almost over and it has been very intense, full of challenges and hard work. Throughout the year we have not only worked on existing projects but we have also set new goals, which we were able to achieve thanks to your support. This is the time to reflect on our actions and give thanks and share accomplishments with those who help and trust us. Please see a summary of the main accomplishments and the activities done during the last quarter of 2012 below. (attached you will find the report Spanish version)
Projects and accomplishments
During this trimester monthly pediatric visits were completed in Merendero Belen - Salta, Los Oleros -Misiones, Las Talitas-Tucuman, Gonzalez Catan -Buenos Aires where health services have been intensified due to the recent flooding, Noccan Kani -Santa Fe and ophthalmologic services were provided in Florencio Varela -Buenos Aires. The main health problems encountered and treated are related to respiratory illnesses, skin disease and parasites. Powdered milk was provided for Noccan Kani -Santa Fe, Posadas-Misiones, Las Talitas –Tucuman and besides powdered milk also sugar and flour for the Toba community in Derqui -Buenos Aires.
A donation was sent for the purchase of a dental chair for La Casita Sai in Florencio Varela which will benefit approximately 60 children and their families.
Santa Clara Civil Association travelled to Catamarca in October and to Misiones in November. They delivered food, powdered milk, clothes, school supplies, toothpaste, toothbrushes and medicines. They provided preventive medical services and attention to children and adults in these communities. As per dental health, the members of the community received training related to basic dental care and a large percentage of the children showed no sign of cavities, as a result of the periodic visits and attention received so far. Some children still have cavities due to the low quality of the water in Catamarca. In addition, the group also performed some recreational activities such as games and birthday celebrations. During the trip to Catamarca they visited two schools reachable through precarious mountain roads of gravel were the path seemed to disappear at times at 2000 meters above sea level.
During the trip to Misiones the roof of Rural School 618, in Colonia Pepiri, El Soberbio was completely replaced. Cardboard sheets on the roof were replaced with zinc sheets with thermal insulation. This project was successfully completed and from now on exposure to climate conditions will stop (during the last two hail storms the roof had been severely damaged and rain water fell right inside the classroom). This type of construction work also helps eliminate insect nests which will pose a risk to children's lives. The schools in these remote locations provide a safe place for the children. School attendance is driven by the daily meal offered. Students walk several miles to attend, and they sometimes even sleep there. It's also the place where dental and pediatric visits are performed. Completion of this type of construction work is critical because of the exponential impact on the lives of the children in these communities. Our thanks to people who made this possible through work and donations: Roberto y Ricardo Asman, Daniel and Samuel Ratzinger, Valdir and Marciano Mayer, Jorge Shulz, Judith Olivera, Fernanda Valle and Andy Schapira.
Other schools and villages were visited as well and between adults and children approximately 400 people received medical attention. Despite the extremely hot weather conditions - about 104°F- the volunteers were able to provide care to every member of these communities. We would like to thank every member of Santa Clara Civil Association and all the volunteer doctors, nurses, dentists and the students of the José León Larre School from González Catan for the outstanding work they have been performing for the last 10 years, which is making a significant difference in these communities.
The "Joggings and Alpagatas" workshop set up in School Nº 373 in El Soberbio, Misiones is still up and running and it is now the source of employment for the students who graduate from the school, who are also in charge of the administration and of teaching younger kids. They have been recognized by the government as employees and have been insured. Since the workshop was started in 2009, besides providing shoes for the children to avoid parasite disease through their feet, it was our desire to find a way to provide a different kind of work for the children, other than working at tobacco farms and it's been accomplished!
The afternoon kindergarten class "Jardin Nº 8 I. Bufano" in Pampa del Indio, Chaco, was incorporated to our program "For a Child's Breakfast". There are 80 children in this class and the food they receive is served to the children as an afternoon meal. We would like to highlight the assistance we receive from La Juana Supermarket, all year long in helping prepare and distribute the food to the schools in this community, besides the generous monthly donations.
Coordinated by our partner in Argentina, Teresa Donaire, numerous donations of many different items were received and distributed to several schools and institutions located in Buenos Aires, Tucuman, Chaco, Corrientes, Santa Fe, Salta, Misiones, Entre Ríos and Neuquén. Thanks to all of those who collaborate with these donations and the packing materials necessary to ship them.
We would like to thank the transportation companies that have provided their services and helped us reach these communities at no cost:
·Transportes Don Max y Expreso Jovan (Chaco)
· Transporte Vesprini (Neuquén)
· Transportes San Juan Mar del Plata (Salta)
· Expreso Petrovalle (Misiones)
· Transporte Almafuerte (Entre Rios, Santa Fe y Corrientes)
Congratulations to all the teachers, directors and children who have completed the 2012 school year overcoming obstacles such as extremely bad weather or walking long distances to get to school. It is for them that we work hard, so they can live a better life now and in the future.
News and Events:
Once again we were part of the Argentinean Night at the Miami Heat game on 11/29 where 250 people enjoyed the game with us.
On 12/11 the last Truco tournament of the year was held. Congratulations to the winners of two airline tickets to Argentina, Andres Labaca and Diego Ponce. We'd like to thank all the participants and Manolo Restaurant for opening their doors to us every month so we can host these events.
We were part of a voting contest organized by Staples among 5 Argentinean foundations. The organization with the most votes will receive a prize of $7,500.00. The results have not been announced yet, but the fact that we were one of the selected foundations is already a prize to us.
We continue providing pediatric care to children in remote and deprived areas of Argentina with the donations received through GlogalGiving. You can access all the details of our projects, pictures and stories about these communities by clicking on the link below:
https://www.globalgiving.org/projects/pediatric-services-in-remote-areas-of-argentina/
Thanks to all the people who contribute this way and for your support during the Bonus Day event on October 17, which generated an additional 30% in donations. Next year, the dates of these special events will be posted on our calendar. They will be held in March, June and October.
Sandro Dal Bosco will run his first marathon and he'll do it to raise funds for Sumando Manos. We would like to congratulate and thank him for his support. Let's go Sandro! Please click on the link below if you'd like to donate.
http://www.crowdrise.com/sandrodalbosco1
If you are planning to participate in a marathon or any other sporting event, please contact us to benefit Sumando Manos Foundation.
We would like to thank Boca Juniors Club for the donations of different items made through its department, "Boca Interior y Exterior". The proceeds from the auctions were destined to buy food for one of the rural schools located in Misiones.
We continued our program "Dine at the Best Argentinean Restaurants in Miami and Help a Child" where the first Tuesday of the month our partner restaurants donate a percentage of their revenues. Thanks to all the businesses that participate and give us their support: The Knife Steak House, Novecento Brickell, Bertoni, Dolce Vita Gelato, Panizza, La Parrilla Liberty, La Patagonia Steak House and Maya Tapas & Grill.
Johnson & Johnson continues to support us through their Gift Matching program in USA by matching the donations their employees make. We would like to thank Johnson & Johnson and its employees who, since the beginning, have shown their support through their donations and participation in events.
October is charity month. The Microsoft offices located in Broward County organized an indoor soccer tournament to benefit two of the organizations they support. Thanks to the unconditional collaboration from Andrea Comolli de Pillado we were one of the organizations selected. Andrea is the link between our foundation and Microsoft and she made it possible for us to participate in this event. The tournament was a success and we would like to thank all Microsoft employees who attended the event and displayed their solidarity through their donations and participation.
Our thanks Maria Eugenia Quintero and her family for their constant and unconditional support. During 2012 she organized 4 breakfast events and cooking classes for residents of Dallas, Texas, USA. Thanks to all those who participated in these events organized by Maria Eugenia. The proceeds are used to fund our nutrition and health programs provided in the schools located in remote areas.
Happy Holidays to everyone! It's our wish that for 2013 all of us have the conviction, enthusiasm, understanding, commitment, patience and above all the love to do everything possible to make a better world.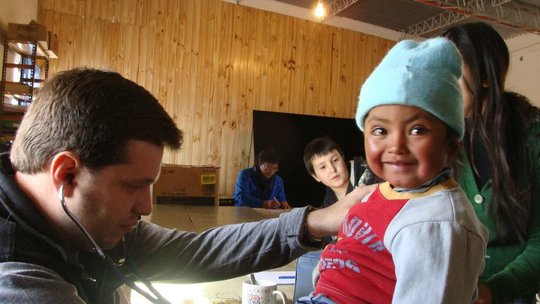 Links:
Attachments: