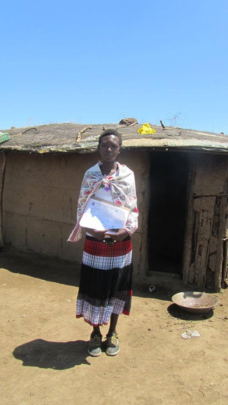 Recentaly we planned a camping trip in Mt. Suswa in Kenya, a double crater volcano with a shield-shaped cone covering an area of about 270km2. Its inner volcano soars to an altitude of 2356m above sea level at its summit. The inner crater, about 5km across, is covered by a forest that is also home to leopards, hyenas, buffaloes, antelopes and other wildlife. By a twist of nature, this inner collapse formed a moat-like trench surrounding a central island in the crater, creating a breath-taking view that has to be seen to be believed.
The outer crater, estimated at about 10km in diameter, is currently dotted with Maasai homesteads. The Maasai graze their livestock on the outer crater and the slopes of the inner volcano, and harvest water for their domestic use from the numerous springs spouting steam and hot water in this area. Lava caves are also found in the outer crater. This is where we met Lilian, a girl who is now one of our students.
We had taken books to donate to one of the schools in the crater. After talking to our guide, he mentioned about a girl who was top in her class, but her father was not willing to invest in her education. The worry was, if this girl miss secondary school, she will end up been married off to an old man who would give her father several goats and cows. Most maasai believe a girl from 13 years of age is good enough to be a wife.
We forgot alittle bit of our hiking misson and decided to search for this girl. Our guide called her father and announced our visit. We met Lilian and her family in their Manyatta (maasai traditional home) After greeting us, she handed over her exams results. She was clearly very proud of her performance.
Lilian is a first born in a family of sixteen children. He father got 3 wives. There are four houses in the compund, one for each wive and a separate one for the husband. The wives houses are very traditional, there is no bed inside. They all sleep on animal skins. It is very hard to even imagine how Lilian managed to study in this kind of situation.
Her father's house is abit modern,a sitting room, modern bed and a solar lamp. He said that where all wives take food.
We left after a long talk and promised to support Lilian join secondary school. The days that followed we did all we could to get her a good school. Finally we succended. She was accepted in a school where 2 of our students are schooling.
The first day was very hard for her. The culture shock was big and she had alot of first experiences. It was her first time to go out of her home town. Her first time to visit Nairobi city, her first time to be in a boarding school and her first time to sleep on a real bed.
Lilian's dream is be a doctor and help her community. She has already taken her first bold step towards achieving her goal.
Our dream is to see her go through her education without any intererance. And with the help of our supporters like you, she will be always remember how lucky she is to be discovered by a bunch of hikers with a passion to sweat for change.