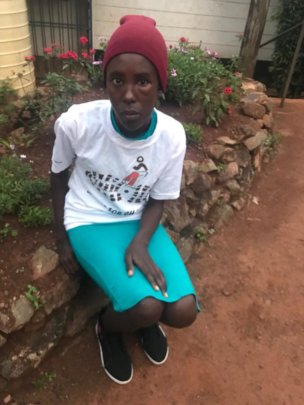 As each new year, we had the pleasure of taking up Three(3) new students, who are all currently in Form One.
1. LUCY
Lucy is a 15 year old girl from Ololua village. From a young age, she had a great thirst for education, and had to fight for her rights for the same. Her father was opposed to the idea and would instead send her out to the field to heard sheep and goats, as their culture does not favor girl child education.
Lucy comes from a polygamous family of 8 children, and her 3 older sisters have already been married off. Determined not to meet the same fate, she used her friends to communicate with the local head teacher, who together with the local chief convinced her father to send her to school. Being naturally passionate about school, she always performed well. She however had to keep fighting for her right to education when her father devised another plan to remove her from school in plan to marry her off early. Lucy managed to complete her primary school education at the top of her class in K.C.P.E at Kicharu primary school – Kajiado West in 2019.
Lucy was aware that her parents couldn't afford her high school fees, hence she decided to approach her primary school chairman for assistance, who then connected her to Sports for Change. She is currently in Form One at Baraka Oontoyie Secondary School courtesy of our great supporters. She dreams of one day becoming a journalist, as she has always been fascinated by the career. Her hobbies include listening to the radio and news, cooking and reading.
2. CHRISTINE
Christine is a 15 year old girl from Kajiado. She is from a polygamous family of 2 wives and 10 children, and is the first born. Her father is a low scale farmer and her mother a housewife. Paying school fees was always a challenge for her in primary school, yet she managed to score 375 out of the total 500, a good performance.
Her uncle connected her to Shiku, our founder. She is excited to be continuing with her education and has joined Form One at Ole Tipis High School.
Christine's dream career is to be a lecturer as she has always been passionate about teaching others, often taking up the teacher's role in class when they were absent back in primary school. Her hobbies include reading novels, singing and dancing.
3. JOY
She is 14 years old, the first born in a family of 4. The mother is a casual laborer, hence could not afford to pay for her high school fees. She was delighted to join form one at Kiriaini Girls Secondary School in Kigumo.