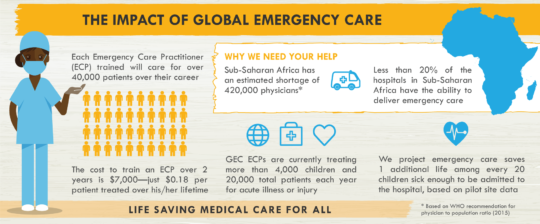 For the month of June, we are celebrating Global Emergency Care's 10th Anniversary of saving lives in Uganda. To do so, we're hosting a month long fundraiser to train 10 new ECPs for an entire year. In addition, throughout June we'll be feature the incredible people that make GEC the success that it is today. Furthermore, we are releasing GEC's new branding that includes a new logo, look, and refreshed identity ready to tackle the next ten years.
1. 10 for 10 Campaign
Thanks to several generous donors, the first $13,500 donated to GEC will be matched 100%. This means if you donate $100, GEC will receive $200! Our goal is $35,000 to fund the training of 10 new ECPs for an entire year. Give today!
2. People Power
All month, we'll be featuring the amazing people that are the heart of GEC - ECPs, board members, volunteers, and donors. Read our blog to see the features.
3. Fresh New Look, Same Great Work
Thanks to a generous donation from Created for the People we're celebrating 10 years with a new logo and a refreshed identity. We are ready to learn and grow for the next ten years! Learn more
Top 10 GEC Accomplishments in 10 Years
10. National Council Higher Education (NCHE) approval of ECP curriculum - The Uganda NCHE provided the official approval of the Emergency Practitioner Diploma program at Mbarara University (MUST) after many years of effort.
9. Published 10 articles on the need and methods of providing resource-limited emergency care in Uganda. Learn more on our Publications page
8. Collaborated with Ugandan Universities (MUST & Makerere) to plan the first ever emergency physician training program in Uganda (MMed)
7. Recruited over 140 physician volunteers to serve as teachers & mentors for Ugandan ECPs - All GEC volunteer physicians donate their own time, money, and expertise to train ECPs in Uganda. All volunteers physicians leave their families, take time off work, and pay their own travel expenses because they believe in GEC's train-the-trainer model, as well as the impact that the ECPs have on the Ugandan population.
6. Creation of the two year train-the-trainer curriculum - This model was developed to expand emergency care throughout Uganda and similar resource limited settings. The train-the-trainer model employs task shifting, whereby non-physician clinicians, rather then emergency physicians, treat patients. By using non-physician clinicians, this program better utilizes the limited healthcare workforce and can be rapidly and inexpensively scaled-up.
5. Collaboration with Masaka Hospital and expansion of the ECP Training Program - In the fall of 2015, GEC hired a research team and started collecting baseline data at Masaka. With NCHE approval, we look to start a new ECP training class in August. Learn more
4. Opening the Nyakibale ED and starting the first functional emergency department in Uganda - After a thorough needs assessment and extensive fundraising, on June 2, 2008, Nyakibale Hospital proudly opened the first truly functional emergency department in Uganda. Learn more
3. Graduated 21 Emergency Care Practitioners who are now saving lives and training new ECPs!
2. Provided over 70,000 thousand patients with emergency care in Uganda!
1. Every Life Saved!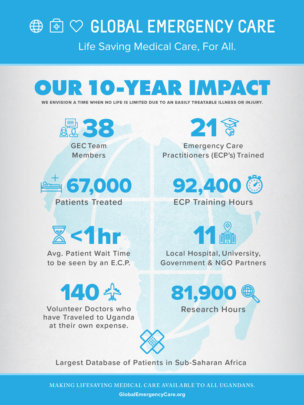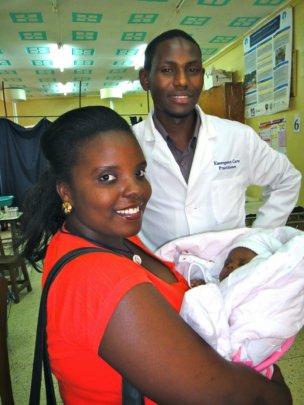 Links: