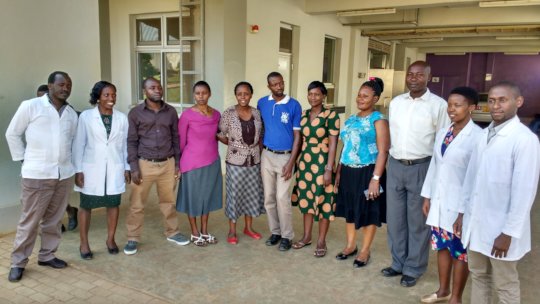 2017 has been a banner year for GEC. Not only did we celebrate our 10th Anniversary, but after 10 years of hard work we implemented both the government sponsored ECP Diploma program and the Master of Medicine emergency physician training program. None of these important successes would have been possible without YOU!
You have enabled this landmark accomplishment that will greatly improve the sustainability of our programming as it truly integrates our training program into the local educational system. Thank you!
Imagine if you went to nursing or medical school, and at the end, you didn't receive an actual diploma and a nationally recognized degree. You wouldn't be able to use your life saving clinical skills because employers would not recognize your expertise without that piece of paper.

So after many years of fine-tuning our curriculum and working with our Ugandan partners including Masaka Hospital, MUST, and the Ministry of Health, this roll-out is a big step in the creation of a workforce of Ugandan emergency practitioners that will have the skills to treat acutely sick and injured patients. All because of you!

We are thrilled to welcome and present your first class of ECP Diploma trainees (pictured above): Joyce Nakajja, Winifred Auma, Mohammad Kyambadde, Edward Kasiira, Henry Kagaba, Harriet Ijangolet, Jane Frances Birungi, John Twesigye
To build on 2017's successes and begin preparing for 2018, we have kicked off our annual Year End Fundraising Challenge. This year, our goal is to raise $25,000 by Dec. 31st to fund 8 ECPs for the 2018 class. We are off to a great start having reached 54% of our goal, but we need your help to cross the finish line.
Can we count on you to educate new, local leaders committed to saving lives throughout their careers?
Wishing you and yours a happy and health holiday season!
Best regards,
Tom
Links:
Attachments: