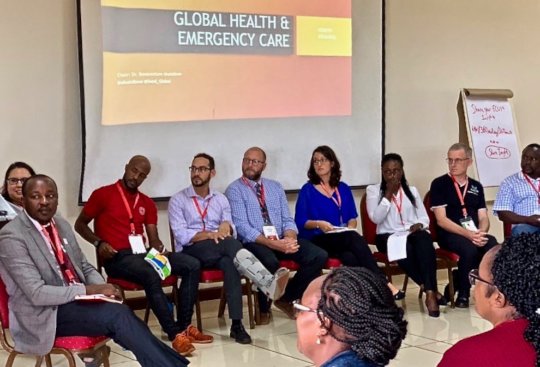 The GEC team was honored to participate in Uganda's inaugural Emergency Medicine Conference from August 1st - 3rd, 2019 in Jinja, Uganda. This exciting step in the progression of emergency medicine development in Uganda was excellently organized by the Emergency Medicine Society of Uganda.
GEC is proud to work alongside our many incredible partners to build Emergency Medicine in Uganda, which is why we were honored to sponsor the conference alongside with other partners, as well as participate in several session at the conference.
GEC's Masaka Program Coordinator - Rashidah Nambaziira - gave an excellent talk about interprofessional collaboration and the importance of setting clear goals and specific objectives, determining specific roles, clear communication and accountability, and effective utilization of skills and strengths. In addition, successful participatory engagements are created via mutual respect, sharing leadership and decision making, and inter-professional teams in collaboration.
Dr Bradley Dreifuus, GEC's Director of Partnerships & Innovation, led an evocative discussion on compassion in healthcare and better patient outcomes. He highlighted the mechanism of action for compassion having beneficial effect on patient outcomes which were grouped into four categories: physiologic effects, psychological effects, enhanced patient care, and enhanced quality care.
Tom Neill, GEC's Executive Director, presented the excellent work of the GEC Research Team in his talk about Emergency Care Research in Low and Middle Income Countries. He highlighted GEC's experience in building a reserach program as a quality assurance initiative to better understand how to provide improved care for patients and improved training for Emergenmcy Care Practitioners.
Charles Ndyamwijuka, GEc Reserach Associate, did a great job presenting on the lessons learned from GEC's research program over the past decade, including the importance of local partnership, engaging local stakeholders, creating a shared vision and creating partnership with like-minded funders.
Overall, the conference was an overwhelming success for Uganda's nascent emergency medicine community and system development. We look forward to building on the strengths of today, to help strengthen the emergency medicine system in the coming years.