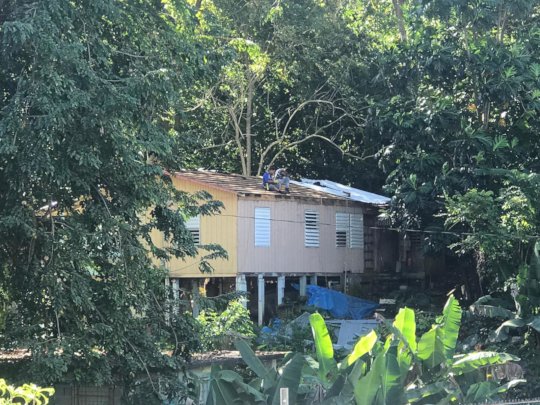 Thanks to you, Doña Carmen has a roof!
In the fall of 2017, Hurricanes Irma and Maria damaged or destroyed the roofs of more than 30,000 homes in Puerto Rico. PRoTechos was created not only to address the damaged roofs, but also to strengthen underserved communities by training local residents to rebuild in a "learn & earn" program.
Buen Consejo is a small, low-income community in the San Juan metro area and is home to many elderly residents whose roofs were damaged or destroyed by Hurricanes Irma and Maria during the fall of 2017. We began by interviewing residents of homes covered by blue tarps to determine whether there were elderly or infirm residents or families with young children living inside. We sought future carpentry trainees drawn from the immediate neighborhood. It did not take long for us to find the damaged roof partially covering the home of a kindly, elderly woman named Doña Carmen. Our Project Manager proceeded to take the measurements required to develop a scope of work and ordered the materials needed to build her a resilient roof secured by hurricane straps. At the time, we did not know that the delivery truck would not fit into the barrio's narrow streets. In the end, we had to carry the wood and Galvalume planks uphill, piece by piece; but at the end, it was well worth it.
On one of our trips up the hill, we met José, Doña Carmen's neighbor. He had some knowledge of carpentry and was deeply interested in our work and our mission, and he asked us if he could work with us. We invited him to join our Learn and Earn Program. From the start, our Foreman noticed his commitment to learn the roofing process, rapidly catching up with the other workers. Due to the dedication and discipline he has displayed since his start date, we expect him to continue acquiring carpentry knowledge and being progressively promoted within the organization. We have high hopes for José to become the next team's Foreman.
Our team genuinely enjoyed chatting with the owner of the house. Doña Carmen was thrilled to see our roof construction program being deployed in her neighborhood. She explained to us how she, like her neighbors, had been unable to provide the documentation requested by the governmental agencies that had visited her neighborhood. After that visit, no one else came to offer help until we had arrived to her house that morning. She was extremely happy to see her roof repaired, since she doesn't have family members that can help her, and she lives by herself.
We are so grateful for your donation to PRoTechos. Your support made it possible for us to employ and train José in our Learn and Earn program, and to give his neighbor Doña Carmen a strong roof - and a dry home.
- - - - - - - - - - - - - - - - - - - - - - - - - - - - - - - - - - - - - - - - - - - - - - - - - - - - - - - - - - - - - - - - - - - - - - - - - -
Gracias a ti, ¡Doña Carmen tiene un techo!
En el otoño de 2017, los huracanes Irma y María dañaron los techos de más de 30.000 viviendas en Puerto Rico. PRoTechos fue fundado no sólo para reconstruir los techos dañados, sino también para fortalecer las comunidades desatendidas mediante la capacitación a los residentes locales para reconstruir en un programa de "Aprender y Ganar".
Buen Consejo es una pequeña comunidad de bajos ingresos en el área metropolitana de San Juan y es el hogar de muchos residentes de edad avanzada cuyos techos fueron dañados o destruidos por los huracanes durante el otoño de 2017. Por ello, comenzamos entrevistando a los residentes de los hogares cubiertos por toldos azules para determinar si había residentes ancianos, enfermos, o familias con niños pequeños. Luego buscamos futuros aprendices de carpintería procedentes del vecindario inmediato. No nos tomó mucho tiempo encontrar el techo dañado que cubría parcialmente la casa de una amable anciana llamada Doña Carmen. Nuestro Coordinador de Proyecto procedió a tomar las medidas necesarias para desarrollar un alcance de trabajo y ordenó los materiales necesarios para construirle un techo resistente asegurado por correas que protegen contra vientos de huracán. En ese momento, no sabíamos que el camión del delivery no entraría en las estrechas calles del barrio. Al final, tuvimos que llevar la madera y las planchas de Galvalume cuesta arriba, pieza por pieza; pero al final, valió la pena.
En uno de nuestros viajes por la cuesta, conocimos a José, vecino de Doña Carmen. Tenía cierto conocimiento de la carpintería y estaba profundamente interesado en nuestro trabajo y nuestra misión; nos preguntó si podía trabajar con nosotros. Lo invitamos a unirse a nuestro Programa Aprender y Ganar. Desde el principio, nuestro capataz notó su compromiso de aprender el proceso de techos, poniéndose al día rápidamente con los otros trabajadores. Debido a la dedicación y disciplina que ha mostrado desde su fecha de inicio, esperamos que continúe adquiriendo conocimientos de carpintería y siendo progresivamente promovido dentro de la organización. Tenemos grandes esperanzas de que José se convierta en el capataz del próximo equipo.
Nuestro equipo realmente disfrutó charlar con la propietaria de la casa. Doña Carmen estaba encantada de ver nuestro programa de construcción de techos siendo desplegado en su vecindario. Nos explicó cómo ella, al igual que sus vecinos, no había podido proporcionar la documentación solicitada por las agencias gubernamentales que habían visitado su vecindario. Después de esa visita, nadie más vino a ofrecer ayuda hasta que habíamos llegado a su casa esa mañana. Ella estaba muy feliz de ver su techo reparado, ya que no tiene miembros de la familia que puedan ayudarla.
Estamos muy agradecidos por su donación a PRoTechos. Su apoyo nos hizo posible emplear y capacitar a José en nuestro programa Aprender y Ganar, y darle a su vecina Doña Carmen una casa seca con un techo resistente a huracanes.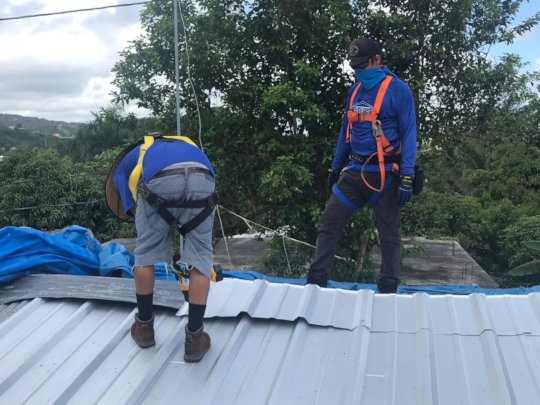 Links: