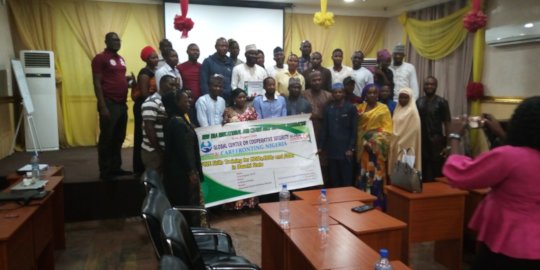 New Era Educational and Charitable Support Foundation (NEEDCSI) successfully completed the implementation of 'Strengthening Citizens against Radicalization through Leadership and Re-integration Training in Northern Nigeria- (Project SCARLIT) with the financial support of Global Center on Cooperative Security. The strategic goal of the project was to prevent the radicalization of youth by strengthening the capacity of local citizens and community organizations through base-level psychosocial training and tools that foster peace and dialogue engagement to support successful rehabilitation and reintegration. Typically during conflicts the response from security and humanitarian entities is either emergency assistance which is immediate, or development aid which takes a significantly longer time to realize. Too often services that are needed that lie in between the two response options do not exist. Programming bridges are needed to sustain and promote the empowerment of the individual and community as they move from emergency crisis to long-term sustainability. PROJECT SCARLIT was designed to build capacity in the space between emergency and development. The project incorporated New Era Educational and Charitable Support Foundation's experiences in local peacebuilding work, especially with youth, providing the Foundation another great opportunity to design and implement youth and peacebuilding projects as part of Global Center's two-year initiative to "build the capacity of youth-led and youth-focused civil society organizations working on P/CVE in their communities through training and mentorship, deepening existing networks, and forging new partnerships" in Nigeria and Kenya.
Project SCARLIT had as a core component to provide capacity-building support to strengthen the efforts of local CSOs in Bauchi State, Nigeria, in providing rehabilitation and reintegration support to IDPs, as well as supporting CSOs in their preventing violent extremism (PVE) efforts. The capacity-building training was designed to provide local service providers with tools to assess trauma (not as clinicians, but as community workers supporting individual and community assets) along with strategies designed to build individual and community resiliency. Local CSOs are critical to long-term development, and PROJECT SCARLIT sought to provide them with additional tools for addressing trauma to support reintegration and rehabilitation.
Several trainings provided overview of global best practices informed by local context in prevention against radicalization and violent extremism (PVE), rehabilitation, and reintegration, to inform the planning of local programming to be implemented by the CSOs as they work with high-risk youth, including IDPs. The trainings also addressed the adjustment challenges experienced by refugees and youth returning from life in captivity. A Training Manual was produced, grounded in sound research and best practices by experts in the field of P/CVE and refugee mental health.
Key project objectives included:
To promote conflict mitigation and reconciliation among communities at risk of recruitment and radicalization to violence.
To provide positive alternatives to communities, especially youth, most at risk of recruitment and radicalization to violence.
To strengthen resilience among refugees and internally displaced persons (IDPs) at risk of recruitment and radicalization.
During the project period, 103 CommunityBased Organizations (CBOs), Faith-Based Organizations (FBOs), Non-Governmental Organizations (NGOs) and Civil Society Groups were trained in basic P/CVE Skills, youth and peacebuilding models and dialogue facilitation skills. The training provided an overview of global best practices in prevention against radicalization, deradicalization, and reintegration to inform the planning of local programming. The training also addressed the adjustment challenges experienced by refugees and youth returning from life in captivity. In addition, Youth Empowerment through Peer Education activities featured prominently. About 1500 young men and women in five (5) sites (schools) in Bauchi were directly engaged through Peer Education. The Peer Education Clubs (PECs) were equipped with leadership and peacebuilding skills supplemented by mentoring and coaching by Project staff. Some resource materials, including a Peer Education Facilitators Guide and Audio Visual training materials for youth and peacebuilding, developed by New Era Educational and Charitable Support Foundation, including our "Dialogue in Nigeria: Muslims and Christians Creating their Future Together" Documentary, were used for Peer Education. In order to sustain Peer education activities in the selected project sites, trained Peer Educators formed "Peace Education Clubs" (PEC), which, met weekly in each site to discuss peace initiatives and the building of coalitions for peacebuilding and violence prevention. Additionally, twelve (12) Advocacy and Stakeholder Engagements visits were conducted to several stakeholders and gatekeepers, throughout Life of Project (LOP). We also hosted four (4) Stakeholders Peacebuilding Assemblies (SPA), to stimulate community buy-in and ownership of the process. About 6,015 Information, Education and Communication (IEC) materials to assist in promoting behavior change communication among project participants and local communities were designed, produced and distributed during project activities. The IEC Materials included Peer Education Kits, T-Shirts, posters, handbills, Banners, Exercise Books, etc.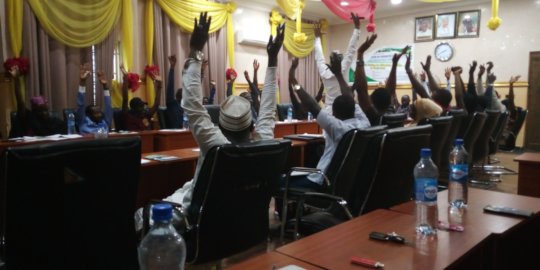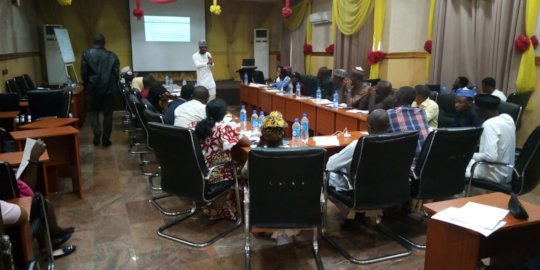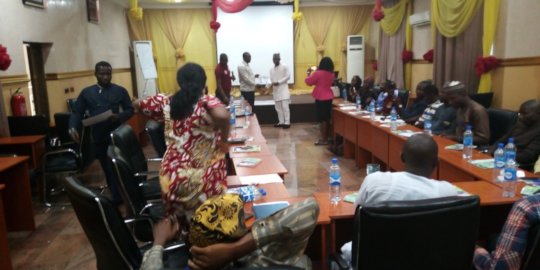 Links: