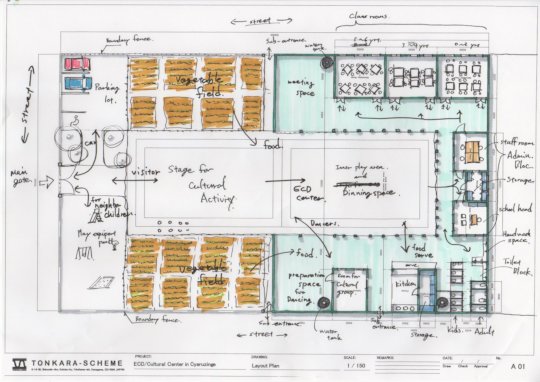 We thank the donors who have contributed towards this project so far! We have made good progress, and there remains more to do to reach our fundraising goal. We are still thoroughly convinced that this project of helping children from the poor and vulnerable community is a valuable approach to contribute towards a productive future society.
We are happy to report that now we are working with Tonkara scheme, an architecture firm in Yokohama, Japan. Our colleague, architect Mr. Yuya, is providing us his expertise. His exceptional design is based on his previous experience with UNICEF in Rwanda for similar work. Since we started working together, our previous ideas have been greatly enhanced with the addition of many new features. Thank you, Mr. Yuya!
In addition, Mr Yuya's notion of collaborative design, whereby beneficiaries give their views and insight on the infrastructure before a final plan is determined, has been a unique addition to involving the community. We will have an interactive workshop with beneficiaries when travel restrictions are eased. We are also planning to link Mr. Yuya with a Rwandan company to facilitate acquiring relevant construction permits.
However, these arrangements--like anywhere else--have been disrupted due to COVID-19. Rwanda initiated a lockdown to halt the spread of virus in March. That lockdown has slowed activities and halted others momentarily. For instance, making appointments with district land offices has not been smooth, and the backlog has lengthened. We wait for the situation to return to normal so that a geological and topological survey can be done, and we are keen to get guidance from relevant local authorities.
Our plans to visit Rwanda in May to further consult with in-country stakeholders and village beneficiaries had to be postponed, again due to Covid-19. However, for the last four months we have been busy helping the same community with basic humanitarian needs. As the lockdown came into action, people who lived day-to-day faced hunger.
We have worked with the local government to provide food and soap and to restore piped water to the village. This assistance helped shield lives from the shock of necessary Public Health measures, like social distancing, to reduce virus spread.
We remain excited for this project and are working hard to ensure that it will be implemented successfully. We encourage referral to anyone who might be of help in any way towards building and implementing this exciting, holistic early childhood development centre in Rwanda.
Links: