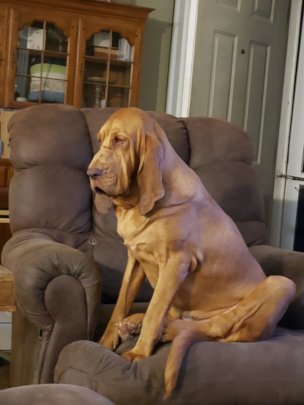 SOPHIE MARIE UPDATE:
First, an update on our beloved Sophie Marie:
Many of you may have seen photo updates of Ms. Sophie on our Facebook page, but for those that haven't, we have lots to "show and tell"!
Sophie improved enough to leave the vet clinic and go into foster on March 9th. She immediately took over the hearts and furniture of her human family. As the pictures show, she has laid claim to most of the beds (dog and human), couches, and recliners. If bad weather rears its ugly head, she hides under kitchen counters, behind the toilet, or under the office desk.
Sophie Marie takes napping and eating very seriously and takes great care to stay in practice with both. She is also very fond of toys. Her favorites are stuffed squeaky toys and Nylabones. She is spoiled rotten and we wouldn't have her any other way!
Since the day she arrived at the vet clinic nearly starved, she has doubled her weight. She is very mobile now and doesn't seem to remember how serious her injuries were. We have had to postpone treatment by a specialist for her bone injuries because of COVID-19, but her veterinarian believes that she has improved enough that her surgical needs may be minor.
She has completed her heartworm treatment. She was heavily positive and required 3 shots total over a month's time, receiving her last treatment on May 19th.
Sophie Marie is a wonderful girl that steals the hearts of everyone she meets and we are very blessed to have the opportunity to love and care for her.
OTHER NEWS:
What has Dixie Adoptables been up to in the past few months during the COVID-19 lockdown?
We have stayed very busy and are dedicated to helping the animals in our community during this time.
Took in 122 cats and dogs

30% were county animals
84% were strays

Found new homes for 32 cats and dogs
Transported 30 dogs to new homes in Massachusetts
Provided heartworm treatment for 18 dogs (at a cost of over $2000)
Worked with numerous neonatal kittens to ensure they survive and thrive
NEW RESIDENTS:
We would like for you to meet some of our new residents that have been especially helped by your support:
Bernard - A senior (10 years old) stray pit bull that came to us heavily heartworm positive and with other heart problems. He also battles eye and skin conditions. He is a sweet, loving, and very appreciative fellow. He receives numerous medications and supplements daily along with lots of love and attention.
Queenie- A sweet Corgi mix that came in heavily heartworm positive and with a huge tumor on the side of her face. She had surgery to remove the tumor, which was benign (thank goodness), and is undergoing heartworm treatment. She and 5 other dogs were abandoned by their owners. Dixie Adoptables was called out to the property at 3 a.m. by the police. What we found was deplorable, but we were able to get all of these dogs to safety.
Red- A very sweet pitbull that came in from the same group of dogs that Queenie came from. He was in very bad shape. He not only tested heartworm positive, but was experiencing severe heart complications. Red now takes numerous medications for his heart, and is looking and feeling so much better. He is also undergoing heartworm treatment.
Juliette- A chihuahua mix with a heart the size of an elephant. She has an old injury that caused her to lose the use of one of her rear legs. She is also heavily heartworm positive, and undergoing treatment. She went into foster almost immediately and within a very short time stole the hearts of her foster family. They have decided to adopt her as they realized they can't live without her. We jokingly call this a "foster fail" but it is a great thing!
Henry- A senior (over 10 years) corgi mix came to us with many problems. He is currently taking antibiotics for a severely painful tooth abscess, and has to be coaxed to eat. He is heavily heartworm positive and his hearing and vision are also impaired. He is a very sweet old man, and enjoys his daily visits in the office at the shelter.
THANKS!
These updates can't come close to sharing all of the many things that we do everyday to help the animals in our community, and we couldn't do nearly as much without your help and support. Your generous donations make a real difference in the lives of many, many animals who would otherwise have no future. We want to thank everyone who has contributed to our efforts and thank you in advance for the future support that we know will come. YOU REALLY DO MAKE A DIFFERENCE!