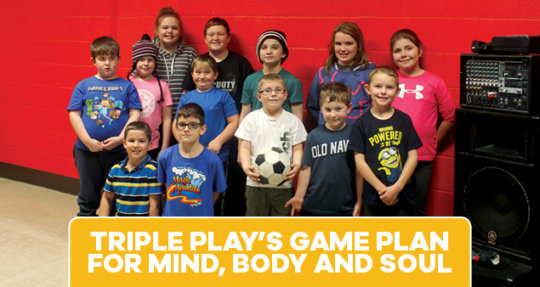 THANK YOU for your support of Boys and Girls Clubs of Canada! Because of you, Boys and Girls Clubs of Canada is able to provide opportunities for youth and children. Please continue to read below to learn about one of our Clubs in Gander, Newfoundland.
________________________________________
"Eating right, keeping fit and forming positive relationships are fundamental activities at our Club," says Lori Roache, Program Coordinator for the Gander Boys and Girls Club. Gander is home to about 10,000 people and probably best known for its transatlantic airport and an important strategic role during World War II. The Gander Boys and Girls Club is also aware of another lesser known but important fact— Newfoundland and Labrador has Canada's highest rate of obesity among youth. "That's why we jumped at the chance to offer Triple Play when it was introduced by Boys and Girls Clubs of Canada last year," Lori says. Triple Play was created by Boys and Girls Clubs of America to provide Club members aged 6 to 18 with opportunities to participate in daily physical activity and learn how to develop a healthy approach to mind, body and soul. The program is available in Canada thanks to the support of The Coca-Cola Foundation. "During the summer, the Club offered lots of opportunities to boost physical activity through the Triple Play program, including field trips featuring swimming, hiking and adventuring," Lori explains. The physical activities are complemented by wellness focused pursuits, like learning a new healthy recipe once a week and group activities and peer mentoring to help the youth develop self-esteem as they interact positively together. "During the school year, Triple Play participants stay closer to home, playing spirited games of Four Square and having group discussions about wellness and smart food choices," Lori adds. "Best of all, programs like Triple Play allow us to adopt an open-door policy so that all of the town's young people have opportunities to get together in a safe place to be active and have fun with their friends after school.
________________________________________
What do you think? Are you interested in more information about how you can support Boys and Girls Clubs of Canada? Please get in touch - spillersdorf@bgccan.com or 1 - 844 - 477 - 7272 ext. 271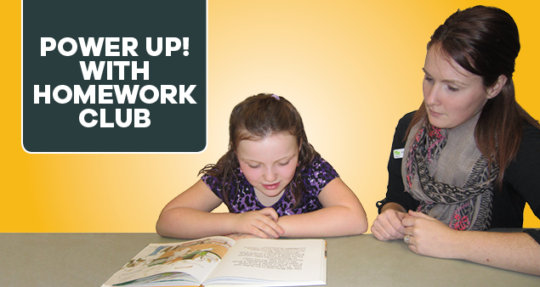 "Joie de vivre. That is Lauren in a nutshell." Amanda Audette, Program Manager at Boys and Girls Club of Fredericton shares. She is very proud of this cheerful 8-year-old. "I'm in French immersion!" Lauren says with enthusiasm, "I'm going to go to Paris someday."
Lauren's parents were initially hesitant about enrolling their daughter in French immersion and were concerned that switching her from the regular curriculum would be too much of a challenge. "Lauren convinced them to give her the opportunity and they finally agreed because of the academic support she gets with us after school, five days a week."
Created by Boys and Girls Clubs of Canada and funded by Fidelity Investments for over a decade, Power Up! is an academic enhancement program for children between 6 and 12. In the program, kids get to try new things and develop life and learning skills but, most importantly, they have fun—an important factor for kids like Lauren, who declares recess as her favourite "subject" at school. "I really like the Power Up! Homework Club because I get all my work done here before I go home," Lauren says. "Lauren's mom really likes it too," Amanda says with a smile. "It makes things so much easier for her, knowing Lauren's getting help with her French vocabulary and reading. And with the homework out of the way, the whole family can relax and enjoy their evening."
"Most of our parents tell us how much they value the academic support provided by Power Up! and the fact that volunteers, tutors and mentors are provided at no extra cost." Power Up! promotes learning, both in and out of the classroom and Boys and Girls Clubs are happy to support children's development while aiding parents and families with the provision of this program. <all the Fidelity detail sounds like we're overrun with support, i.e. as if funds aren't still needed.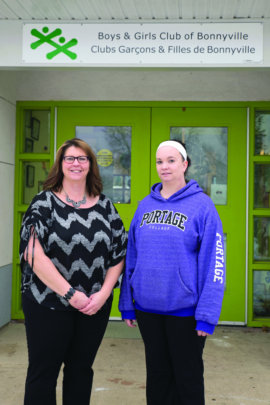 Across Canada, Boys and Girls Club staff members are ready to flex!
A national program promoting mental health and well-being for youth, Flex Your Head is being offered by a growing number of Boys and Girls Clubs in 2016, thanks to new online training and a downloadable guide that gives staff the knowledge and skills to facilitate youth group collaboration and dialogue.
Created by Boys and Girls Clubs of Canada, with initial support of AstraZeneca's Young Health Program, Flex Your Head encourages youth aged 13 and up to recognize that anxiety and pain are normal. The program typically runs for 12 weeks and begins with youth leadership training followed by a variety of fun group activities to prompt discussions about emotions and well-being. The program introduces young people to strategies for recognizing emotional cues and identifying thoughts that seem to occur automatically in different situations.
"I just love the program's language and approach," says Kim Reed, program director with Boys and Girls Club of Bonnyville. "Anxiety and sadness are unavoidable. It's just life. But dealing with these emotions is a skill that can be learned." With over 10 years' experience as a high school counsellor, Kim has seen a lot of young people overwhelmed by depression and worry. "I would certainly have used this program in a school setting to help the kids manage their distress," she says.
Flex Your Head includes a menu of activities from which teens can choose that are designed to tease out concepts and strategies like mindfulness, maintaining good relationships and asserting needs in a youth-friendly and engaging way.
Kathryn Robertson and Kathy Hodges of the Boys and Girls Club of Wetaskiwin both enjoyed the online Flex Your Head training and are offering the program to Club teens this year. "I love the activities that teach youth about mental wellness," Kathryn says. "The program really breaks down the stigma around mental illness." Kathy agrees, adding that a relaxed and teen-friendly space allows the youth to problem solve as a group in a very supportive way. "We're giving our young people a safe place to talk about feelings and think about the kind of person they want to be."
WARNING: Javascript is currently disabled or is not available in your browser. GlobalGiving makes extensive use of Javascript and will not function properly with Javascript disabled.
Please enable Javascript
and refresh this page.