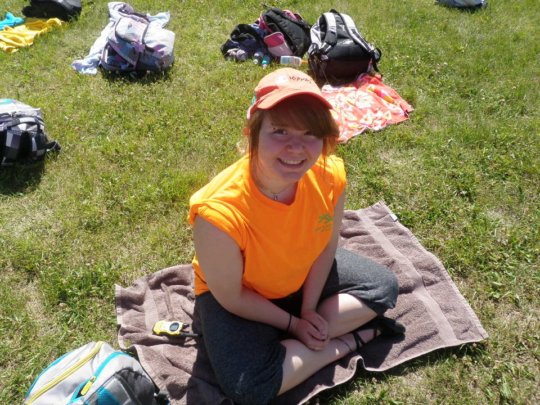 THANK YOU for your support of Boys and Girls Clubs of Canada!! Because of you, Boys and Girls Clubs of Canada is able to provide opportunities for youth like Alexandria. Alexandria was a Club Kid at the Boys and Girls Club of Leduc, where she made friends, gained new skills, and built confidence through leadership opportunities.

See below for Alexandria's story about her experiences at her local Club– and how Boys and Girls Clubs are helping youth find achieve their full potential.
________________________________________
Alexandria was a shy, reserved child when she first walked into the Boys and Girls Club of Leduc five years ago. Today, she is a confident leader and role model, chasing her post-secondary dream and eager to give back to the community.
"The Boys and Girls Club brought me out of my hardened exterior," Alex recalled. "I lived on a reserve for the first 12 years of my life. Times were tough growing up . . . Where I came from, drugs and violence were the norm. When I moved to Leduc, I didn't really want to make new friends but when I joined the Boys and Girls Club, the staff and volunteers helped me see myself differently. They told me, 'you're an awesome person, you can make friends. We're here to make you feel accepted.' That really made me feel like I could finally open up. I started shedding my tough exterior and started becoming the person I am today."
This year, the bubbly 17-year old completed high school and will now channel her passion for the arts, learning and child care into a Bachelor of Education and Native Studies at the University of Alberta.
The budding high school teacher's motivations are noble. "I plan to get my education degree and major in Cree languages and move to a reserve again. I want to help people who haven't had as many opportunities as me," she said.
"I never really thought university was a goal. My goal was to get through high school, day by day. It's such a thrilling feeling to know that I've accomplished so much and there's so much more now I want to do."
Alex's post-secondary dream was made a reality thanks to a Future Shop Future Generation scholarship, which provides recipients with funding for tuition to make the transition to post-secondary much easier. In addition to the scholarship, Future Shop in Edmonton also provided Alex with an iPod and a laptop loaded with amazing programs.
"Without the scholarship, I would have finished high school but I would be applying for student loans to get money for university and balancing a part-time job . . . It would have meant more stress and pressure for sure," she said. "The laptop has definitely allowed me to be more creative with my projects, strengthen my computer skills and make it easier to do research. I had a computer at home but it was a big old clunky one."
Alex has no doubt her journey would have been "more rocky" without the support of the Boys and Girls Club, what she calls 'my second family, my home away from home.'
"The Boys and Girls Clubs taught me self-respect and I grew from a hoodlum child to a young woman with a purpose to help everyone. I made it through because I had the support of the whole Boys and Girls Club behind me. If I had a bad day, they'd always be there and encourage me not to give up," said Alex.
Carol, who works at the Leduc club and has seen Alex blossom through the years, said Alex's success story was one that really resonates at the Club. "She's definitely developed her confidence and perseverance. I remember when she received the scholarship at Future Shop and her saying, 'people do believe in me.' Her whole outlook changed," she said. "Alex has started her first year at university and she made a lasting effect on the kids in our Club. They still talk about her fondly."
It's evident that the members have had a lasting effect on Alex too. "Today, I'm a leader," Alex said proudly. "Seeing the kids light up and tell me they want to be like me, it's crazy actually. In the past, i someone said to me, all of these kids look up to you and want to be like you…I would have just shrugged it off. Now I tell them every day they can be anything they want to be."
________________________________________
What do you think? Are you interested in more information about how you can support Boys and Girls Clubs of Canada? Please get in touch – you can reach Sarah at spillersdorf@bgccan.com or 1-844-477-7272 x271.