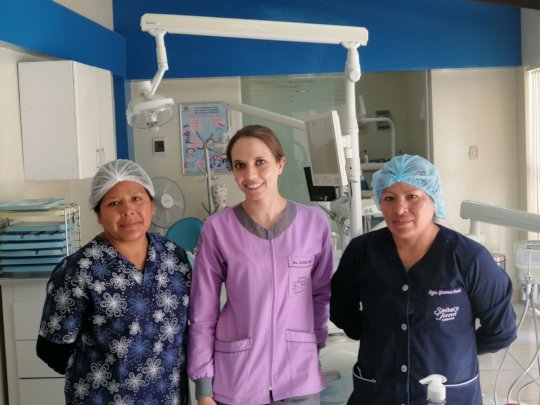 It is common to talk about the work we do in favor of the most needy and those who are at risk, it is common to tell the stories of our patients and their problems, it is common to talk about the lack of prevention in relation to oral health ………… ..what it is not common is to mention and less common is to celebrate those who face the daily challenges of attending to patients and dealing with the different oral health problems of the Smiles Forever Foundation beneficiaries, from a simple Caries up to a complicated third molar surgery or a long root canal treatment, complemented by the services of our Dental Hygienists that provide coverage in services such as dental cleaning's, education in prevention and periodontal treatments.
Through all these years our dental team has cemented not only their work in favor of children, but also in a certain way they have become a beacon of light of each of their patients giving them humane treatment, affection and being empathic with each of them, knowing how to treat children with HIV, Cancer, blindness, physical and sexual violence as well as abandonment and others. Patients who, if not attended by our team, would probably not be treated by anyone because of the high risk that these patients represent.
On October 3, the day of the dentist and its auxiliary services was celebrated in Bolivia, it is in this way that we want to pay tribute to those who carry out this commendable work in favor of the children and beneficiaries of the Smiles Forever Foundation, and is because this exceptional and professional team that we are able to do what we do 19 years ago.
Our team is composed of:
• Paola Quinteros DDS, part of Smiles Forever since 2013
• Dr. Silvana Frias DDS, part of Smiles Forever since 2019
• Nayda Apata DDS, RDH, part of Smiles forever since 2014
• Jovana Medina RDH, part of Smiles forever since 2007
• Giovana Dorado rdh, part of Smiles forever since 2011
• Adela Maldonado rdh, part of Smiles forever since 2014
And who at one time or another formed part of our team
• Paola Escobar, dds
• Vani Salazar, dds
• Patricia Ricci, dds
• Verónica Guzman, dds
• Heidi Ibarra, dds
To our team that is for whom we can realize our dreams and turn our projects in a tangent reality…………………… in your day....congratulations and thank you for the love invested in the Smiles Forever Foundation