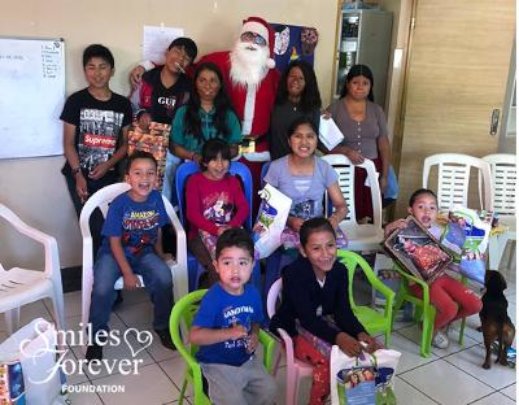 Smiles Forever, Year-end Report
Dear Donors,
This year has been quite unique, the Covid-19 pandemic that hit the whole world, the rigid quarantine that Bolivia experienced for more than 5 months where we could not open our doors to serve our beneficiaries. The fact that when we returned is truly a miracle. We had many limitations such as the lack of supplies, restrictions on working hours and days, the very fact that dental services were classified as one of the highest risk of exposure to the virus, plus the general fear of patients and general population to go out and expose themselves.
But in us they found an island of safety. In the previous months and knowing that we were faced with a possible rigid quarantine in which those under 18 and over 60 could not go out on the street and only one person per family could go out to supply food and first necessity supplies, we ran a large number of SDF (silver diamine fluoride) treatments. This allowed us to temporarily defer regular treatments and only focus on emergency treatments and high-risk patients. Once the quarantine was in effect, we could not open our doors and we took on the task of monitoring our patients via digital means. We met with the staff constantly via zoom to define future care policies once the restrictions were reduced, and so it was when we returned we had to adapt to the new normal and although the biosecurity standards were not something new to our daily work. We had to go through stages of understanding what Covid-19 really is, how to protect ourselves and the fact that we needed to educate our patients.

We entered a stage that went from the provision of supplies, so that they could safely attend our dependencies as well as explain and educate and seek a way where they can apply this education in their centers and shelters. The task was and will be hard and we did not back down even under the risk of exposure and contagion ... we still take all the mandatory measures by the health authorities and modify your biosecurity protocols to take even more extreme measures such as the forced use of PPE suits, double face masks, double latex gloves, face shields, changing these between each patient and the use of disinfectant chemicals and disinfecting common and dental areas between patients while maintaining social distancing. While the risk of contagion is high, we had to work closely with patients who were covid-19 positive, being asymptomatic or with mild to severe symptoms. We did not deny them care or services, because if before we did not do so with some being HIV positive or others now less than ever.
Our city was hit hard by the pandemic, to the point that hospitals did not have space in intensive care units to receive more patients. There were people who died of Covid-19 in their own homes and the bodies were left in the streets because not even the Funeral services were provided with enough speed due the demand. It was basically impossible to purchase biosafety supplies and if you achieved this, the costs reached over 300%, Some of the centers and shelters that are our beneficiaries suffered a lot…… either from direct infections to the lack of biosecurity supplies and in some cases even the abandonment of the health authorities, but these hard and difficult times are being left behind …… Although the restriction and sanitation measures have been reduced, we did not leave any aside and we continue working under high biosecurity standards.
With hard work and sacrifice of overtime and longer shifts, our services have started to increase and we are treating a larger volume of patients than 3 months ago. Unfortunately, the cost of biosecurity prevention is high and many times we were very challenged monetarily. It is the support and commitment of each one of you donors, and those who identify with our labor of love and wanting to help those children in risk, that allows us to get things done on a daily basis.

On these dates of hope and love we want to extend our greatest gratitude and appreciation to all of you who supported us during and after this difficult period of time. Our hearts and those of our children are with you, for it is you who allow us to do something more out of the ordinary with our children such as Christmas activities where they receive a gift from us and we share a moment and message of hope, solidarity and love for and with them and through us we express your love for them.
Happy Holidays, Blessings and a better tomorrow to all who make up this beautiful and unique family that is Smiles Forever, both donors, founding members and staff.
A hug of hope and love to the ones that really need one…….from Santa to all of our children
U.S. donors, because of the Coronavirus Aid, Relief and Economic Security Act passed last spring by Congress, you may make up to a $300 cash donation to your favorite non-profit, and claim as a tax deduction next year, even if you don't itemize. The IRS is encouraging citizens to utilize this special provision to benefit charities worldwide.
UU.S. donors, because of the Coronavirus Aid, Relief and Economic Security Act passed last spring by Congress, you may make up to a $300 cash donation to your favorite non-profit, and claim as a tax deduction next year, even if you don't itemize. The IRS is encouraging citizens to utilize this special provision to benefit charities.S. donors, because of the Coronavirus Aid, Relief and Economic Security Act passed last spring by Congress, you may make up to a $300 cash donation to your favorite non-profit, and claim as a tax deduction next year, even if you don't itemize. The IRS is encouraging citizens to utilize this special provision to benefit charities
U.S. donors, because of the Coronavirus Aid, Relief and Economic Security Act passed last spring by Congress, you may make up to a $300 cash donation to your favorite non-profit, and claim as a tax deduction next year,ven if you don't itemize. The IRS is encouraging citizens to utilize this special provision to benefit charities
U.S. donors, because U.S. donors, because of the Coronavirus Aid, Relief and Economic Security Act passed last spring by Congress, you may make up to a $300 cash donation to your favorite non-profit, and claim as a tax deduction next year, even if you don't itemize. The IRS is encouraging citizens to utilize this special provision to benefit charitieof the Coronavirus Aid, Relief and Economic Security Act passed last spring by Congress, you may make up to a $300 cash donation to your favorite non-profit, and claim as a tax deduction next year, even if you don't itemize. The IRS is encouraging citizens to utilize this special provision to benefit charities
U.S. donors, because of the Coronavirus Aid, Relief and Economic Security Act passed last spring by Congress, you may make up to a $300 cash donation to your favorite non-profit, and claim as a x deduction next year, even if you don't itemize. The IRS is encouraging citizens to utilize this special provision to benefit chariti