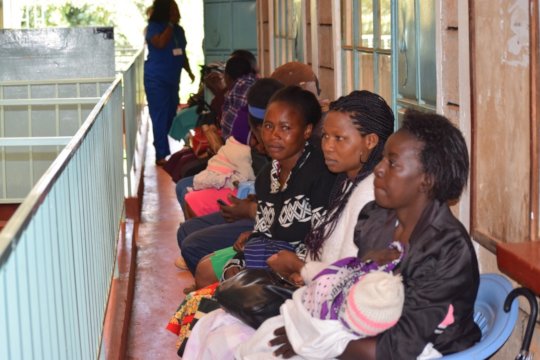 With Kenya gearing up to achieve Universal Health Coverage by 2022, stakeholders are steadily building on the milestones achieved so far while seeking to address the gaps that have been pointed out as a potential hindrance to achieving this master plan. All these efforts are premised on the provision of Quality Health services as a basic right to all Kenyans as enshrined in the Kenyan constitution. This commitment resonates strongly with the global community aspirations as outlined in the Sustainable Development Goals (SDGs).
In July 2019, Village HopeCore participated in an inaugural Quality Healthcare Awards sponsored by Africa Health Business in partnership with Amref-Kenya.
Our CEO, Dr Kajira Mugambi, was nominated under the Healthcare Leadership category where he emerged second nationwide in this category. This is a clear indication that our health program has made a significate impact on the lives of many Kenyans to the scope that the impact is felt and recognized nationwide.
We have conducted 118 mobile maternal child health clinics where 2,716 Mothers were educated on family planning, nutrition, breastfeeding, malaria and diabetes. In the MCH clinics, we did growth monitoring to 2,222 children and 1,937 children accessed free treatment services.
Our office-based full-time clinic has greatly expanded, we have integrated Antenatal profiling for expectant mothers where we have witnessed the number of women who visit our clinic increase weekly. The women prefer to visit our clinic because of the quality service that we offered by our clinical team. Our clinic offers free service to children under 5 year and expectant mothers, the other clients do pay a subsidized price to cover the medication. With our three months reporting period, 1541clients have been a treat at the facility. We have also family planning services to 43 women, this includes implant insertion and removal among other services. We are in the process of setting up a laboratory at the facility where women and children can assess quality laboratory service. The laboratory shall be operational as from Mid-September
In August, we hosted 9 MedTreks members, this is a group of nurses from different states in the USA who visit Village HopeCore. https://www.medtreks.org/get-involved. During their one week stay, they trained our clinical team on IUD insertion and removal, postpartum depression & psychosis. The community health workers were trained on helping a baby breath and CPR. They MedTreks team also joined our community health staff in mobile maternal child health clinics. HopeCore's key strength is continuous capacity building for the community health team to enable them to offer quality services the children & the women in our community, it's the best strategy for developing staff skills while working for the organization.
Additionally, have partnered with 5 local health facilities where our Community Health Volunteers refer the clients. Our main focus is to ensure the community has access to health services from the nearest health facility. Additionally, have partnered with the County Department of Health Services and Sanitation where we conduct 12 joint outreaches in most remote areas using the County's Beyond Zero truck. Through these outreach events, we have been able to provide immunization services, laboratory tests and Ante-Natal Clinic profile and physical examination for expectant mothers.
We are glad to report that we currently have a memorandum of understanding (MOU) between Village HopeCore International and the Tharaka Nithi County Department of Health Services and Sanitation. This is a milestone in strengthening our partnership with the County Government with a common goal of enhancing Universal Health Coverage in Tharaka Nithi County, Kenya.
Village HopeCore could not have attained all this if it were not for your generous contribution/donation, thank you for the continued support.