Age: Juvenile Sex: Unknown Weight: 18gms
Found: All alone without their parents on a property in Beerwah, QLD. It was not known how they came to be separated.

Transported to: The Australia Zoo Wildlife Hospital by a kind member of the public.
Veterinary Assessment: Each individual duckling was assessed by Dr Amber to ensure they were all in good health. Fortunately Dr Amber found that all seven ducklings showed no signs of physical trauma and was satisfied they were in good condition.
Treatment: Fortunately none of the seven ducklings required treatment and were placed inside a heated humidicrib in the small mammals ICU under close observation.
Future: The seven ducklings were all kept together and transferred to a carer the same day. In care they will interact with other orphaned ducklings until they are ready for release. This is usually after three months when all their flight feathers have grown.
AZWH Fact: The wandering whistling duck enjoys the water, usually inhabiting deep lagoons, dams and flooded grasslands. They swim and dive through the water with ease and are not usually found far from the shore.
Links:
The Pixies the Pink-Tongued Skinks
Age: Juvenile Sex: Unknown Weight: 2 gms each
Found: On a road in Maleny after their mum was run over by a car. The weight of the car caused the babies to be ejected from her abdomen.
Transported to: The Australia Zoo Wildlife Hospital by a member of the public that rescued them off the road.
Veterinary Assessment: Sadly the mother skink didnt survive however Dr Claude was on duty to immediately check over the remaining four babies. One was very weak and passed away a short-time later but the other three were well developed and strong despite being premature.
Treatment: Dr Claude administered each baby skink with fluids for hydration and placed them in a heated terrarium in the reptiles intensive care unit.
Future: Pink-tongued skinks are independent from the moment they are born. Therefore the three remaining baby skinks were returned to bushland in Maleny the very same day. Instinctively they will start fending for themselves and feed on slugs, snails and worms.
AZWH Fact: Pink-tongued skinks are a useful reptile in a garden or backyard due to their preferred diet of snails and slugs. Unfortunately as a result of living in suburban areas they are commonly under threat by dogs, cats and cars.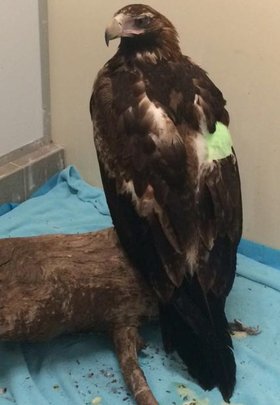 Age: Adult Sex: Unknown Weight: 3.4kgs
Found: Walking around on the ground near bushland in Narangba and unable to fly.
Transported to: The Australia Zoo Wildlife Hospital by a member of the public. It took four people to safely catch and contain the large bird.
Veterinary Assessment: Norbert was bright and alert on arrival to the hospital. Although he was unable to fly his walking and running ability was good. He was anaesthetised for assessment and sadly Dr Claude found a gunshot wound in his right wing. The gun pellet not only left a large, open wound and extensive bruising but an x-ray also revealed a fracture to his ulna bone.
Treatment: Dr Claude flushed the wound to clean out debris and pellet fragments. The wound was covered over and the entire wing was also bandaged
to keep it still. Norbert was given fluids, antibiotics to fight infection and pain relief medication.
Future: Norbert is presently in the birds ICU at the Wildlife Hospital in a large enclosure where he will remain until his injuries heal. Once his fracture has
healed he will be transferred to a larger aviary facility at the Currumbin Wildlife Sanctuary on the Gold Coast where he will have the opportunity to fly
and learn to use his wing again. Once he gains full use he will be released back into the wild.
AZWH Fact: Wedge-tailed eagles are the largest bird of prey in Australia and are a protected native animal. Someone caught shooting them could be faced with a $40,000 fine and a jail term
WARNING: Javascript is currently disabled or is not available in your browser. GlobalGiving makes extensive use of Javascript and will not function properly with Javascript disabled.
Please enable Javascript
and refresh this page.