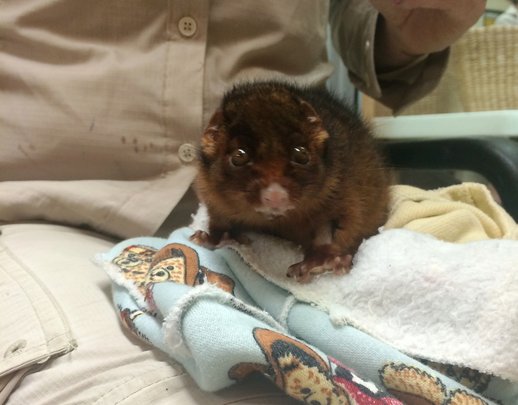 Age: Juvenile Sex: Female Weight: 180gms
Found: Behind a restaurant in Mooloolaba, QLD. Unfortunately Pippy's mother and two siblings had already passed away.
Transported to: The Australia Zoo Wildlife Hospital.
Veterinary Assessment: Dr Claude was on duty to assess Pippy when she arrived. Pippy's nose and paws were observed to be very pale in appearance. A blood sample was taken under anesthetic and severe anaemia was observed, confirming the suspicion of rodenticide poisoning.
Treatment: Dr Claude administered a blood transfusion and vitamin K to assist with coagulation to counteract the effects of poison in Pippy's system. She was then transferred to the small mammals ICU and is currently being kept inside a specialised humidicrib under close observation.
Future: Pippy will remain at the hospital until she reaches a stable condition. Once she is ready, Pippy will be transferred to a registered wildlife carer to raise her to independence before releasing her back into the wild.
AZWH Fact: It is important to consider our native wildlife before using a poison in the environment. To deter pests, some other options can include removing food sources and shelter areas for rodents or using live traps. Every poison is dangerous and doesn't discriminate against which species it kills.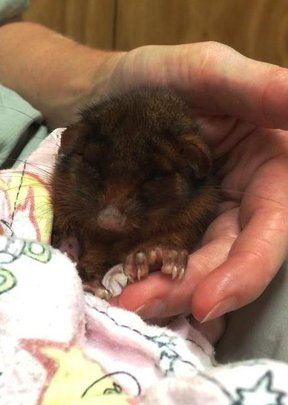 Links: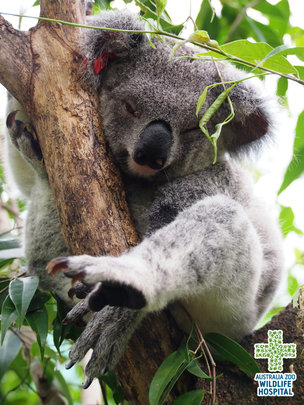 Age: 10 months Sex: Female Weight: 1.2kg
Found: In a shed in Clontarf, QLD seeking shelter. Galaxy was orphaned after her mother was hit by a car.
Transported to: The Australia Zoo Wildlife Hospital by Moreton Bay Koala Rescue.
Veterinary Assessment: Dr Bec was on duty to assess Galaxy on arrival. She found her to be quiet and slightly underweight in appearance. After a thorough examination and x-ray under anaesthetic Dr Bec discovered some minor internal bruising however there were no major concerns.
Treatment: Galaxy was administered fluids and pain medication and was sent to a specialised carer. The carer was responsible for raising Galaxy until she reached 2kgs at approximately 12 months of age.
Future: Once Galaxy was ready she was returned to the hospital for koala kindy to prepare her for life in the wild. After several months in koala kindy, Galaxy was shown to be fit, healthy and independent. Galaxy has now be released back in Clontarf, close to where she was found but a safe distance from roads and others threats.
AZWH Fact: When a koala joey is born it is only 2cms long! They are blind and furless and use their strong forearms and well developed sense of smell to find their way to the pouch.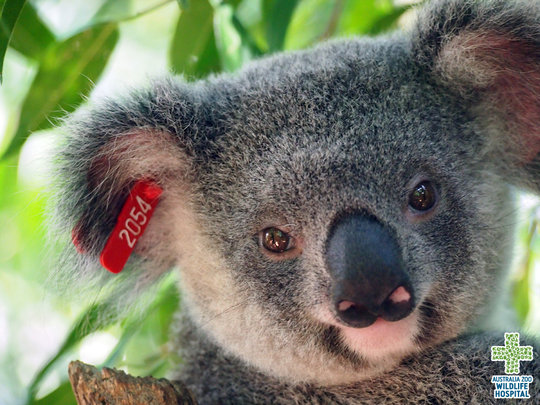 Links:
Age: Juvenile Sex: Unknown Weight: 3gms
Found: At a home in Buderim, on the Sunshine Coast QLD with duct tape stuck to her body.
Transported to: The Australia Zoo Wildlife Hospital by a concerned member of the public.
Veterinary Assessment: Dr Amber anaesthetised tiny, little Edwina on arrival so she could complete a full assessment of the snake's condition. After a thorough examination Dr Amber confirmed that the duct tape stuck to Edwina's skin had caused minor scale damage but she was otherwise in good health.
Treatment: Dr Amber carefully removed the duct tape from Edwina's little body using a chemical free adhesive remover. This reduced any further damage caused to her scales. Edwina was then placed in a heated terrarium in the reptiles' intensive care unit for recovery.
Future: Edwina will remain under close observation in the reptiles ICU until she sheds her skin. This is to ensure she has completely recovered from her injuries before being released back into the wild.
AZWH Fact: The green tree snake happily spends most of its time in trees and shrubs as their long slender body allows them to be extremely agile climbers. While most are green in colour they can also be brown or black; most possessing a yellow throat.
Links:
WARNING: Javascript is currently disabled or is not available in your browser. GlobalGiving makes extensive use of Javascript and will not function properly with Javascript disabled.
Please enable Javascript
and refresh this page.