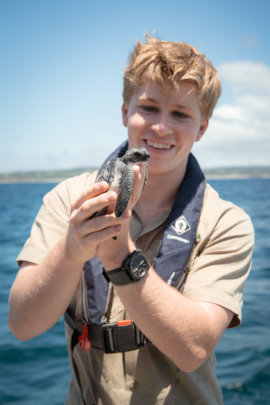 Lucky the Green Sea Turtle was found stranded on the beach on Stradbroke Island. Cold and lifeless, Lucky's kind rescuers knew he was in desperate need. He was rushed to the Australia Zoo Wildlife Hospital for emergency help where Dr Ludo was ready and waiting. Upon examination she found he had old injuries to his flipper and shell, and a fresh injury to the top of his head. Thankfully, Dr Ludo determined Lucky hadn't suffered any major trauma and despite being exhausted, he would make a full recovery.
Dr Rosie Booth, Chief of Staff at the Australia Zoo Wildlife Hospital, said it was incredibly rare to see a sea turtle of this size. 'Little Lucky is a little yearling green sea turtle that got left behind from last year's hatchlings. Normally he would have caught the East Australian Current to South and Central America with all his little brothers and sisters. After a few years they return to Australian shores to eventually breed when they are in their twenties.'
After a few days in the Intensive Care Unit with pain relief and antibiotics to prevent infection, Lucky was back to his 'turtley' awesome self and was transferred to Sea Life Sunshine Coast to continue his recovery. A few weeks later, Lucky had gained weight and was ready to be released back into the wild.
Due to Lucky's age and size, he needed to be released away from shore, so the khaki crew called in the help of our good friends in blue, the Queensland Water Police! With their ocean expertise and equipment, we found the perfect spot to release Lucky.
Today, six of the Earth's seven species of sea turtle are endangered. The Australia Zoo Wildlife Hospital has treated over 1,500 sea turtles, with boat strikes and fishing tackle entanglement some of the most common causes of harm to these beautiful animals. We can all help by disposing of our litter and fishing tackle correctly and picking up any rubbish we see on our beaches.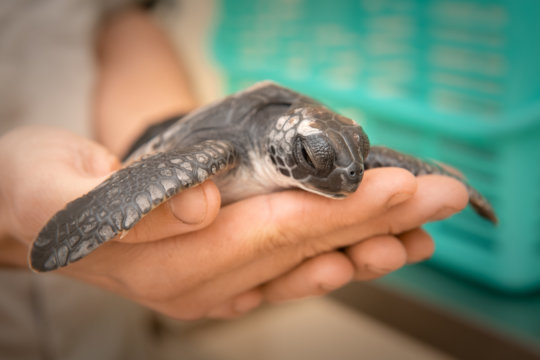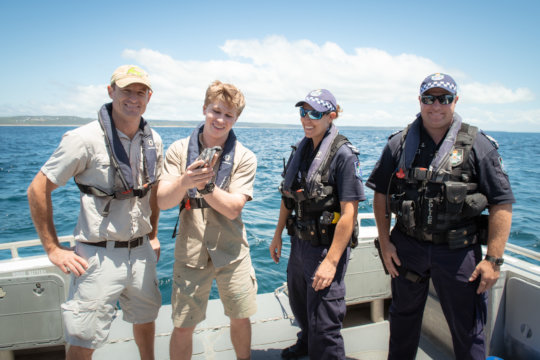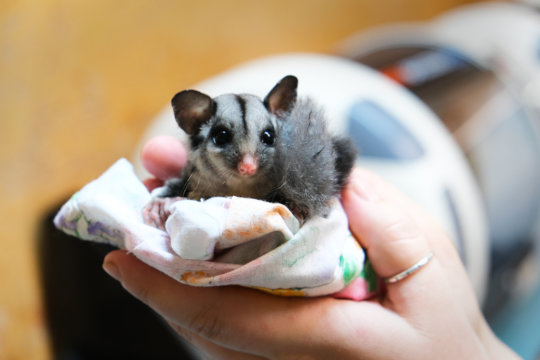 Crash the Squirrel Glider Joey was located nestled in the branches of a fallen dead gum tree.
Fortunately, upon discovering Crash, a kind member of the public transported him to the Australia Zoo Wildlife Hospital for emergency help.
Upon veterinary assessment it was determined, Crash luckily escaped the fall with only minor bruising to his right elbow.
The veterinary team placed Crash in the Nursery ICU for a course of pain relief and some much-needed rest. Once his bruising has healed and he is ready for life on his own, Crash will be released back to his home in a safe location in the wild.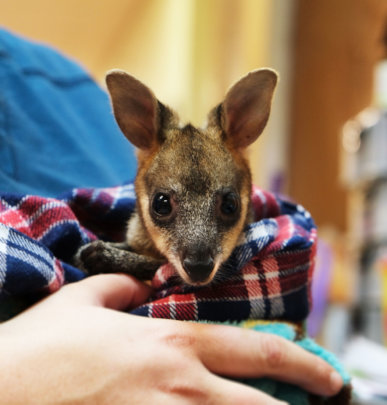 Gidget was found orphaned, by a kind member of the public in Morten Bay, Queensland.
She was transported by her rescuer to the Australia Zoo Wildlife Hospital for a full veterinary assessment and treatment.
Upon arrival, Gidget received a full health assessment from the Australia Zoo Wildlife Hospital team. Thankfully, she was cleared of any serious injuries and found to have only minor bruising.
Gidget was placed in the Nursery ICU under close examination from the veterinary team. She was given fluids for dehydration and pain relief to aid a speedy recovery. Thanks to you, Gidget is well on the road to recovery. She has been placed with an experienced wildlife carer to raise her until she is old enough to be released back into the wild.
WARNING: Javascript is currently disabled or is not available in your browser. GlobalGiving makes extensive use of Javascript and will not function properly with Javascript disabled.
Please enable Javascript
and refresh this page.