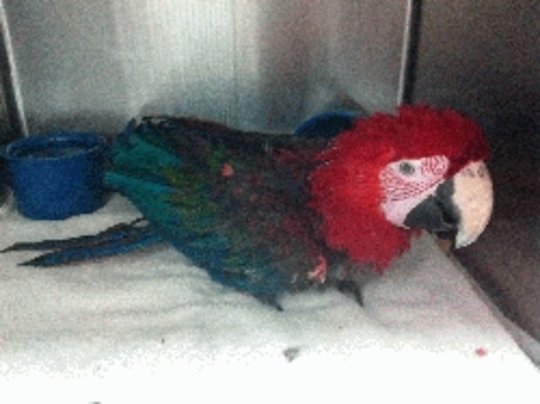 I don't know about everyone else, but I'm still a little unnerved by a year that starts with a "2". Looking at an entire year that i
s called "2013" is even more off-putting. But here we are! We'll be writing 2013 on checks and typing it into on-line forms for an entire year. We who are Mickaboo Companion Bird Rescue (which is pretty much everyone reading this) must go forth convinced that numbers don't make our luck – we create the future for the birds that are fortunate enough to come into our care. Sometimes in the middle of a year, we start to hope that good luck is on our side. But we know that each of us holds the keys to turn the luck in our favor.
All of you pour your time, your energy, your patience, your love, and your money into Mickaboo. You make the luck that keeps our birds alive, restores their health, and finds them homes. Here are the numbers that measure that "luck" - the lives of companion birds in Northern California.
REPORT FOR 2012 - THE STATE OF MICKABOO
Those of you who manage the movement of birds in, out, and through Mickaboo know that we keep records of those birds. Our data system is called "Animal Shelter Manager" or ASM. It's more than numbers – it tracks the incoming birds, records who surrendered them, and documents the foster parents and adopters who give them homes. Since Mickaboo takes responsibility for life for each bird we take in, this information is literally the "lifeline" of the birds we rescue.
So, what do those numbers look like for 2012, compared to say 2010 or 2011? The numbers show an encouraging trend.
As hard as it is to believe, the number of incoming birds surrendered to Mickaboo in 2012 (274), is only slightly larger than the number in 2011 (252) and is much smaller than the 373 birds surrendered to us in 2010. However, the number of adoptions in 2012 – the measure of the "luck" we pray for – was 267, which is substantially more than the 200 adoptions in 2011 and 201 in 2010!!! We are moving forward in a very positive direction. Within the overall positive trend, there are some unexpected twists – reductions in incoming budgies and cockatiels, but increases in cockatiel adoptions! A sudden jump in lovebirds. Big increase in incoming African greys (why?). We're having trouble finding homes for cockatoos and wild flock conures. A jump in incoming macaws since 2011, but an increase in adoptions, too.
These numbers come from a lot of hard work put in by a lot of wonderful hard-working volunteers. They can look even better with more help. Can you offer some?
Okay, this is NOT luck. This is the continuous, ongoing hard work and sometimes desperate efforts of all of you. This is the result of your investment in Mickaboo and your commitment to Mickaboo's birds. These numbers are the fruit of your faith – our faith – in each other, in all of us.
Please look carefully at the birds in your lives and listen to them. They're all saying "thank you" in ways we can (maybe) hope to understand.
This is me, also saying "thank you".
Links: