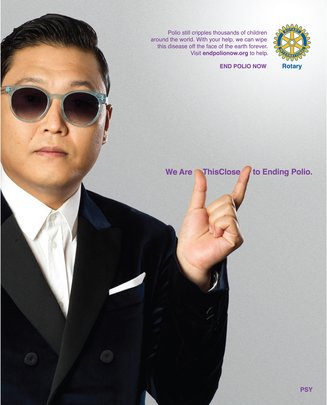 Rotary International's innovative campaign to develop the World's Biggest Commercial to raise public awareness about polio eradication has struck a chord with the Pharmaceutical Research and Manufacturers of America (PhRMA).
To help spur participation in the commercial, the largest pharmaceutical trade group in the United States has donated $50,000 to Rotary's PolioPlus program – enough to provide oral vaccine to protect more than 83,000 children against this paralyzing disease.
Participants in the World's Biggest Commercial simply upload photos of themselves making the "this close" gesture with their fingers – as in, "We are this close to ending polio" – to the ever-expanding promotional spot at Rotary's End Polio Now website. In doing so, they'll rub "virtual shoulders" with such celebrities and notables as Bill Gates, Archbishop Desmond Tutu, Jane Goodall, Amanda Peet, Jack Nicklaus, Jackie Chan, PSY and other high-profile Rotary Ambassadors for Polio Eradication.
Since launching the campaign on World Polio Day (Oct. 24, 2012), more than 4,500 people in over 116 countries have joined the online initiative by adding their names and photos to the World's Biggest Commercial. Beginning February 1, highlights from the "The World's Biggest Commercial" will air in Times Square, one of the world's busiest locations.
"Rotary International's effort to end polio is seen as one of the world's greatest public health advances," said John Castellani, President and CEO of PhRMA. "PhRMA and its members are pleased to have played a part in supporting Rotary in the effort to eradicate polio."
Castellani said he also encourages PhRMA employees and PhRMA member companies to participate in the World's Biggest Commercial.
In addition to helping Rotary set a new Guinness World Record, every person who joins the commercial can choose to add their name to a petition urging the world's governments to provide the $5.5 billion needed to finish the job and end polio forever.
Rotary launched PolioPlus in 1985, and in 1988 became a spearheading partner in the Global Polio Eradication Initiative, now led by Rotary, the World Health Organization, UNICEF, the U.S. Centers for disease Control and Prevention and the Bill & Melinda Gates Foundation. Since then, more than 2.5 billion children have received the oral polio vaccine, and the incidence of polio has plummeted by more than 99 percent. Fewer than 300 cases were reported worldwide in 2012, down from 350,000 annually in the 1980s. Today, polio remains endemic to only three countries: Nigeria, Afghanistan and Pakistan. However, experts warn that if the eradication initiative falls short, polio could rebound rapidly, affecting more than 200,000 children every year.
Links: