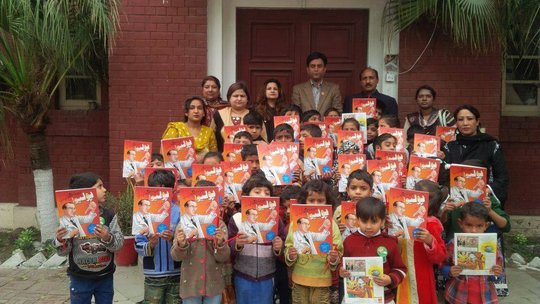 Pakistan remains one of the final reservoirs in the world where the wild polio virus circulates unrestrained. One of the major challenges to eliminating the virus are the misperceptions and mistrust that persist in high risk areas of the country, places where access to basic health services and education is limited. Rotarians are helping to address these misperceptions through the implementation of health camps, where families can receive polio drops, health services, sanitary and medical supplies and important educational materials. This is having an important effect on the program, helping to drive demand for the polio vaccine and developing a public health infrastructure and leaving a legacy that will endure long after the last polio case has been reported.
As community members and volunteers, Rotarians are particularly well placed to support these health camps in the polio affected communities. Rotary clubs in Pakistan provide the volunteer support for the health camps, helping to educate and raise awareness among the population and serving as monitors to ensure the quality and impact of the campaigns. Rotarians also provide funds for the medical supplies, such as first aid kits, medicines, and soaps that are distributed to families. These are organized through Rotary-funded resource centers, working with local NGOS to implement the projects and gain the trust and support of the local population. Some of the typical treatments offered at health camps include HIV tests, TB, Malaria, cancer screenings and basic surgical treatments. Patients needing more advanced support are referred to relevant hospitals.
Rotarians also utilize health camps as an opportunity to conduct outreach within neighboring schools, holding sessions on health and hygiene and providing educational materials such as comic books, pencils, and first aid materials to reinforce the messages. Rotarians have developed a speaking book that teaches children about hygiene and helps educate them about the importance of polio drops. Teachers in every school are trained so they can further share these messages with students long after the volunteers have left.
Through involvement with local community member, innovative approaches like health camps are one of many ways Rotarians are seeking to make a difference in the health of vulnerable communities within Pakistan. Not only will this help to reach children with vital polio drops, it will also set a standard for public health that will continue to shape these communities for years to come. Rotarians in Pakistan have put their commitment to action in the places where it matters most, and they continue to make a difference, not only the fight against polio, but in improving health for children everywhere.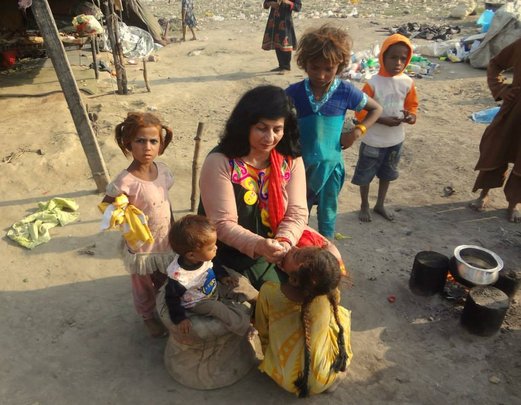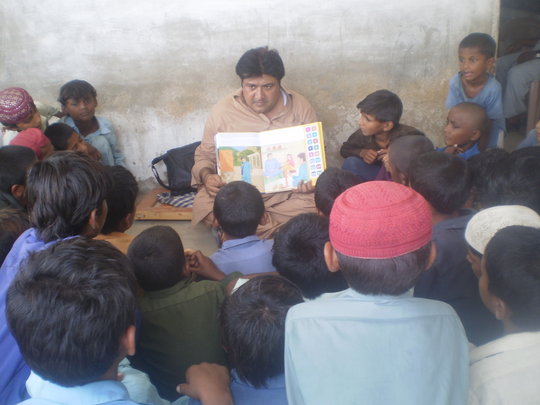 Links: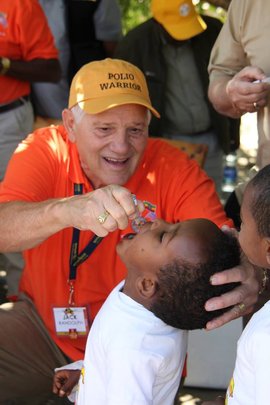 In early November, a group of 35 Rotarians from the US and Canada traveled to Ethiopia to participate in National Immunization Days (NIDs), a polio immunization campaign that helps ensure all children in the country receive the polio vaccine. As part of the campaign, volunteers go door-to-door, providing oral polio drops (OPV) to all of the children under 5 who have not yet been immunized. It is an amazing process the requires meticulous planning and preparation, from determining on maps where the reach children, to keeping the vaccine cold in portable carriers, to organizing enough volunteers to travel door to door with the vaccine. Ethiopia had an outbreak of polio in 2013 that began as a result of an importation from Somalia. After intense outbreak response activities and a total of 10 cases, the last case in Ethiopia was reported in January 2014. The Ethiopian government, together with Rotarians, and other public health organizations like WHO and UNICEF have been working to ensure no additional cases occur and the country can return to its polio free status.
The group of Rotarians who joined this effort were headed by Ezra Teshome, a Seattle Rotarian and native Ethiopian who has been taking groups of volunteers to participate in NIDs for the last 19 years. He is revered by everyone who meets him, both for his kind nature, and for his commitment to this longstanding cause as well as many other projects he supports in Ethiopia. The group participating in the NIDs were a diverse and passionate bunch. Many had traveled in previous years to help immunize children, and developed their own projects as a result. Denny, a polio survivor from the Washington area, is helping to build a hydratherapy pool at the polio rehabilitation center called The Chesire Homes that the group visited. Denny has just a few thousand dollars left to raise before the pool is finished, and the clients at the home will have the welcome relief of doing their therapy in water, which is much easier on their joints and withered leg muscles.
On 6-7 November, the Rotarians traveled out from Addis Ababa to the Adama area, where they participated in polio immunization activities in the surrounding rural communites. They participated in a launching ceremony at a local grade school, where about 60 kids were immunized and then went door to door in farming communities where accessing children is a little more difficult. The families were very familiar with polio drops and eager to have their children immunized, and so the visitors in the orange End Polio Now t-shirts were a welcome site. I know every member of the Rotary team was touched by the opportunity to experience firsthand what it means to immunize a child against polio, and to know that child will never suffer from this debilitating virus. We are truly within reach of our final goal, and look forward to the day when a trip to Ethiopia can take place in the context of a polio free world.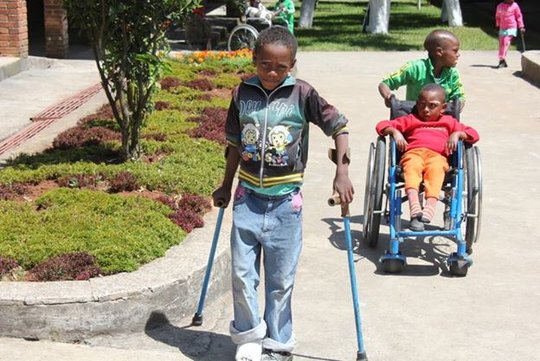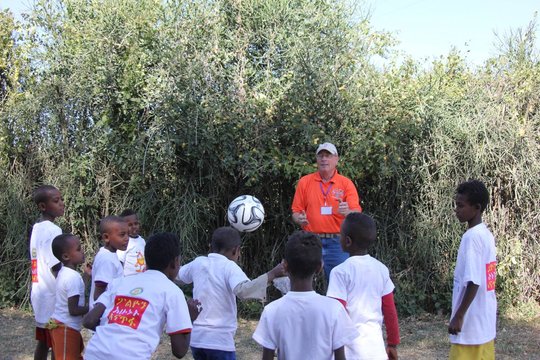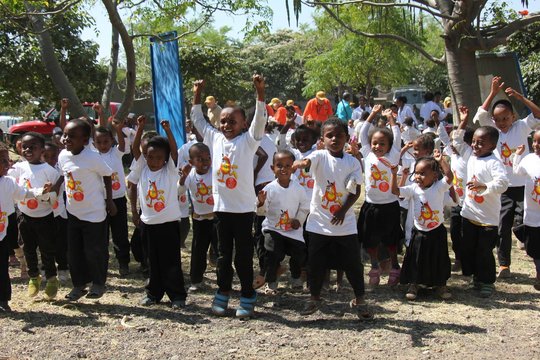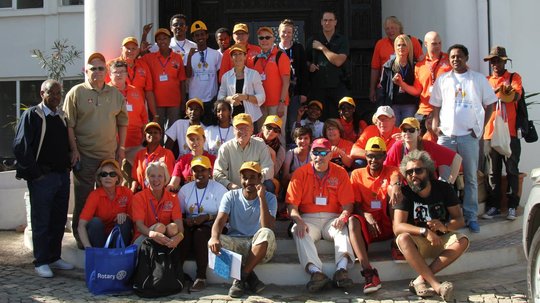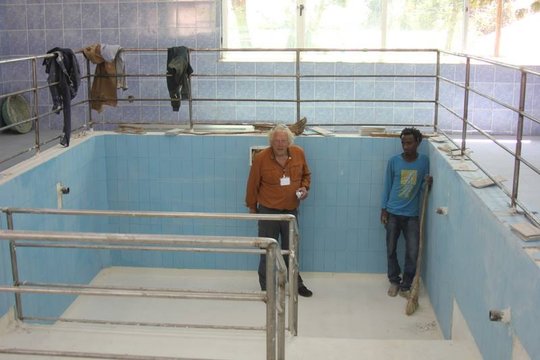 Links: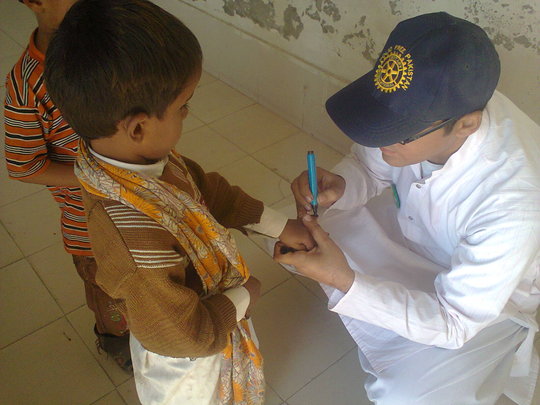 The fight to end polio will receive an additional US$43.6 million boost from Rotary to help reach children with the polio vaccine, particularly in some hard-to-reach areas of the world where health services for children have been disrupted due to ongoing conflict and insecurity. Rotary and its partners in the Global Polio Eradication Initiative (GPEI) hope to end the disease worldwide by 2018.
The funding commitment comes on the heels of a World Health Organization declaration calling the international spread of polio a "public health emergency of international concern." The eradication initiative focuses on stopping polio in the three countries where the virus remains endemic: Afghanistan, Nigeria, and Pakistan. Stopping polio in those countries is crucial in order to halt the recent spate of outbreaks in countries where the disease had previously been beaten – such as strife-torn Syria -- and where mass immunizations of children via the oral polio vaccine must continue until global eradication is achieved. The WHO declaration further recommends that polio-affected countries ensure that incoming and outgoing travelers are immunized against polio.
The Rotary grants include $5.7 million for Afghanistan, $6.5 million for Nigeria and $5.6 million for Pakistan. Grant amounts are based on requests from eradication initiative partners UNICEF and the World Health Organization, which work with the governments of polio-affected countries to plan and carry out immunization activities.
UNICEF will use a grant of $3.6 million to bolster activities in Iraq, previously polio-free since 2000, but now one of several countries in the Middle East affected by an outbreak of polio from virus of Pakistani origin. The cases are linked to the strain of endemic poliovirus, underscoring the need to stop the virus in the endemic countries. Another grant of $146,000 will support polio surveillance activities throughout the Middle East region.
The other countries where Rotary funds will be used to fight polio are Chad, $4.2 million; Democratic Republic of Congo, $4.1 million; Ethiopia, $4.8 million, and India, $2.6 million. .In addition, grants totaling $4.7 million will support polio surveillance and technical assistance in 47 African countries. A $470,000 grant will fund surveillance throughout South East Asia, and $1.65 million will fund WHO polio vaccine research.
Links:
WARNING: Javascript is currently disabled or is not available in your browser. GlobalGiving makes extensive use of Javascript and will not function properly with Javascript disabled.
Please enable Javascript
and refresh this page.