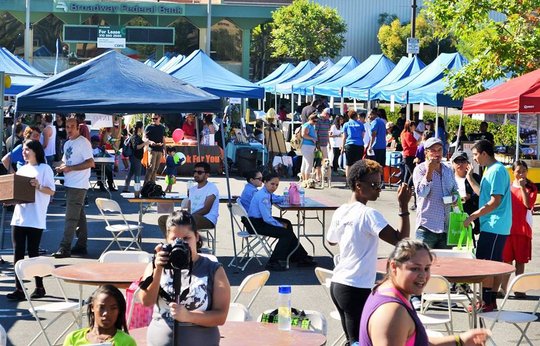 Celebrate Our Neighborhood
A lot of exciting things are happening with Heal One World. We had an amazing Health Fair "Celebrate Our Neighborhood" that took place on November 8th, 2014. It was great to work with Midtown Shopping Center and the Olympic Park Neighborhood Council. Volunteers and community members were able to enjoy music, free yoga, tai chi and zumba demonstrations as well as receive free information from over 20 vendors. Community members left with a clear understanding of what's happening in their community, knowledge about available resources in the area and how they can be more involved.


LAMP Diva Day and Self Care Presentation

Skye Kelly, Executive Director gave a well received presentation on Self Care and helped the LAMP community celebrate their Diva Day. LAMP ends homelessness of Los Angeles most vulnerable individuals, primarily adults with mental illnesses, through a continuum of services and housing, enabling them to reach their highest level of self sufficiency and community integration. Heal One World has been invited back on the February 23rd, 2015 to give another talk and demonstration on Self Care. Everyone was excited to learn and participate in the yoga and tai chi demonstrations. We're also working with LAMP on other health and wellness events.
Zen Den @ Park City

The Sundance Festival was held a few weeks ago and we organized another successful Zen Den Class where celebrities and filmmakers were treated to holistic treatments also yoga as well and tai chi classes.

Online Yoga class with Skype and Microsoft

Yulady Saluti, a yoga instructor, mother of six and cancer survivor whose mission is to share the amazing healing powers of yoga with everyone that suffers from chronic illnesses hosted an online yoga class partnering with Skype, Microsoft and Heal One World. Heal One World shares the same vision and purpose as Yulady, so this was a great opportunity for us to work together and spread the love and knowledge about yoga. Please visit the link to pictures and information on homepage. http://skypemoments.com/socialgood
Fit Right In Program

We are currently working on our Fit Right in program which brings community members of all ages together to learn about health issues. The goal of the Fit Right In program is for participants to have an increased understanding of how their eating and lifestyle habits affect their health in the short-term and long-term; increased understanding of how their families can support each other to change their habits; increased awareness of the availability of healthy and affordable food in their community; increased cooking knowledge; increased knowledge how mental health can affect your physical health; increased knowledge of alternative medicine and exercise options; increased knowledge of how that they can live healthy and fulfilled lives. Participants development will be monitored as they track daily nutrition and physical activity with journals and undergo weekly performance reviews with the dietician and fitness instructor. Participants will do yoga, tai chi and interact with one another through discussions and other classes. They will learn about the importance healthy eating, exercise and self care. The project will be launched within the coming months. Please be on the look out for more details.
Health Fair
Heal One World, a Let's Move! Partner Resource will participate with many other health-oriented groups/advocates in this Free Community Health Fair on February 22nd 1pm to 4pm at 243 W. 85th St Los Angeles, CA 90003. Heavenly Visions presents a day of wellness and education. Please check out this event and spread the word.

Please read our reviews to get even more insight on the impact your donation and participation has in the community. We thank you for your support and if possible, please give to HOW as your heart sees fit. We are entering the Global Giving video contacst so look at our page soon to see our newest video! Keep moving and grooving into 2015 and thank you so much for your support!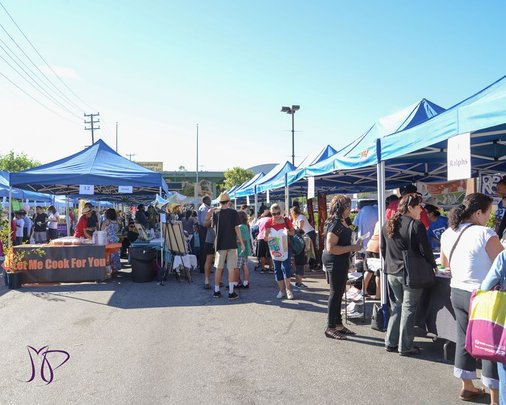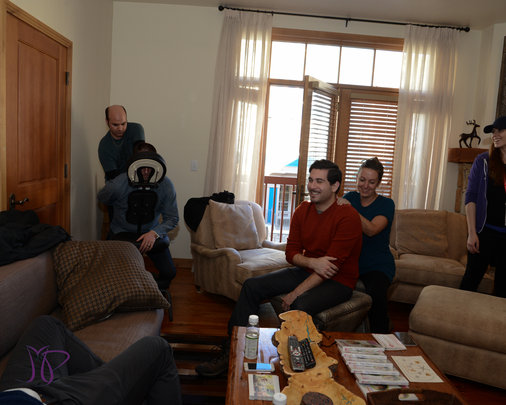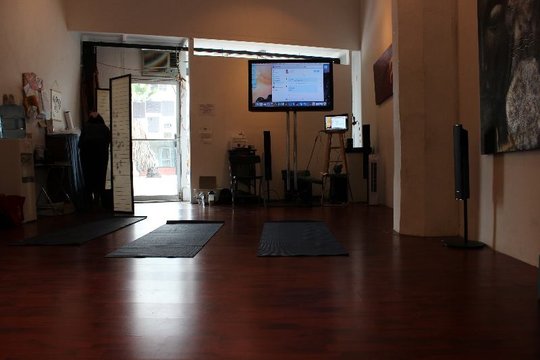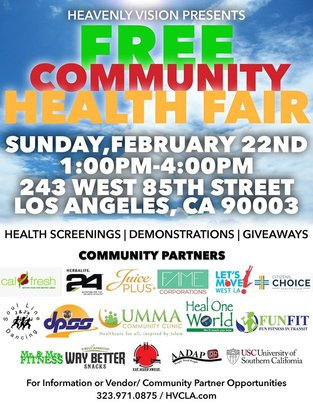 Links: