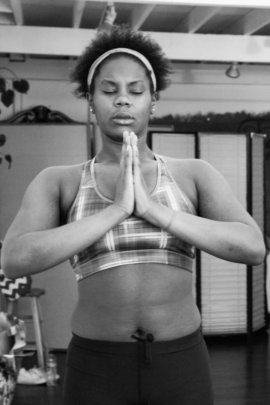 Heal One World is excited for the summer in LA! We are holding our 2nd annual Celebrate Our Neighborhood Eco & Wellness Fair! On June 11th we will have many local vendors and organizations present to give out great information, demo's and freebies to help promote health, wellness and the environment. HOW is the main sponsor and it will be held at Club Union, just 4 blocks away from the Healthy Living Center. We will have demonstrations in Yoga, Tai Chi, Meditation, Core Barre, Zumba, Tai Bo and much more. We will also be signing up participants for the next Fit Right In Program that starts in July. We have 20-30 participants taking part in 3-5 classes per week with peer support and nutritional coaching.
For the last six months we have been taking part n the UCLA Social Enterprise Academy, where were met 2-3 times a month and created a social enterprise model for Heal One World- which is our Awareness Film Festival! Our final pitch will be presented at UCLA on June 3rd please join us!
We are also gearing up for the Awareness Film Festival which will take place October 6-16 2016 at LA Live in Downtown Los Angeles, Featuring over 150 films from all over the world.
This summer we are also holding our Tai-Chi Leader Training for the community so we can spread more Chi around. We have scholarships available to those willing to commit to teaching at Heal One World. Please see our site if you are interesting in taking part.
At the healthy living center we have many new classes that just began in April. We now offer Core Barre class which has aspects of Physical Therapy, Ballet, Pilates and Yoga. It is an awesome class. We also have Kundalini Yoga now being offered and Gentle Yoga. We are continuing with the Venice Family Clinic with classes and Skye is just finishing a new round of Feldenkrais patients at the Venice Family Clinic Tuesday Night Complementary Medicine Clinic.
We are proud to have been honored as a Finalist for the LA Business Journals Healthcare Leadership Awards 2016. We attended the event at the Downtown LA Omni Hotel which honored many traditional health care facilities....and Heal One World!
Our next projects are expanding into Fresno to bring mindfulness to the Fresno (Central Valley) VA. We are also closer then ever to completing our retreat space in Joshua Tree for yoga and meditation retreats.
Please think of us on Bonus Day June 15th as any donations will be matched on this day! Thank you for your ongoing support. We have given classes to over 17,000 people since our inception in 2009 and treated over 450 patients individually. Together we can Heal One World.