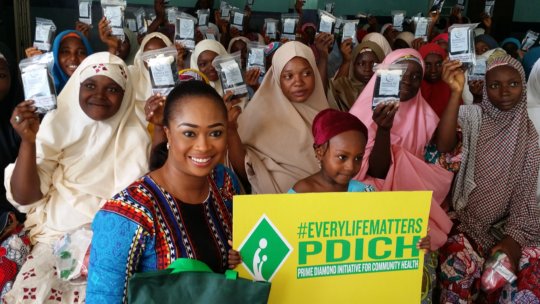 A woman's chance of dying from pregnancy and childbirth in Nigeria is 1 in 13. BKFA partner Prime Diamond Initiative for Community Health (PDICH), is an NGO, whose primary focus is to help reduce the very high maternal mortality rate.
It is saddening but a reality to learn that during childbirth women are often using unsterilised blades and knives to help birth their babies. All too often, these women are unassisted or assisted by an unskilled attendant such as a friend or neighbour. Tragically, this means that infections are common, and that the maternal mortality rate is unacceptably high.
Birthing Kits include the basic supplies to help prevent infection, and following a delivery of kits from BKFA, we hear below how important a Birthing Kits was to one woman in the community of Kakura Village, Kaduna State.
Maimuna recounts how she lost her baby during an unassisted childbirth as she took the delivery while working on her farm. She narrates in tears how she struggled to lay her wrapper on the ground, pushed out her baby alone and cut the cord with a cutlass. She testifies that after PDICH visited her community, conducted health talks and distributed BKFA delivery kits after demonstrating the use of each item, her recent baby was born using the kits and that he is healthy and free from infection.
The good news is that PDICH hosts health seminars partnering with local health centres, they conduct basic health checks, and then distribute the kits to women in their 3rd trimester. Where health centres are not within reach, PDICH give women the kits personally and advise them on the contents and use. Since many of these women are assisted by traditional birth attendants (TBAs), they are asked to ensure that the TBA is given the kit at the time of delivery.
PDICH say "We will not stop here, we shall continue to advocate on maternal health until there is zero maternal mortality in Nigeria because every life matters".