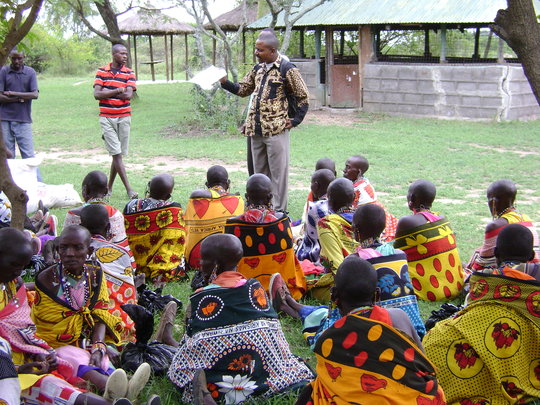 Thankfully with your help we have now been able to hold training for another 80 traditional birth attendants in the Maasai Mara communities in Kenya and to take the opportunity to monitor the impact of the last program for 80 women.
Location is Maasai Rift Valley Province, Narok – South District, Mara Division, Koyiaki Loction and Talek Sub-Location, Kenya
Our agent, Dr Luc, was surprised at how the people had taken on board his recommendations. "My greatest joy and satisfaction was that the first seminar had so much impact on the lives of the traditional midwives and the entire Maasai community than even I had imagined and I was so much surprised at the great stride the Maasai women had made in changing some of their hazardous traditional believes and encompassed new modern ways for the sake of their health."
Our BKFA training programs focus on improving maternal health along with general education on health, hygiene and nutrition.
Impact of the training was not just in childbirth practices. In his words
1. "Most of the women and the village at large were no longer going to the bushes for ¨long calls but they had built up communal latrines that they were using. This is as a result of our last seminar where we showed them the importance of having latrines and the many advantages of having a clean and safe environment and to my surprise they had taken every detail into consideration."
2. "The Maasai traditional women now take bath on a daily basis not like in the past days where they could shower once per week ……….but when I visited them again they had completely changed and were looking very smart."
3. "Before, they could not eat chicken because they believed it is a bird, they took fish for snake and could not even eat greens saying they are just bush leaves but all that is now gone with the past and they have wholly taken to new and better styles of living."
4. "At least they had the Maasai sheets to change for clothing, courtesy of BKFA and they were very much impressed to see us and had lots of fond memories of the last seminar. They were so happy and delighted and greatly thanked BKFA."
"The road to Maasai Mara was very long and tiresome but am so grateful to God that we were able to reach Maasai Mara without any problems. The educators taught very well and the traditional midwives were very very excited. I found that they had a very big problem of birthing kits, the expectant women had gotten used to giving birth by use of the birthing kits but when the kits got finished, it became a little bit difficult for them to continue with work well but by good luck, we had taught them on the means of using the locally available materials for birthing so when the kits got finished this came in handy."
The importance of sustainability and need for education in using local resources.
"This is very great news for us and we are filled with so much joy to realize that the efforts we put in went into a worthy course. Am so grateful to the Birthing Kits Foundation Australia for supporting the first and the second seminars. Thank you so much for this big role you are playing in the society of ensuring clean and safe birth for every woman." Dr Luc
Thank you to our supporters for enabling us to hold this most worthy and needed training program.
Links: