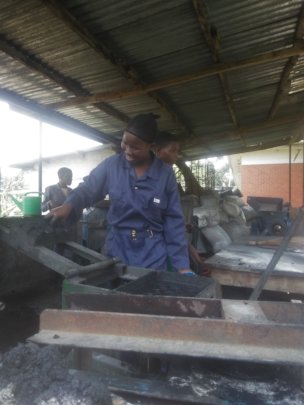 Kulika Uganda Project Progress Report
September 8th 2021
This report covers the period May –August 2021. It is the third report since obtaining funds in October 2020.
Training
During this period, Kulika Uganda trained 54 female (32 women and 22 girls/students) and 18 male participants on briquette making and use. They were skilled on the different stages of making briquettes including carbonation, crushing, mixing, extruding, drying and use. Although the country was on COVID -19 lock down from June through August, 2021, we managed to achieve the targeted number (50 trainees per quarter) through use of innovative ways. Cumulatively, the project has trained 128 women in briquette making.
Production level.
During this period, we generated 5,550 Kgs of carbonization material and produced 4,225 Kgs of stick briquettes. With the 6,000 target, we were 1,775 kgs below which is 29.58% shortfall compared to 50.2% shortfall during the Jan – April production. To date, the unit has cumulatively produced 7,223kgs of briquettes. The plan for the women to engage in selling of briquettes was challenged by COVID-19 lockdown and will be further pursued in the next quarter.
Source of materials for briquettes; One hundred women grew maize and are currently harvesting. The women will sell cobs for briquette production to Kulika Training Centre and will use some for own briquette making. The yield estimate of maize has direct effect on the number of cobs generated and the actual yield will be reported in the next quarter.
Way forward
Training program: We will continue conducting training for the girls and women, mainly within 50 kilometers radius from Kulika Training centre. They will receive hand presses for home production of briquettes.
Promotion of Briquette Usage. We are developing a video to be shared in different platforms for publicity and awareness. We also intend to conduct talks and demonstrations, encourage briquette use for cooking and provision of brooding heat for chicks.
Reducing Cost of Production. Kulika is pursuing ways in reducing production costs for briquettes to attract more buyers. This will be achieved through connecting the processing unit to the national power grid.
Continued support for the project: Kulika continues to request for grants/donations to realize the project budget and support practical learning by offering start up kits to women. We thank all the generous donors who have supported the project to date.
Prepared by Kulika Uganda