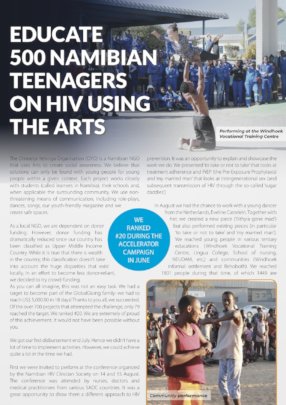 The Ombetja Yehinga Organisation (OYO) is a Namibian NGO that uses Arts to create social awareness. We believe that solutions can only be found with young people for young people within a given context. Each project works closely with students (called learners in Namibia), their schools and, when applicable the surrounding community. We use non-threatening means of communication, including role-plays, dances, songs, our youth-friendly magazine and we create safe spaces.
As a local NGO, we are dependent on donor funding. However, donor funding has dramatically reduced since our country has been classified as Upper Middle Income Country. While it is true that there is wealth in the country, this classification doesn't take into account the huge disparities that exist locally.
In an effort to become less donor-reliant, we decided to try crowd-funding. As you can all imagine, this was not an easy task. We had a target to become part of the GlobalGiving family: we had to reach US$ 5,000.00 in 18 days! Thanks to you all, we succeeded. Of the over 700 projects that attempted the challenge, only 79 reached the target. We ranked #20. We are extremely of proud of this achievement. It would not have been possible without you.
We got our first disbursement end July. Hence we didn't have a lot of time to implement activities. However, we could achieve quite a lot in the time we had.
First we were invited to perform at the conference organized by the Namibian HIV Clinician Society on 14 and 15 August. The conference was attended by nurses, doctors and medical practitioners from various SADC countries. It was a great opportunity to show them a different approach to HIV prevention. It was an opportunity to explain and showcase the work we do. We presented 'to take or not to take' that looks at treatment adherence and PrEP (the Pre-Exposure Prophylaxis) and 'my married man' that looks at intergenerational sex (and subsequent transmission of HIV through the so-called 'sugar daddies').
In August we had the chance to work with a young dancer from the Netherlands, Eveline Castelein. Together with her, we created a new piece ('Ilithyia gone mad') but also performed existing pieces (in particular 'to take or not to take' and 'my married man'). We reached young people in various tertiary educations (Windhoek Vocational Training Centre, Lingua College, School of nursing, NEUDAM, etc,) and communities (Windhoek informal settlement and Rehoboth). We reached 1801 people during that time, of which 1449 are young people. The Head of Department from Lingua College commented 'our students learnt a lot. The students expressed interest. OYO showed it in a way that all understood while enjoying the dancing too'. Of note was the performance at the Windhoek Female Correctional Centre. OYO strives to work with Correctional Facilities and involve inmates in discussions. The program officer commented 'all dances were explained and the dialogue conducted were very engaging and informative. Offenders were able to engage in their mother language and participated fully'.
We also had a chance to organize a workplace training for staff at Londiningi Guest House, a place that has supported us with our programs. We trained 17 staff on HIV related issues. It was nice to be able to give back. The program was well received. Among all the issues discussed, it is clear that PrEP needs more time as many of the staff were unclear about its use.