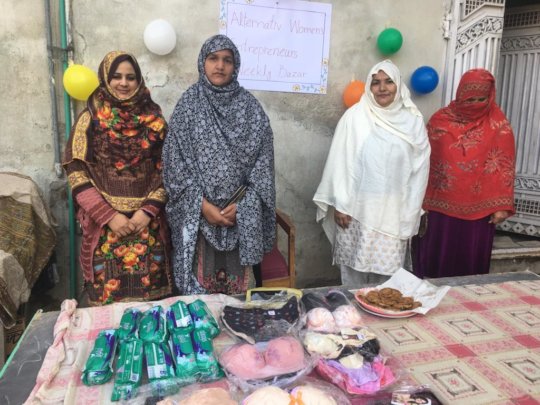 In a country where only 1% women are engaged in entrepreneurship, Moqah Foundation is working to equip women to become entrepreneurs in their communities through a joint initiative with Alternativ's Global Entrepreneurs by providing enterprise development trainings. Alternativ's curriculum was adapted to Urdu and trained program leaders who developed a thorough understanding of the model through Train –the- Trainers course, conducted entrepreneurship training sessions in order to enlighten and empower the women to achieve autonomy, education and opportunity and decrease extreme poverty among the participants
So far, the program has seen two groups and 50 women trained and graduated with a certificate of achievement after 40 hours of training with a further three trainings to follow. The participants learned financial skills in money management. Words can't describe how inspiring and beautiful it was to see results of the follow-up of the trainees. In less than two months, 6 trainees have launched their businesses!
Over the two years, we will target two poverty stricken communities in the regions of Bhara Kahu located near Islamabad Capital territory and in Kot Malik, Sheikhpura a rural area situated on the outskirts of Lahore. We are also planning to expand to more communities outside of Islamabad, where women are especially vulnerable to forced in to forced early marriages, and face other cultural and security barriers face other cultural and security barriers.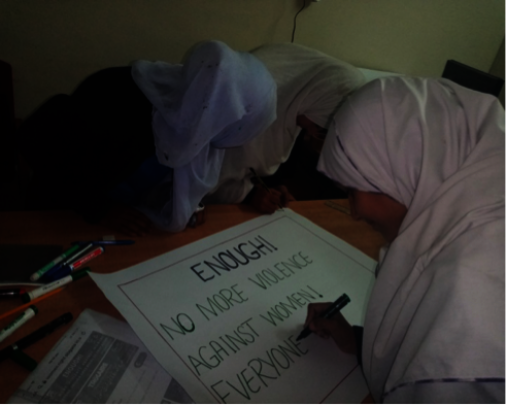 Moqah Foundation is focused on educating girls and empowering women. Communities where child marriages, gender discrimination and poverty prevents many girls from going to school, Moqah Foundation schools have been creating awareness and preparing students and teachers on women's rights. Each year the students and teachers celebrate the day in school, but this year they will be celebrating International Women's Day with the entire community! The students are excitedly working on preparing banners and speeches as the day approaches.
By first week of March, our school term also comes to an end. What an incredible year it has been as we teach and inspire youth to recognize their potential and realize their dreams! All year long, other than school-day learning, students participated in activities like Global Kid Connect Pen Pal Program and workshops like Tolerance and Active Citizenship. We are excitedly waiting to welcome our students back in their new classes by April for the new 2020-2021 session. We have achieved an exciting milestone as our first batch of Grade 10 students as they will be taking the Standardized Tests under Board of Secondary Examination starting this week. We wish them best of luck as this exam determines if they can graduate high school. We will be seeing them soon after their exams -we are offering Enterprise Development Training to our all graduates, providing them tools necessary for future employment and success, the ability to earn an income, and in a majority of cases, delay an early forced marriage. We are sending endless gratitude to all who have joined us in our journey.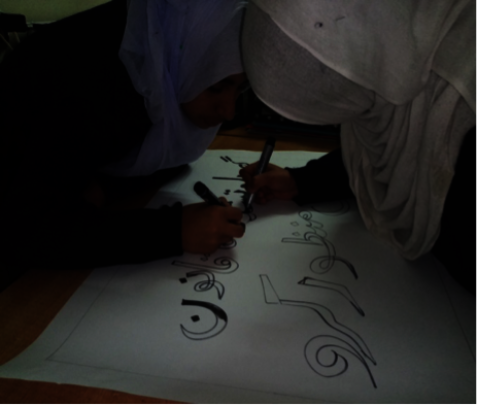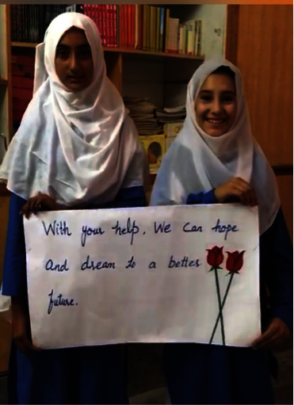 Changing gender biases : a great achievement for Moqah Foundation!
We are two months into the collaboration between Moqah Foundation and Girl Rising. Our students have been attending weekly sessions that has resulted in positive attitudinal change.For example, one of our 9th graders' sibling, Senam, spoke about his two sisters Summaiya and Bushra who have never stepped out of their household other than coming to the school. Women in Senam, Summaya and Bushra's family are mostly illiterate and live under highly traditional and conservative social structure, which is marked by its patriarchal male dominance and religious control.
Now Senam talks about how he wants to help change the world for his sisters and believes that they have the right to determine their destiny. His first step in this direction was convincing his older brother to sign the permission letter for his sisters to join a school trip to another local school's sports day event. It was a life time experience for the two girls!
Regards,
Farida
......................
Farida Ahmad

CEO Field Operations

Moqah Foundation


End Conflict. Build a School
Attachments:
WARNING: Javascript is currently disabled or is not available in your browser. GlobalGiving makes extensive use of Javascript and will not function properly with Javascript disabled.
Please enable Javascript
and refresh this page.