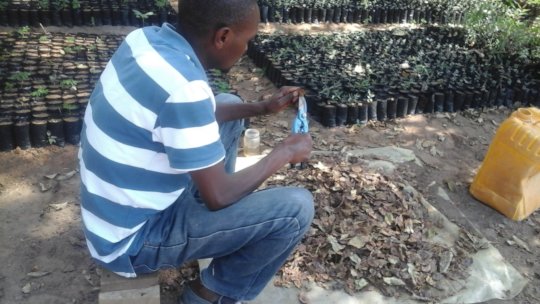 Drylands Natural Resources Centre family wish to sincerely send warm greetings. We hope this progressive report finds all of us well. We are happy to share with you our third quarter progress report on forestry training and finance for the 600 small holder farmers we are working with to accomplish our goals of environmental regeneration, economic development and community strengthening. The diverse trees which we started planting since 2007 have grown to maturity and farmers continue to benefit. The timber trees continue to thicken their backs for quality timber, farmers continue to prune the trees for their firewood as well as selling the extra firewood to DNRC for green charcoal production. As this trees grow, they continue to shade of their leaves, thus covering the soils and as they continue to decompose they build the soils too. They have also formed canopies thus creating micro- climate which is idea for crop production. Farmers continue to make 100% profit from sale of moringa seeds as well as powder. Fruit trees like paws paws, guavas, citrus, and bananas have attained maturity and farmers continue to harvest this fruits when in season. The community is more organised and the social fabric continue to strengthen day by day as famers continue to work in solidarity. This has built the community to a level of culture regeneration where by now we organise and record Kamba traditional music which majorly teaches on morals.
We can only say thank you very much. You continued financial support has enabled us to achieve this.
During the just ended quarter, the following activities took place: potting, arranging and propagation different tree species, general tree nursery management, mobilization and recruiting new farmers.
Below are detailed activities during the quarter:
The tree nursery
During the annual planning for this year, we planned to propagate 100,000 diverse seedlings; During the quarter the following specie among others have been propagated : senna siemea 6200, senna spectabilies 6000, gravellia Rubusta 3500, Luecean 7600, zyzygium guminii 3500, Acacia xanthopolea 5000, Acacia geradii 1600, Acacia Polyacantha 3400, Guavas 6000, Citrus 9000, Neem 1850, Tamaridus indica 2000, Passion 650, paw paw 3800, Tree tomato 520, Mangoes 3550, Avacado 940, Dulbergia 270, Taminalia Brownii 165,Ecalyptus camandulensis 4800, Moringa oleifera 2000, Croton megalocupus 3000, Melia vonkensii 4448.. Making a total of 80173. Other major activities in the nursery included; Potting and arranging the pots. General nursery management which include: weeding and watering the seedlings. Nursery expansion and netting was also a major activity to accommodate the increased production.
Community outreach and Training
During the quarter, the outreach and training personal was majorly involved in training farmers mostly on hole preparation, selective thinning and pruning in the already-established food forests and woodlots and compost making. During the annual planning, we agreed to add our cumulative number of farmers to 700. During the reporting quarter we have recruited 20 famers to the project making the cumulative number of farmers 720.
Challenges
This being our dry spell, water is a challenge since we have no permanent source of water within DNRC premises and we depend on a seasonal river nearby whereby we use donkeys to ferry water to the site. With our increase of the nursery capacity, we need more water too.
Plan for the next quarter
General management of the tree nursery
Propagation the remaining no. of seedlings to reach our target
Recruit the remaining no. of new farmers and orient them on tree planting
Issue the seedlings to the farmers Oct- Nov rains.