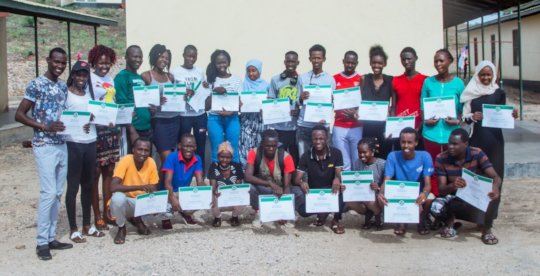 Dear friends and supporters,
"tufanaye pamoja" - is the swahili phrase for "let's do this together". For us, it is all about doing things together. Together we are strong and only together we are able to fight poverty in Africa by teaching young adults in Lodwar ICT skills and enable them to earn their living, especially in these difficult times of COVID-19. The path is long, and we want to keep you updated on all the small and big things that are happening on the way.
DIGITAL LIONS PORTFOLIO
Digital Lions are graduated students from our Learning Lions program, which is teaching ICT skills to young adults. They are already using their new skills and offer their services in Web Development, Graphic Design and Video Animation. To have a look at their work, you can check out their webpage! If you want to support these young talents on their journey, you can order their services by dropping an E-Mail to: sales@digitallions.co .
NEW COHORT IN THE KAKUMA REFUGEE CAMP
Last year, we have started a new Learning Lions cohort with talents from the Kakuma Refugee Camp and host communities. We were very happy to be supported by a lot of different partners during this amazing project: GIZ, Turkana county government, National government through Department of refugee affairs, Provincial administration, UNHCR KENYA youth leaders and refugee communities. The aim is to sustainably fight poverty in the region by teaching ICT skills and opening up a world with good job opportunities in the ICT section. Last month the students graduated successfully from our program, ready to take their next steps into a better future.
NEW ICT CAMPUS CONSTRUCTION
As you might already know, we are building a new campus for more than 500 students near the Turkana Lake region. The region is very rural and surrounded by a lot of underprivileged communities. We decided to build our new campus in this deserted area to provide opportunities to people in need while ensuring that they can stay in their home region, close to their families. We attached some pictures for you, so you can see the area and have a look at the ongoing work.
VOLUNTEERS WANTED
You can also become part of our journey by helping as a remote volunteer (or locally after the pandemic is over) as well as by contributing with a donation. There are many different ways you can help as a volunteer. For example, you can share your expertise in topics such as Graphic Design, Web Design, Fundraising or Sales. If you are interested, we are happy to hear from you.
I hope you enjoyed this small update from Lodwar and you will stay connected with us on Facebook, Twitter and Instagram .
Kwaheri,
Stefanie