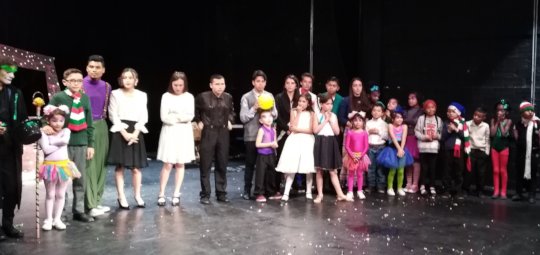 BOGOTÁ: OPPORTUNITIES FOR 120 CHILDREN & YOUNGSTERS
By Moisés Pedraza - Director Fundación ZUÁ
Thanks to the support received by many donors like you, it was possible to benefit 100 girls, boys, young people and 20 tutors who can now dream of a different future. Your contribution was very important to improve and advance in food and nutrition programs, technical and art workshops, higher education and to protect and accompany them, improve their self-esteem, help them to be happy, make sense of life and overcome some of the most difficult moments suffered in school, family and community environment.
Thanks to your donation through GlobalGiving, we achieved:
Better nutrition and food from Monday to Saturday, consisting of breakfast and lunch to children who attended schools in the afternoon and lunch and reinforced snack to children who attended schools in the morning. This responded to the first basic need of the 120 girls, boys, youth and tutors for whom it would be very difficult with hunger to study and participate in the programs of the Foundation and in the school.
The education of the beneficiary population was strengthened as one of the means to combat poverty from its roots and school performance was reinforced, through the use of academic platforms such as IXL, CODE, KAHN ACADEMY, implemented by instructors in accordance with the learning needs and difficulties, to help children not to leave school and finish their studies in the different public schools in the area. A high percentage of attendance and permanence in the school system was achieved, as well as the approval of the academic year of 95% of the beneficiaries.
Artistic training was optimized for girls, boys, youth and tutors through music, choir, circus and theater workshops, which allowed them to discover their talents and develop new skills. Improve their confidence and personalities. The artistic training was very demanding in terms of concentration, discipline, understanding, body management and teamwork and shared their learning in public presentations for friends and donors of our Foundation. In December we presented the play "Christmas Promise" in which more than 60 girls, boys, youth and tutors participated.
In Higher Education funded by the Zuá Foundation and with the support of many donors, 13 young people finished their semester in University that were selected by them and realizing their dreams of being in the university, continue this year enrolled in a new academic semester and in return they were the instructors/tutors of 100 girls, boys and young people.
The five pre-university students in total finished their second semester and began the last one, in an intermediate preparation program between high school and university, which contributes to strengthening learning especially in math's, critical reading, English and science.
Today we are happy for your generosity and confidence in supporting the girls, boys, youth and tutors of the Zuá Foundation to help them dream and realize their dreams.
Thanks, to your donation that allows us to help them in the Fundación Zuá
BOGOTÁ: OPPORTUNITIES FOR 120 CHILDREN & YOUNGTERS
By Moisés Pedraza – Director Fundación ZUÁ
Gracias al apoyo recibido por muchos donantes como usted, fue posible beneficiar a 100 niñas, niños, jóvenes y 20 tutores que ahora pueden soñar con un futuro diferente. Su aporte fue muy importante para mejorar y avanzar en los programas de alimentación y nutrición, talleres aprendamos, talleres artísticos y educación superior y protegerlos, acompañarlos, mejorarles su autoestima, ayudarlos a ser felices, a encontrarle sentido a la vida y a superar algunos de los momentos más difíciles de su entorno escolar, familiar y comunitario.
Gracias a su donación única o recurrente a través de GlobalGiving logramos:
Mejor nutrición y alimentación de lunes a sábado, consistente en desayuno y almuerzo a los niños que asistieron a las escuelas en la tarde y almuerzo y refrigerio reforzado a los niños que asistieron a las escuelas por la mañana. Esto respondió a la primera necesidad básica de las 120 niñas, niños, jóvenes y tutores para quienes sería muy difícil con hambre estudiar y participar en los programas de la Fundación y en la escuela.
Se fortaleció la educación de la población beneficiada como uno de los medios para combatir la pobreza desde sus raíces y se reforzó el rendimiento escolar, a través del uso de plataformas académicas como IXL, CODE, KAHN ACADEMY, implementados por los tutores de acuerdo con las necesidades y dificultades de aprendizaje, para contribuir a que los niños no abandonaran la escuela y finalizaran sus estudios en las diferentes escuelas públicas de la zona. Se alcanzó un alto porcentaje de asistencia y permanencia en el sistema escolar, así como la aprobación del año académico del 95% de los beneficiados.
Se optimizó la formación artística en las niñas, niños, jóvenes y tutores a través de talleres de música, coro, circo y teatro, lo cual les permitió descubrir sus talentos, desarrollar nuevas habilidades. mejorar su confianza y sus respectivas personalidades. La formación artística fue muy exigente en términos de niveles de concentración, disciplina, comprensión, manejo del cuerpo y trabajo en equipo y compartieron sus aprendizajes en representaciones públicas para los amigos y donantes de la Fundación. En diciembre presentamos la obra de teatro "Promesa de Navidad" en la cual más de 60 niñas, niños, jóvenes y tutores participaron.
En Educación Superior financiados por la Fundación Zuá y con el apoyo de muchos donantes, 13 jóvenes terminaron su semestre en las carreras que fueron seleccionadas por ellos y haciendo realidad sus sueños de estar en la universidad, continúan este año matriculados en un nuevo semestre académico y en contraprestación fueron los tutores de las 100 niñas, niños y jóvenes.
Los preuniversitarios cinco en total terminaron su segundo semestre e iniciaron el último, en un programa de preparación intermedio entre la escuela secundaria y la universidad, el cual contribuye a fortalecer los aprendizajes especialmente en matemáticas, lectura crítica, inglés y ciencias.
Hoy estamos felices por su generosidad y confianza en apoyar a las niñas, niños, jóvenes y tutores de la Fundación Zuá para ayudarlos a soñar y hacer realidad sus sueños.
Gracias, su donación nos permite ayudarlos a ellos en la Fundación Zuá.